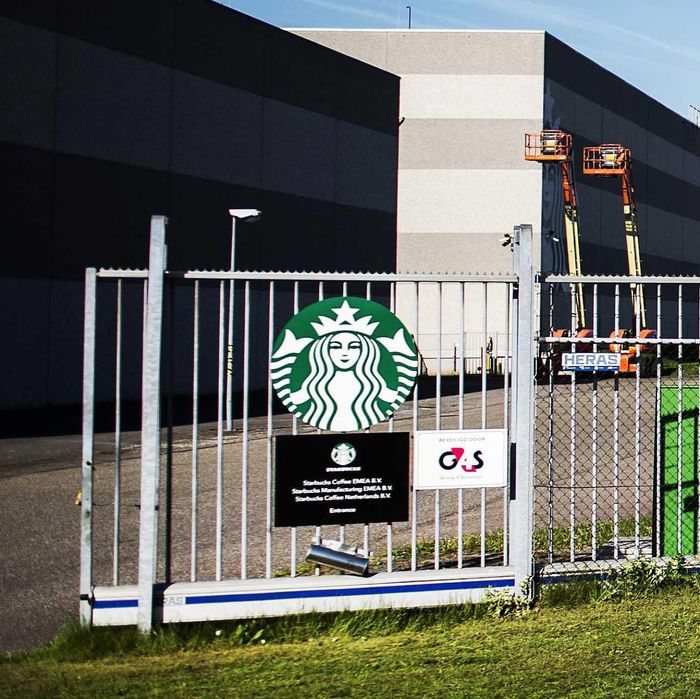 The shady-looking Dutch headquarters. (Starbucks has since relocated to London.)
Photo: Remko de Waal/EPA/Corbis
Starbucks's ongoing tax troubles in Europe are suddenly full of intrigue and mystery that kind of sound like a Bond side plot: EU regulators have zeroed in on a "mysterious" business simply named for a Seattle street that they say "seemed to serve a vital role" in lowering the company's tax burden, before abruptly disappearing once they started asking questions.
Starbucks adamantly denies not paying its fair share of taxes ($34 million was the amount the EU billed them for yesterday), but this defunct shell company, called Alki L.P., doesn't help that argument. According to the Times, it belonged to an even larger Starbucks subsidiary called Emerald City (yes, Seattle's nickname), and its only function was to collect royalties for a roasting technique. The jig was up when regulators started digging into Alki and realized earnings were erratic, like €1 million one year, €12 million the next. They were after proof that the Netherlands gave Starbucks a "sweetheart" deal that unburdened the coffee giant of way too many taxes, and one untaxed entity they claim had "no realistic economic justification" was Emerald City, set up as a clearinghouse for Starbucks's intellectual property — logos and whatnot, plus one particular roasting recipe that "appeared vastly inflated for what it was":
The recipe was basically the temperature for roasting beans, and appeared to be more like instructions than intellectual property. Yet counting it as such allowed Starbucks' roasting unit to reallocate most of its profit to Alki in the form of royalties, the commission said, nearly wiping out the Dutch tax bill. No other Starbucks companies or roasters paid royalties for the same information.
Responding to the EU's claims, a Starbucks rep merely said, "That is false." But the company paid just €2.6 million last year on €407 million profits, a tax rate that would make Mitt Romney blush.
[NYT]