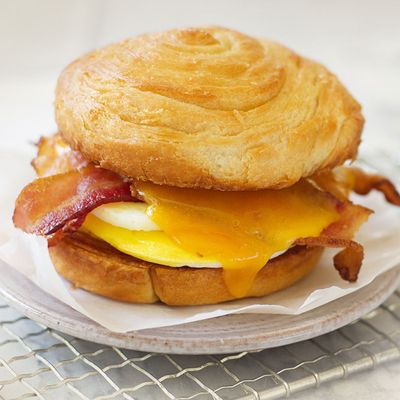 More humane-egg scrambles are on the way.
Photo: Starbucks
It will take five years max to source 100 percent of Starbucks's North American eggs from cage-free hens, the company tells Reuters. This news assigns an eagerly awaited target date to the coffee chain's pledge to buy more humanely raised eggs, the largest part of the new "Animal Welfare-Friendly Practices" plan Starbucks announced at Christmastime; it's a program the Humane Society immediately praised as "the most comprehensive animal welfare policy of any national restaurant chain."
The announcement sets a somewhat ambitious timetable, and with McDonald's now committed to going cage-free, U.S. suppliers — which just survived the worst-ever bird flu epidemic — worry there won't be enough of these eggs to go around. (McDonald's has been more generous, giving itself a decade to transition over, although it obviously uses way more eggs.)
Both companies have been working to make the switch happen for a while — Starbucks since 2008, and McDonald's since 2010. Starbucks says it's finally at the point where it's made "significant progress" with farmers, enough to pledge to be entirely cage-free by 2020. The announcement didn't provide any updates, however, on Starbucks's other new welfare commitments, such as plans to phase out gestation crates for pigs, eliminate growth hormones, or end other inhumane farming practices. It'll be one step at a time, it looks like.
[Reuters]