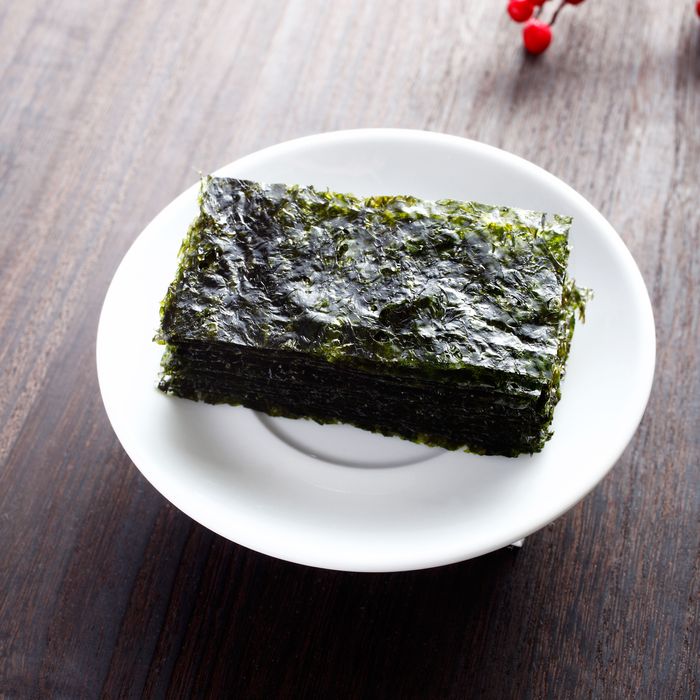 Seaweed: It's what's for dinner.
Photo: RunPhoto/Getty Images
With fish stocks looking grimmer than ever and land agriculture increasingly compromised by climate change, a group of experts — including entrepreneurs, scientists, and farmers — are pushing to make seaweed the next big thing and touting it as, perhaps, the future of the human diet. According to a story in this week's New Yorker, the reasoning is simple: Seaweed is "one of the world's most sustainable and nutritious crops. It absorbs dissolved nitrogen, phosphorous, and carbon dioxide directly from the sea—its footprint is negative—and proliferates at a terrific rate." Or, as writer Dana Goodyear puts it, "Plentiful, healthy, and virtuous, kelp is the culinary equivalent of an electric car."
One of the people at the center of this movement is Bren Smith, the owner of Thimble Island Oyster Company and a pioneer of vertical aquaculture who only grows things, he says, that are restorative for the ocean. Smith started growing kelp after his farm was ravaged by both Hurricane Irene and Hurricane Sandy, and has worked with a leading seaweed expert at the University of Connecticut to breed species.
Though the flavor and texture of seaweed might be strange to many Americans now, Smith believes that all people need is someone to teach them to love the stuff. To that end, he points to kale, which he doesn't believe actually tastes all that good. Rather, he attributes the recent obsession with the bitter, tough green to the cultural influence of kale champions like Gwyneth Paltrow and chef Dan Barber.
Smith, in fact, is so convinced kelp is the new kale that he's planning a 25-farm, all-seaweed cooperative near New Haven, Connecticut, where there will be a seed bank, hatchery, vendors making things like kelp smoothies, and a "Beyond Fish" market that sells nothing but seaweed-fed barramundi, a type of Asian sea bass. Kelp smoothies definitely have a slightly more limited appeal than snacks, and that's the market where seaweed will likely make its first big impact in the U.S. It's also where the fight between seaweed and kale is already occurring — sales of seaweed snacks are growing by 30 percent annually, with 2014 sales reaching $500 million. (The kale-chip business, for the sake of comparison, is worth $200 million.)
Seaweed is, of course, a regular part of the diet of several East Asian countries, and there are already farms there producing tons of kelp, nori, and jijiki for those markets. The existence of those farms is also why some are so optimistic about seaweed. And, you may recall, there is at least one variety of seaweed that approximates the flavor of bacon, which is extra-welcome news now that the World Health Organization has come down hard on real bacon's carcinogenic properties.
Aquaculture scientist Dr. Mike Rust, of the National Oceanic and Atmospheric Administration, believes that, based on current production numbers, all agriculture around the world could be replaced by farming less than a percent of the ocean's surface area. The numbers, Rust cautions, are speculative, but that would be a pretty incredible thing and a cause for optimism given the seemingly endless parade of grim news about the ocean's future. It would also mean a very different diet, but as author Paul Greenberg, who has written a pair of books on seafood and sustainability, points out, it's a lot more appealing than the alternative of just eating bugs all the time.
[NYer]