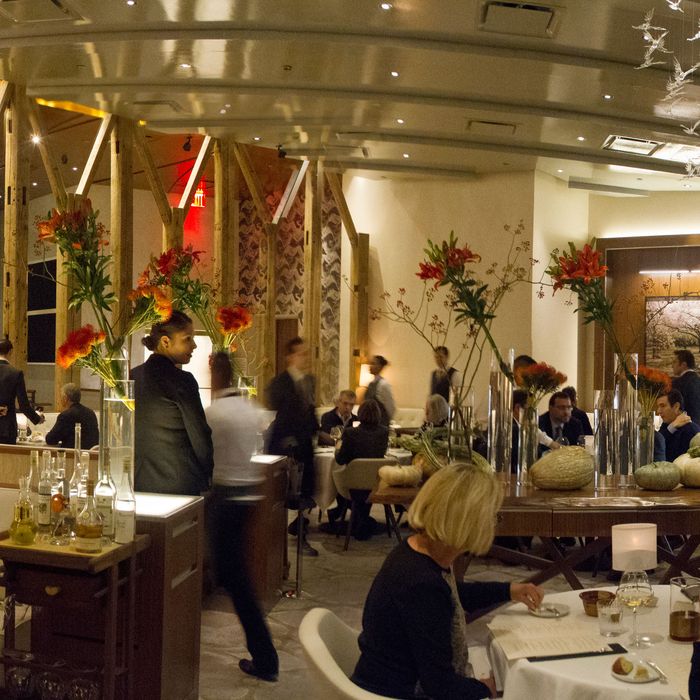 Gabriel Kreuther
Photo: Tirzah Brott/New York Magazine
Gabriel Kreuther belongs to the last great generation of highly skilled Continental cooks who came to the city to seek fame and fortune during those peaceful premillennial years, before the great fine-dining apocalypse blew the settled white-tablecloth world of their forefathers more or less to smithereens. Many of his colleagues have floundered since then, but Kreuther has kept his balance in all sorts of versatile ways. He's mastered French cuisine (at La Caravelle) and strange fusion techniques (at Jean-Georges) and is renowned, one of his former cooks told me, for breaking down small steers with an implement the size of a paring knife. He's won multiple Michelin stars over the years (at the Modern), has concocted successful lowbrow bar menus (at the Modern Bar Room), and was one of the first grand chefs to spin out a gourmet iteration of barnyard chicken (at the now-defunct Atelier in the Ritz-Carlton hotel).
All of these talents are on display at Gabriel Kreuther, the chef's eponymous, highly praised new restaurant, which opened this summer in a lavishly appointed hodgepodge of a space at the bottom of the Grace Building on 42nd Street. The tall room is decorated at the entrance and inside with patterns of giant flying storks, which the loquacious wait staff will tell you is a symbol of rebirth in the chef's native Alsace. There are also ­forest-colored tiles scattered here and there (inspired by Alsatian ovens to symbolize the hearth) and an arrangement of wooden beams salvaged from an old barn in Vermont. These beams divide the room into two distinct zones—one for fine dining (replete with white tablecloths and a gleaming kitchen occupied by Kreuther and his army of cooks) and another a bar area, where you can lounge on pillow-strewn white leather banquettes, sipping bottles of artisanal cider from Belgium or France while nibbling on wheels of gourmet liverwurst.
This liverwurst, which was served in a slightly different form at the Modern, is, for the record, worth a special visit. It's streaked with deposits of mashed pork belly, among other sinful ingredients, and served on a kind of Erector-set butcher board, which the staff expertly attaches to your little bar table, replete with pieces of grilled baguette and a pot of sliced pickles on the side. Kreuther's famous tartes flambées are presented in a similarly theatrical way, although now there's a larger variety to choose from (avoid the $56 gourmet version topped with a viscous combination of uni and caviar in favor of the $12 onion-and-bacon classic). You can also complement your thin, crackly tarts with little pots of country tripe gently stewed in red wine, pats of morcilla sausage mingled with foamy potato salad, and a deliciously plump pork sausage that the kitchen garnishes with a small tangle of house-brined sauerkraut.
Dinner in the main fine-dining room offers its own set of slightly more mannered pleasures, although if you've grown used to eating around town in noisy restaurant bars and dim little tasting rooms, you may feel like you've stumbled into the somewhat stilted contemporary revival of a slow-moving Baroque play. The menu is divided into four prix fixe sections, not counting dessert, each designed to be eaten with sets of strangely elongated flatware, which are lined up on either side of the plate like rows of dental implements. Many of the more interesting dishes (hamachi pressed between intense layers of foie gras and black truffles, the delicious "hay smoked" rack of lamb) carry hefty supplements. Others are served with elaborate stage props, on crystal pedestals strewn with shiny pebbles (the frogs' legs), or from under smoke-filled glass domes (the underwhelming smoked-sturgeon-and-caviar tart).
This performance has been hailed by grateful members of the gourmet community as proof that fine dining isn't dead yet, which is undoubtedly true. It's also true, however, that the small band of master chefs who survive in this increasingly fraught genre feel they have to keep frenetically innovating in order to stay relevant in these frenetic times, and invariably some of Kreuther's experiments work better than others. The chef's langoustine-tartare appetizer is lovely to look at and to eat, although I don't know if the Riesling-poached foie gras ($10 supplement) benefits from its scattering of pumpkin-seed granola. My little tangle of "nori campanelle" pasta might have tasted more lively without the radical infusion of seaweed, and the general consensus among the gourmets around our table was that the fluke entrée would have been better off without the nettle foam or the bland covering of buckwheat.
The more successful dishes at this somewhat overstudied restaurant tend to be Kreuther's inventive riffs on old classics—intricately crisped duck with fleischschnecke pasta and red cabbage, the pastry-crusted squab and foie gras "croustillant" for two—and if you're looking for a taste of Kreuther's famous sturgeon-and-sauerkraut tart, you'll find it buried in the "Carte Blanche" chef's tasting menu. Desserts in the dining room are presented under stylized headings (try the "Ethereal," made with figs and olive-oil ice cream), and if you order the "Artisanal Matured Cheeses" ($20 supplement), you'll find that it's ­portaged to the table in a log with hollowed-­out ­compartments. Some of these creations have their old-fashioned charms, although it's my duty to point out that dollar for dollar, the most satisfying dessert of all is the toppling little stack of ­beignets served in the lounge area under drifts of powdered sugar, with a little sidecar of apple marmalade.

Gabriel Kreuther
41 W. 42nd St., nr. Sixth Ave.; 212-257-5826; gknyc.com
Open: Monday to Friday for lunch, Monday to Saturday for dinner.
Prices: $16 to $56 in the lounge; $98 prix fixe; $185 Carte Blanche menu.
Ideal Meal: Lounge: Alsatian sausage (among many other things), classic tarte flambée, beignets. Dining room: langoustine tartare, hay-smoked lamb or squab croustillant, figs with olive-oil ice cream.
Note: The wine list is deep, varied, and not always extravagantly priced. The beverage director, Emilie Perrier, is a charming and knowledgeable guide.
Scratchpad: Two stars for the bar lounge, which is one of the best new restaurants in midtown, and another, grudging star for the ornate dining-room menu and the last, glorious days of haute cuisine.
*This article appears in the November 2, 2015 issue of New York Magazine.