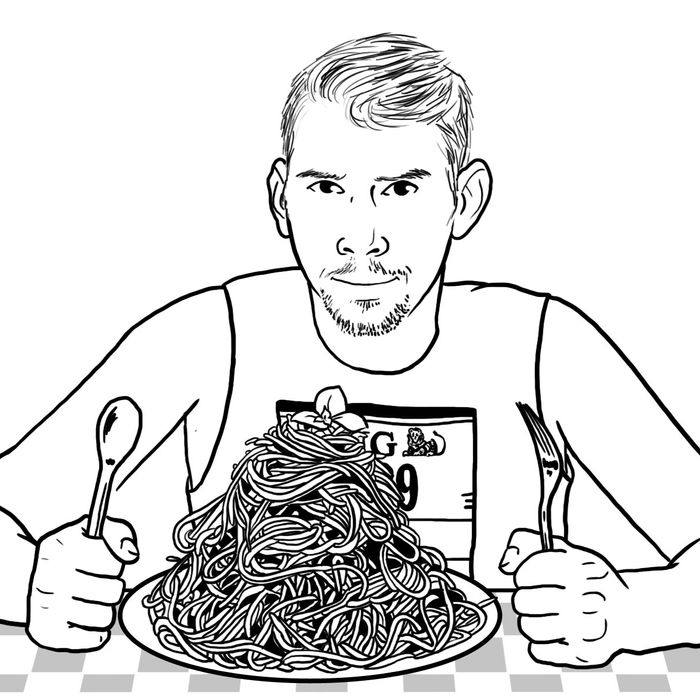 A special menu for marathoners includes four half-portions of solid starch.
Illustration: Illustration by Claire McCracken
For certain pasta-centric restaurants, the night before the New York City Marathon is like Mother's Day, Valentine's, and Easter Sunday all rolled into one. Take, for instance, Sara Jenkins's Porsena. One early November evening two years ago, Jenkins was surprised to discover that her East Village trattoria had been overtaken by an international mob of athletic-looking types who devoured enough linguine and maccheroncini to feed a small Italian army. "I was astounded by the number of people," says Jenkins. What led them to Porsena? "I think they just Googled 'pasta restaurants NYC.' " Last year, like a swarm of locusts, the carbo-loaders returned, once again seeking to maximize the storage of oxygen in their muscles through second helpings of spaghetti al pomodoro. This year, Jenkins is ready for them, having devised a special menu. After quizzing her runner friends, she's learned that "marathoners are looking to bulk up with complex carbs and starchy vegetables — not too much meat and not too much fat." Also: "They are encouraged to eat simple sweets." Thus her $55 Marathon prix fixe includes four half-portions of solid starch: pumpkin risotto, bucatini con cicoria, pennette al cavolfiore, and rigatoni con patate, plus a multigrain salad, and red-wine-poached pears for dessert. Jenkins isn't guaranteeing that the meal will allow you to break any running records, but given her knack for making pasta, we're betting it will be delicious. (October 29 through 31.)
Take a look at the menu, and see porsena.com for more information.
Marathon prix fixe — $55
Multi-grain salad, freekah, lentil, quinoa, chopped herbs, roasted pumpkin, and toasted sunflower seeds.
Pumpkin risotto — vegetables broth, carnaroli rice, pecorino cheese.
Bucatini con cicoria — spicy chicory puree with garlic and chile and toasted bread crumbs.
Pennette al cavolfiore — roasted cauliflower with garlic, anchovies, capers, and green olives.
Rigatoni con patate — pancetta, diced Yukon gold potatoes and rosemary.
Red-wine-poached pears.
*A version of this article appears in the October 19, 2015 issue of New York Magazine.