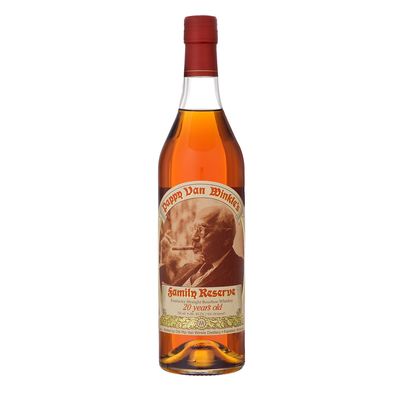 Get a good look at it while you can.
Photo: Pappy Van Winkle
Bad (worse?) news for anyone hoping to stand in line for tickets to a raffle in order to overpay for a bottle of ultra-rare Pappy Van Winkle when the beloved bourbon's 2015 release hits its stride next month: Your chances just went from hiiiighly unlikely to why bother? Owing to especially low yields this year, Van Winkle's distillers announced this week that they'll only be able to release half as much bourbon as they did last year.
Kris Comstock, the marketing director for Buffalo Trace (Pappy's producer), tells Men's Journal that it was just a particularly bad year for the losses that occur naturally in barrels — an evaporation known as the "angel's share" that happens during the aging process. Bourbon evaporates from barrels at a rate of about 5 to 6 percent per year, so as it ages there's less remaining. In fact, according to Comstock, 53-gallon oak barrels often yield less than 20 gallons, all told.
Besides the obvious problem here (less booze now), this also creates a secondary problem, which is that if the distillery wants to put more Pappy on the shelves, the difference has to be accounted for by taking bourbon out of older, off-year barrels. For instance, drawing from 16-year-old barrels to help fill bottles of Family Reserve 15-year. But that's of course "shooting yourself in the foot," Comstock says. "Then there's less for 20- and 23-year-old bourbon a few years later."
Men's Journal says the bad year was the result of a killer combination of factors, including "science, fate, and global warming":
Sometimes bad things happen to good barrels. Whether it's a leak, a few bad wood staves that taint the product, or unseasonably hot summers that increase evaporation, some portion of the stock will age slower than the rest, and taste worse because of it. It happens. The problem for the Van Winkle bourbons is it happened with more barrels this year. Comstock says there's no one reason to explain the losses. He pointed to "high standards of quality," which probably means that the number of usable barrels was much lower.
The magazine suggests reaching out to retailers now, if "you have a good relationship" with one, to try and secure a bottle. As if!