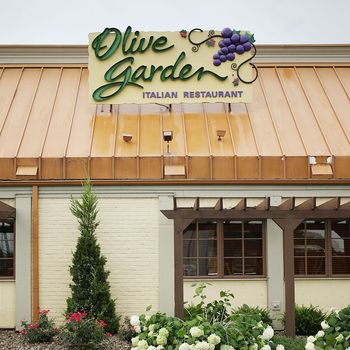 Time to revisit the corporate policy.
Photo: Luke Sharett/Getty Images
Olive Garden has sprung into full, rah-rah, "we love police" mode after the hostess at a Kansas City location told an officer to leave on Sunday because he was wearing his service gun. This is at least the sixth time in recent weeks that a restaurant employee has refused to serve a cop, and situations like this rarely end well for anyone involved. It's doubtful that things will (or have already) for this employee either.
Officer Michael Holsworth was at the retaurant for his birthday, but left in a huff. Here's what happened, per his Facebook post:
So I was going to eat lunch with my family today (10-11-2015), we had decided to go to the Olive Garden in Independence off 40hwy and Noland Rd for my birthday lunch. They were running late getting there so I decided to go inside and wait for them. I walked in and sat down on a bench just inside the doors. As I was sitting there waiting, one of the employees told me "Sir, we don't allow guns in here." Now mind you I am in full police uniform and on duty. I actually thought it was a joke at first so I asked her "Are you serious?" She replied back with "Yes". So I told her "well I can leave I guess." She then replied back "yes please leave"
He then added, "Please share this post and let everyone know how this establishment is treating their local law enforcement." (He now seems to be having second thoughts, asking that "the media and others respect my privacy.")Word of the incident reached corporate pretty fast, and the company's president, David George, called Holsworth personally to apologize. Spokesman Rich Jeffers tells reporters that the hostess's treatment was completely unacceptable, and that police officers are "always welcome inside with their service weapons." Totally unsurprisingly, the person(s) running @OliveGarden has spent the last 48 hours almost nonstop replying to angry tweets, a good portion of them calls for the unnamed hostess to be fired. The reply doesn't sound great for the hostess:
[Fox 4]