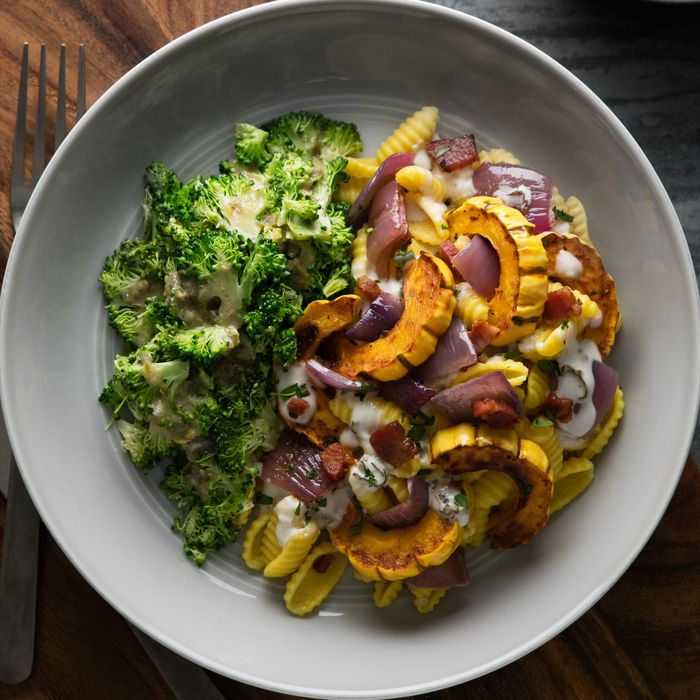 A bowl with plum, goat cheese, and farro; malloreddus pasta with sage-roasted delicata squash.
Photo: Courtesy of Maple
Back when Maple launched in April, the service promised a new kind of delivery experience, where all of the food is prepared in a commissary kitchen in Brooklyn, and then in a network of neighborhood delivery-kitchen hubs. It delivered on its pledge — but only, literally, below Chambers Street.
Starting tomorrow, that will change: Maple is expanding its delivery zone to serve parts of the West Village, Greenwich Village, Soho, Tribeca, Nolita, and Little Italy. "The thing about growth for us is that, because we actually are building out the infrastructure with more neighborhood kitchens, the reality is as we gain more density, the model actually gets even better," says co-founder and CEO Caleb Merkl.
There will still be rotating lunch and dinner options — costing $12 and $15, respectively — as well as a new signature green juice, drinks selection, and a dessert collaboration with Christina Tosi. Today's menu includes dishes like a wild albacore tuna niçoise salad, lamb kofta with coriander-yogurt vinaigrette, spicy shrimp stew, and herb grilled garlic chicken, and a smoked-brisket sandwich, peppered pork steak, and red-wine-braised short ribs are set to debut soon. The concept is that all of the food is made to travel, and the kitchens are optimized so orders arrive in 30 minutes or less.
"You get online, you order, and there's basically a giant marketing channel that pushes an order onto a restaurant, and that restaurant wasn't necessarily built with delivery in mind," Merkl adds. "The staffers have a whole dining room that they're dealing with, so how do they serve those people and keep them happy? And it's actually a really different problem than: How do you do delivery really well?"