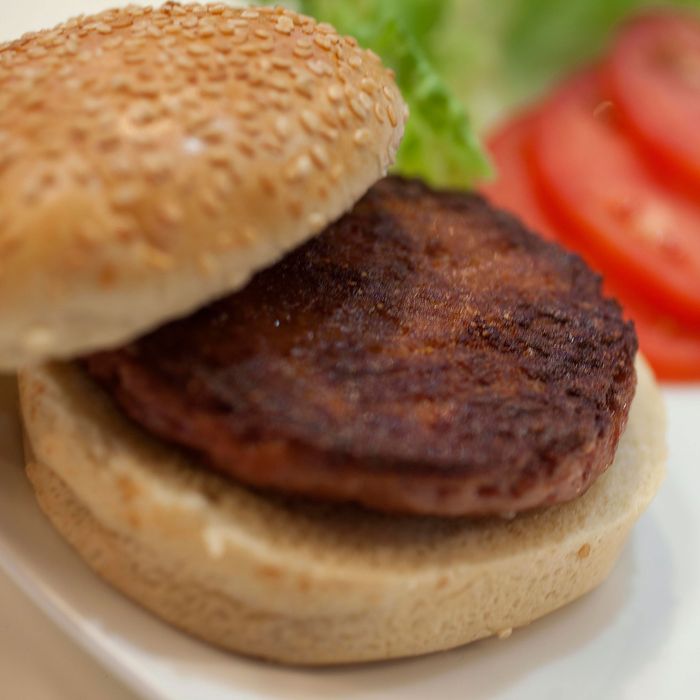 The future.
Photo: David Parry/Pool/Reuters/Corbis
The Dutch team that developed the world's first in vitro burger says that it's confident the product will be on shelves in another five years. This is quick, considering the five-ounce prototype that Mark Post and his crew at Cultured Beef rolled out in 2013 cost $325,000 to produce. Post told reporters more recently that the price could fall as low as $27 a pound with "further development." Still not cheap!
It sounds like production has been scaling up a storm, then: Post now predicts that he'll be able to mass-produce in one to two more years, then win regulatory approval shortly after that, "so that we can have the first product on the market in four to five years."
Right now five ounces of this "meat" requires stitching together 20,000 strands of protein grown from cells in a petri dish. While it's not easy or perhaps terribly delicious-sounding, it does make for a 100 percent humanely raised patty that Post's team contends is a viable solution to world hunger. The taste has been described as "like an animal-protein cake," so he was careful to add, in a later interview with trade mag Food Ingredients First, that he's also made some improvements to the consistency to make it more meatlike:
"We needed serum to grow the cells, there was no fat in it and we had no large scale production. We have worked on all those areas. We have grown cells without serum. It is not perfect yet, but it is improving. We are growing fat cells and tissue, so that we can mix it with skeletal muscle to get a better product."
Post says once his new outfit, called Mosa Meat, can secure about $7 million in funding, he can build a 25,000-liter bioreactor that could crank out enough of his meat to feed 10,000 people per year. He expects that the going rate will be about £65 per kilogram at first (a mere $160-ish a pound) — "which is a lot of money," he admits. But he's betting on ample initial interest from exclusive restaurants.