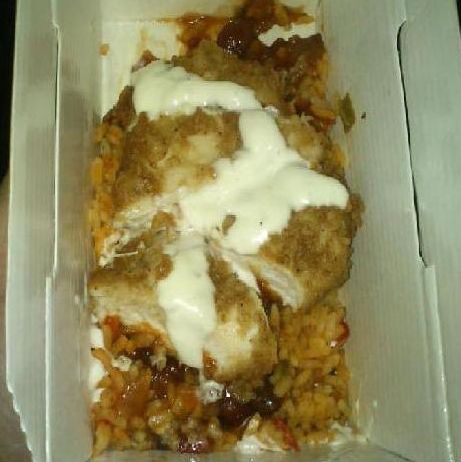 The law of inverse proportion rules all fast-food ads: The crazier the menu item is in pictures, the more disappointing it's going to be in real life. So when Reddit user atheistlee ordered a chicken Ricebox from a U.K. KFC, he didn't think it would come out precisely as depicted, but it's safe to say he wasn't expecting what did.
Instead of a whole fried chicken breast — shown in pictures sliced on the bias with a zigzag of sour cream, sprigs of lettuce, and a bed of fluffy rice — his Ricebox (which cost £6.09, or about $9.25) looked like leftovers. It was tiny, too: "The portion size was mainly the reason why I was pissed," he wrote, "and for those asking it didn't really taste very good either, the chicken was very tough and rice stone cold."
His post has attracted almost 500 comments, with some fellow Reddit users actually so appalled that they wondered how much could be blamed on atheistlee's terrible phone camera or poor lighting technique. (The horrors of bad lighting ruining food porn is a well-documented phenomenon.) To help, another user "fixed" atheistlee's image and re-posted it; this retouched shot seems to have just made the sour cream yellower.
KFC's corporate office eventually got wind of the fiasco and made the basically unheard-of move of apologizing. A rep had this to say to the Daily Mail:
We are really sorry about this. Clearly this ricebox was not served as it should have been and we are in contact with the customer to apologize. We are also reminding all of our restaurants of the right way to serve Riceboxes. We always want our customers to be happy with both the look and taste of their food so this is very disappointing.