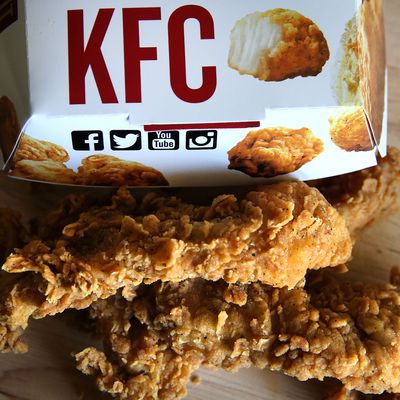 Kentucky Fried Catastrophe.
Photo: Justin Sullivan/Getty Images
A major KFC chicken supplier has been slapped with some heavy fines for operating a factory that almost sounds like the set for a Saw movie. OSHA, the federal agency in charge of workplace safety, has demanded Case Farms and a cleaning subcontractor called Cal-Clean to pay more than $1.4 million for exposing workers in Ohio to hazards that include "amputations, falls, and risk of electrocution." If that wasn't bad enough, if two additional ongoing inspections end badly, you can add "respiratory illnesses" and "food poisoning" to this list of dangers as well.
The worst of the incidents involves an actual loss of a limb, which befell a 17-year-old who was legally too young to be working around dangerous machinery in the first place. He somehow lost half of his left leg while cleaning the contraption used to chill liver giblets — an amputation that left him unable to work, so Case Farms fired him. Another worker, a 24-year-old this time, was busy cleaning a fat-sucker machine (surely this has been in horror films?) and got two fingers chopped off. Amazingly, OSHA says, Case Farms decided the machine would stay on while that worker was attempting to clean it. This person was ultimately fired, too.
A spokesperson for OSHA, who's no doubt seen his share of dangerous workplaces, called Case Farms "one of the worst of the worst." Because of the gruesome incidents, the company is now in OSHA's rarefied Severe Violator Enforcement Program. All told, Case Farms uses 3,200 workers at several factories to process almost a billion pounds of chicken a year. In the unlikely event anyone still needs this reminder, this is chicken that gets turned into tenders at KFC.