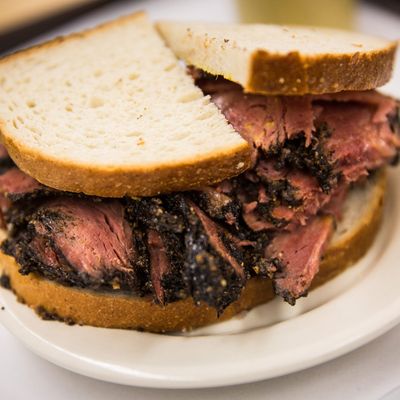 Pastrami for everyone.
Photo: Andrew Burton/Getty Images
Co-owner Jake Dell has confirmed that his legendary Lower East Side delicatessen Katz's, the place that the late meat maven Josh Ozersky called the final word on pastrami, will be opening a branch at the forthcoming Dekalb Market Hall in Downtown Brooklyn. The move had been rumored for some time, though there had been no concrete information or confirmation from the Katz team until now. It's a pretty significant move for the deli, though, as it not only marks Katz's first foray into Brooklyn but its first expansion since opening up way back in 1888. Dell does tell the Times, though, that this won't be a full location, but just an "outpost." The Market is set to open sometime next year, but don't get carried away and think this will mean shorter lines at the original.
[NYT]