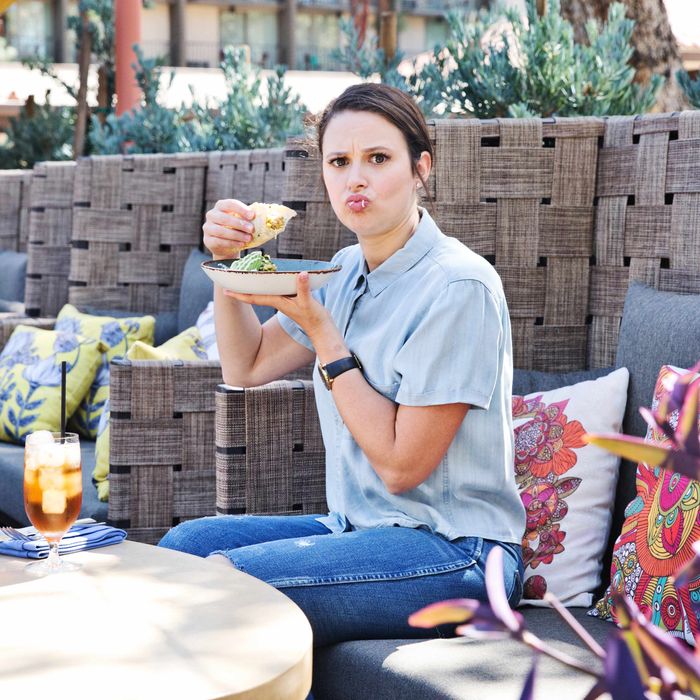 "They're round and they're soft, and you get a delicious piece of fresh Pacific fish!"
Photo: DYLAN + JENI
"This week was extra crazy," says actress Katie Lowes, who's best known for her role as Quinn Perkins on Scandal. She's not exaggerating: Lowes bounced between Los Angeles and New York, shooting the wildly popular Shonda Rhimes show, accompanying her husband to the Jobs premiere, and still making time for family meals. But instead of thinking of all the travel as a chore, she treated it like a vacation, and drank mimosas, enjoyed extravagant late-night feasts, and ate lots and lots of her favorite snack (Oreos!).
Thursday, October 1
I like to wake up and have some oatmeal. I go back-and-forth between hot and cold oatmeal, but since L.A. was having a heat wave last week, I went for some cold oats! I take some steel cut oats and soak them in almond milk, cinnamon, and a splash of vanilla extract overnight. Then in the morning I add chia seeds, almond slivers, and berries. It's kind of like muesli. It's bomb-good!
For lunch, I got to meet one of my besties Jamie Roberts at the Front Yard in the Valley. She's the head of Disney Animation casting, but I was her nanny for years and we are tight. I ordered the mahi-mahi tacos! I grew up in New York, and had never heard of such a thing until moving to the West Coast. We'd have beef tacos in a hard shell growing up, so I really didn't understand the whole taco movement. They're small and they're round and they're soft, and you get a delicious piece of fresh Pacific fish! I eat a fish taco at least once a week.
Thursday dinner is during the Scandal live-tweet, which spans time zones. I'm so busy tweeting with all the fans that my husband and I usually just have popcorn and red wine all night, like Olivia Pope. I feel like I'm one with gladiators. I love to pop my own popcorn. We make a little thing of it at 5:30, and by the time dinner rolls around, I'm way too full for anything else. I've just accepted that on Thursdays I have popcorn for dinner. I wouldn't pass this ritual along to children, but whatever! It's fine for me!
I get all kinds of kernels — I love organic white and red corns — and then I go back and forth between using coconut and grape-seed oils. Sometimes, in the pot, I'll put agave, and you can make a caramel corn. Sometimes I just make it plain. And sometimes I even add nutritional yeast.
Friday, October 2
I had to catch a very early flight to New York to catch my husband in the premiere of Jobs! Our plane was delayed, so we passed the time at Gladstone's in the terminal, having some scrambled eggs and mimosas. You know, just to take off the Scandal hang-over and the flying edge. I shouldn't complain, but we were in the Virgin terminal, and there's just no good food in there. No offense to Gladstone's! I try to pack snacks, but this Friday, I was rolling on empty. I thought, Let's just make a vacation out of it! Let's get some mimosas..
We landed really late at night and rushed over to Blue Ribbon Sushi for some delicious seaweed salad, miso soup, and lots of sushi and sashimi. Just like my taco fix, I love sushi once or twice a week. We had one of those epics three-hour meals. I love that it's open late, because you can't get that in L.A. We were crushing sushi until 2 a.m. Everything we could get our hands on.
Saturday, October 3
We went to one of the best New York brunches you can find: Norma's at the Parker Meridian. I ordered the famous Nutella-stuffed flapjacks. I had never had them before! Wowzers trousers. Holy shit. That was a crazy experience. I highly recommend that indulgence once in a while. And sticking with the theme that this was a vacation weekend, I had coffee with cream in it — and I rarely drink coffee — and a mimosa. We never get to really do brunch, and it's one of my favorite things in the world.
Then we went to see Hamilton, which was incredible. This was such a treat of a weekend to have a late-night meal, wake up and have an awesome brunch at noon, and then walk to see a show.
We had a quick dinner before the Jobs premiere, where we went to Brooklyn Diner and had some salads and chicken-noodle soup. It was freezing in New York, and I was craving the soup to warm my bones. It has a ton of parsley in it, and that's my fave.
It was a very late night of celebrating the movie, so Oreos may have been purchased and consumed back at the hotel. Oreos are our crack addiction. We had an Oreo wedding cake: just a pile of 3,000 Oreos. We try every new Oreo that comes out, and there are a lot.
Sunday, October 4
I flew back to L.A. at the crack of dawn because Scandal had a pick-up day of shooting. I slept one hour. The movie got out at midnight, and then they rented out Tavern on the Green. My car picked me up at 5:30 a.m., I landed at 11 a.m., and the Scandal van picked me up to get me to set to start shooting by 1 p.m. It was like, Whoa! What just happened? I'll sleep when I'm dead. It was an amazing weekend.
When I got to set, I had some steamed veggies and a piece of cooked fish from catering. Our catering department rocks! Of course I was trying to eat clean and healthy, and then, since we were working on Sunday, Kerry Washington surprised the cast and crew with the Harold and Belle's food truck, which serves French Quarter desserts. Thank you, Kerry Washington! The truck had beignets, peach cobbler, and bread pudding. I went for the peach cobbler and it was the bomb.
I went to bed by 7 p.m. because I had a 5:30 a.m. call time.
Monday, October 5
I had big shoot days on Monday and Tuesday that required 13-to-14-hour days. I woke up with my cold oats again, and then I had catering make me a protein shake with kale, spinach, protein powder, and a little almond butter in it.
Later, I cut up veggies and hummus for a snack. That's my go-to set snack. My hubby made dinner that night: Brussels sprouts, broccolini, and baked chicken. Yum — and thanks, Adam!
Tuesday, October 6
Oatmeal and protein shake, once again. When it's a crazy shoot day, I like to eat simple and clean, and pick things that keep me full of energy, because our days are long.
For dinner, we had a family dinner at Katsuya in the Valley. Sushi again! It was with my little brother and his wife, who just returned from their honeymoon. Family and sushi is a perfect combo. We had spicy tuna on crispy rice, miso soup, string beans, blue-crab rolls, a halibut appetizer, and a bunch of other stuff. So fresh and delicious!