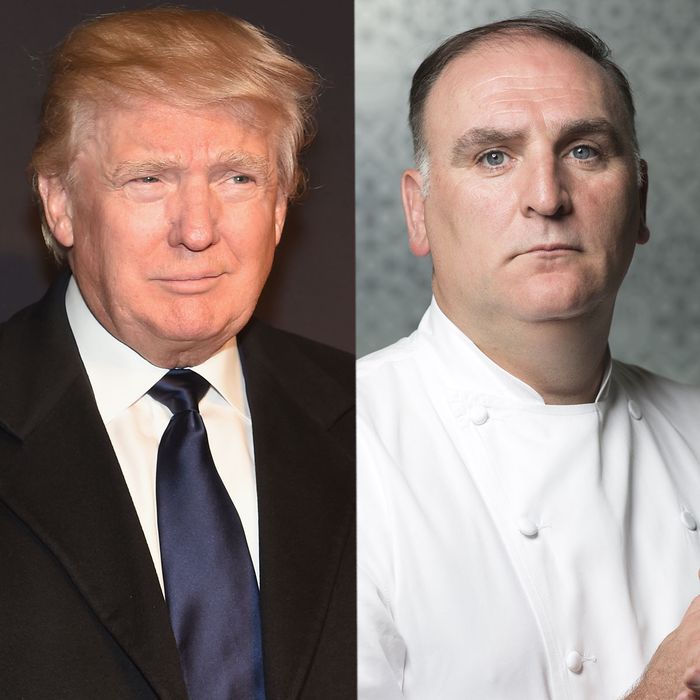 Tit for tat.
Photo: Getty Images
It looks like erstwhile Trump business partner José Andrés has joined friend and fellow ex–Trump Hotel restaurateur Geoffrey Zakarian in hitting back at the person who is still running for president. Late yesterday, lawyers for Andrés's ThinkFoodGroup filed a countersuit that, echoing Zakarian's from last week, claims the Trump Organization's $10 million breach-of-contract lawsuit is just bunkum — that it was Trump who violated the lease agreement, not Andrés. The filing says he and his team will agree to call it even if Trump pays $8 million in damages, chump change for the Donald and his $10 billion, since it was Trump's "immigrants are rapists" speech that made it impossible to run a Spanish restaurant associated with that man in the first place.
According to the filing:
The perception that Mr. Trump's statements were anti-Hispanic made it very difficult to recruit appropriate staff for a Hispanic restaurant, to attract the requisite number of Hispanic food patrons for a profitable enterprise, and to raise capital for what was now an extraordinarily risky Spanish restaurant.
But, to be fair, any venture associated with Trump at this point might be considered "extraordinarily risky."
[WP]