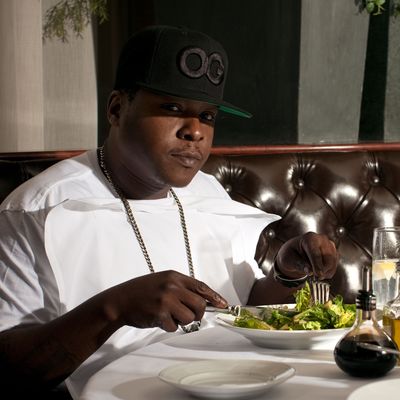 "These days, I'm out in the world investigating salmon."
Photo: Melissa Hom
"Health is wealth" is the philosophy of Jadakiss, who nixed meat from his diet earlier this year. "It's just getting to that time that it's now or never," he says. "They say, '40 is the new 20,' but it's only a saying if you don't put forth the work and try to stay healthy." This week the rapper prepped for the release of his upcoming, and long-delayed, album Top 5, Dead or Alive with rum punch at his go-to Caribbean restaurant, by visiting his favorite hole-in-the-wall spot for fish and chips, scoping out the places with the freshest salmon, and stopping by Juices for Life, which he owns with fellow artist Styles P. Read about it all in this week's Grub Street Diet.
Friday, September 25
Hit my local gym in Yonkers and got the blood flowing. During the week I try and hit the gym as many times as possible. I followed that with breakfast at home: some fruit and whole-wheat toast. I come from a long line of great cooks, but I don't really cook. I mean, if I get starving to the point of no return, I can whip up something. But I can't get like Emeril or anything. I can't really get busy like that. I'm trying to stay on this health tip now, and I can make my fruit: I get it from Whole Foods, and I chop it up.
Later in the day I headed down to Manhattan to meet with my business partner before he heads up to my label for some meetings. I've got a new album on the way, so we were discussing strategy over lunch at Serafina, the spot right across the street from the label building. I got the grilled salmon with a side salad since I'm avoiding red and white meats right now. Strictly fish. It's cool. We've been going there for years just by default since it's so close to the label.
Spent the afternoon spreading the word about a fun remix that my guy Nino Man brought me on for Drake's "Hotline Bling" called "Thotline Bling." If you don't know what a thot is, I'm not going to explain it here, but it was just a fun track to heat up the people before I release my album.
For dinner I grabbed food at this Caribbean spot downtown called Negril Village. It's a good spot — you're always gonna see somebody. The other day I bumped into Kanye. It used to be one of my favorites when I was eating meat — they have these guava barbecue wings that I loved — but I still like to go. I had some rice, beans, salt fish, and plantains. If you go, get you some nice rum punch. The Village Island punch is beautiful.
Saturday, September 26
I woke up Saturday recovering from my boy's birthday at a club in White Plains. I eat a sliced apple every morning, but an apple will also cure a hangover. Try it. I had to hit the gym to work this off.
After the gym, I made my way over to my juice shop in the Bronx called Juices for Life and had my signature drink, Kiss of Life: bananas, pineapples, blueberries, and strawberries. My longtime friend Styles P brought me in on his juicing business. We're bringing healthy options to the hood and helping educate the youth about health and fitness. So far so good. We have three locations in the Bronx and Yonkers, and we're looking to open a billion more. We're looking to franchise, actually.
I actually came up with the Kiss of Life. It was our plan that we all had to make our own drinks when we got the first juice bar. It took me a while, with the blenders and the ice and all that, because I didn't really know which fruits go together. But once I got the recipe and I tried it, I loved it. And it's one of the top sellers at the juice bar.
For lunch I went to Harlem to meet up with some friends at one of my favorite spots Famous Fish Market and had the fish and chips. It's a little hole-in-the-wall joint that has the best fried fish. It's all carry-out. There's only room for about three people to make their orders and get out the door. Growing up, my grandma and my mom would cook whiting on Fridays. That was the fish of choice. I figured I found something that's closest to my grandmother and my mom's.
After that I hit the studio to finish up my album. At the studio you don't usually leave until the session is up, so you order in. I was recording up in Yonkers at D-Block studios, so we ordered a cheeseless pie from Pizza Pizza, with spinach, arugula, all types of green leaves. It looked like a pizza with a plant on it. My favorite part of pizza, anyway, is the crust.
Sunday, September 27
I took the day off to link up with the family in Yonkers. I call Sunday "BMS": Black Man Sunday, where you're not supposed to do anything.
We had an afternoon barbecue, grilling veggies, fish, burgers, etc. I'm a New Yorker through and through, and especially I represent Yonkers. I make an effort to be in the area as much as I can, so it's always good to see friends and family. My man Richie Thumbs manned the grill — when he's on the grill I call him "Curtis Propane." He does the salmon right. Everybody can't do salmon on the grill. It sticks or breaks apart. He has a special olive oil that he greases the grill down with and lets the salmon sauté. I had that with fresh corn on the cob and salad.
Of course, I also watched some football because Sunday is game day. I'm a heavy football fan, so I just turned the phone down and watched the games all day, all night. That's my reward for putting in all the work all week.
Monday, September 28
I hit the gym in the morning and had my usual breakfast of some fruit and toast, plus coffee. My dad owns a coffee company, so I was raised on it. Every now and then I'll have one, a little light and sweet.
I had a few meetings in Manhattan, including a fitting for a photo shoot for the album. On my way to the fitting with the stylist I grabbed some lunch at Eataly. That place is crazy. A bit overwhelming, but they have a little bit of everything. I picked up a sandwich with mozzarella, tomato, basil, and balsamic.
After the fitting, I had dinner with a few folks from my team to plot the rest of the week. We went to Philippe's in midtown. I'm not sure how this became such a popular Chinese place for all the rappers, but everyone comes here. For a while I had a thing with Philippe's. Too many people wanted to go there. Every time something happened at Def Jam, a first good week, or any type of good news, everybody was like "Let's go to Philippe's!" So I was anti-Philippe's for a while. When they got off of Philippe's, that's when I got on Philippe's. When I was still eating chicken, I used to get the Beijing chicken. The sauce on that was incredible, with the pecans. That was nice. And now I just get the vegetable fried rice and the broccoli. The broccoli was amazing.
Tuesday, September 29
Gym and breakfast ritual started a little bit late today. Then went into Manhattan to have a late lunch at the Redeye Grill. I hadn't been there before. These days I'm out in the world investigating salmon. I put out an APB on the good salmon, and this is what came back. The salmon there was fresh as ever. They imported it from the water. And cooked with love. That's the main thing with a restaurant — you need to know your food is prepared with love. That's what brings you back. We just ordered a bunch of other stuff, some shrimp, salad, asparagus, fries, and a little midday wine, just because.
Tuesday night I actually skipped dinner by accident because we had such a late lunch. I was in the studio late working on the album, putting the finishing trimmings on the tree, and then just passed out.
Wednesday, September 30
I stopped at the gym before my photo shoot for the album. I had a Kiss of Life after and then went downtown to the shoot. You want to keep it real light before you go on-camera. Nice and light.
Before, I was always chubby in all my album shoots. Growing up, they used to call me Cheeseburger. I had a summer job at Burger King on one of my off summers — I think the summer right before I started high school. I ate so much Burger King, when it was time to go back to school and play JV ball, I was round and chubby. One of my boys called me Cheeseburger, and the coach heard it, and it was history after that. They cut it short later and called me Cheese. They swagged it out a little bit.
I never felt as good about taking the pictures as I felt at this shoot. I looked good, I felt good. It was just a better energy. The shoot was catered, so I was just picking a little bit at everything I like. Some salad, some fish, potatoes, a little pasta. I didn't go too crazy so I could get the shoot done on time and keep it moving.