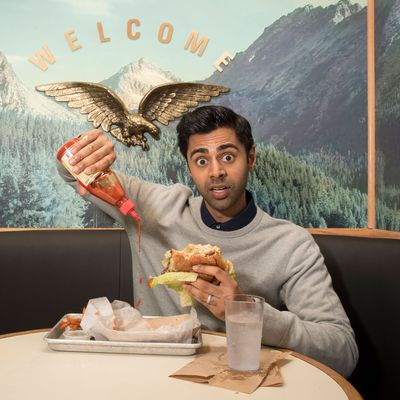 "Honestly, sometimes when I'm done with rehearsal, I'll straight-up go back to Gotham West Market and get a fried-chicken sandwich."
Photo: Liz Clayman
"It's amazing how far you can go with just sriracha and chipotle mayo," says Hasan Minhaj. This week, the newbie Daily Show correspondent prepared for the debut of his one-man show, called Homecoming King, about his life growing up as an Indian-American and becoming a part of the "new brown America." (It debuted last night at the Cherry Lane Theatre.) In between rehearsals, he stopped for empanadas, ice cream, stolen almond butter, and his favorite chicken sandwich. Read it all in this week's Grub Street Diet.
Friday, October 9
Breakfast was a Vitamix fruit smoothie: berries, bananas, peanut butter, and whey protein, made by my lovely wife, Beena. We got the Vitamix as a wedding present, and I'm just going to say this: It is worth the hype. It can blend, it can mix, it can do soups, it can do ice creams. It's incredible.
At The Daily Show, this guy Justin Chabot, who we work with, makes his own cold brew and brings it in these, like, kegs. He put it in the middle of the office, and you can go over and get cold brew on tap, so I had one of those. Coffee is my thing. I usually have two cups of coffee a day. I do it construction-worker-style. And I don't know if this is the old man in me, but what I like doing is having a hot cup of coffee and cutting it with something sweet, like a chocolate-chip cookie. I feel like I'm an old retired cop, like Danny Glover in Lethal Weapon. I'm sipping my black coffee, and I'm just like, "Uh yeah, that's good. I'm too old for this shit, Riggs."
Lunch was at the Gotham West Market, right by The Daily Show, and one of my favorite places to visit. Gotham West Market is great, in the sense that it's the nicest food court you've been to. Most people think of "food court" and they're just like, "Oh, geez, yikes, I do not want to eat at Panda Express." But it's not your traditional Westfield mall food court in Any-Town, America. It's basically the best of the best places, just kind of curated in one place. And if you're indecisive and you're with a group of people, everyone can dabble and do their own thing. So I go to this place called Genuine, which has really good chicken sandwiches, and I get the double chicken sandwich with sweet-potato fries, and that's my M.O.
Dinner was a Beena Minhaj production of sea bass and risotto. She seared up the sea bass and put some garlic and lemon on it, and it was fantastic. I've known my wife since college. She's my Mafia wife — she's ride or die. We try to eat together every night.
We had some asparagus on the side, and to drink we had Pelligrino. We felt super fancy.
Saturday, October 10
Weekends are great because I get up at around 10 a.m. That's pretty nice. Breakfast was Fage Greek yogurt, plus Honey Bunches of Oats, which add crunch. Honey Bunches of Oats is the best. To me it has the perfect combination of everything. For example, I loved Cookie Crisp and Fruity Pebbles as a kid. But I eat that now as an adult, and I'm like, "Oh, I'm eating diabetes." It's so much sugar. But Honey Bunches of Oats has the perfect combination of crispiness, sweetness, and it feels wholesome, so you don't feel too bad eating it. And then what I'll do is I'll cut up bananas and put it on top of it and eat that.
Then Beena and I just kicked it. We went to go see Steve Jobs, and dinner was at this Peruvian joint Pio Pio, where I had the matador combo. You get this big huge chicken with plantains, rice, beans, avocado salad, with this, like, fried tapas mix. They give you like a Wu-Tang Clan number of dishes — between seven and nine dishes. And it's enough to feed three people.
To drink I had water. I'm a water guy. I don't drink, but also I'm not like, "I want a soda." When I want my sweets, I'm like, "Let's straight-up do a chocolate-chip cookie, or let's straight-up do Ample Hills. Let's not half-step with a Diet Coke."
Sunday, October 11
Breakfast was an all-American scramble at this diner down the street from where we live. It's just a traditional big ol' plate of eggs and potatoes and toast, and it's so big that I can pack half of it. I took the other half to the Cherry Lane Theatre, then I had rehearsal and munched on kind of coldish eggs and potatoes. But it was fine because I had hot sauce and I was able to fix it.
I cook, but I'm limited to cooking eggs, and that's really it. Eggs and sandwiches. Those are kind of my forte. My sandwich specialty is basically a chicken-breast sandwich, with pepper-jack cheese, avocado, spinach, onion, and tomato. I invented that post-college when I thought I deserved something better than Subway, which dissolves if you don't eat it in the first seven minutes. I use this bread called Dave's Killer Bread, out of Oregon, but you can get it in New York. Coincidentally enough, we ended up doing a field piece about them at The Daily Show, because they have a really great program where they hire people with former criminal records, allowing them to work at the plant and get experience. And their company helped lower recidivism rates significantly. I met the CEO, John Tucker, and I was like, "This is crazy, I used to buy your bread at Costco."
Growing up, I used to try to make Indian food. But my biggest problem with it is that to cook it well, and for things to taste legitimately good, it requires a lot of prep time and attention to detail. I talk about this in the show, Homecoming King, but the first few years of my life was just me and my dad — my mom was actually still in India. When my mom came back to the States and we were living together, one of things I loved that she used to make was biryani. And the way I explain it to other non-brown people is that biryani is basically like Indian gumbo. It's like, "Hey, we put a bunch of stuff and it's kind of a mix of rice and chicken and spices, and sometimes you get one of those crazy black balls that ruin your day, but those are used for seasoning — at least that's what my mom tells me." My mom's biryani was arguably one of my favorite foods.
I'm slowly becoming better with cooking in general, especially through Beena. For example, the other night we had taco night with bunch of the new Daily Show correspondents who live in the same building, right across the street from the studio. I made the taco meat, and I was pretty proud of myself. Not to brag — it was just ground turkey and taco seasoning — but the fact that it was a prepared thing, and it was sizzling and steaming in a pan and presented to people. Another thing that people don't realize is that if you just cut up some bits of parsley and sprinkle it on top, it makes it appear to be a lot more prepared than it really is. I bet if you could put parsley next to Taco Bell, it would change your opinion of Taco Bell.
Dinner that night was Totto Ramen. I had the spicy ramen with bamboo shoots. When you do ramen right, it's good, and Totto really brought it. They have this tuna appetizer thing which is, like, really tasty, and I was like, "Oh, I'm a fan. I'm in."
Monday, October 12
Monday is a show day at The Daily Show, so I had egg whites and toast. It's light, and it fills you up. I had black coffee an hour before rehearsal, so it hits me and I'm in a good groove.
Lunch was catered at work: chicken-breast spinach salad with almonds, avocados, onions, carrots, and balsamic vinaigrette.
Dinner was at a vegan place on Ninth Avenue, Blossom Du Jour. I have no problem with vegan food. Hey, if it tastes as good as meat, I'll go. As long as there's no flavor trade-off. I had a beet burger and a pea-protein shake. That sounds gross, but it's really good! The smoothie basically tastes like a vanilla milk shake, and there's banana in it. As you can see, a recurring theme of my life is banana.
For dessert I went back to Gotham West Market and had my salted-crack-caramel ice cream at Ample Hills Creamery. They know me there. And they can tell my order: They can just see my eyes darting when I get there. "Oh, the salted crack?" I'm like an ice-cream crackhead.
Tuesday, October 13
So, we get almond butter at work. I'm talking the good almond butter — the kind of almond butter that you go to Trader Joe's and you go to the almond-butter section and they never have it. The almond butter that ranges between $12 to $16 a jar. I go to work and sometimes at the end of the day there'll be, like, half of the jar left. And I will straight-up nab that almond butter. Then for breakfast I'll have Honey Bunches of Oats, sliced banana, and the almond butter, stolen from work. Hey, I'm not paying $16 for raw almond butter.
Lunch was at Red Hen, which serves antibiotic-free chicken, and it tastes really good. You know how sometimes you have chicken at certain places and you're like, "This is really bland"? Not at the Red Hen. They have this bowl that's called the Which Came First Bowl, which is brown rice, grilled corn, green chiles, chicken, and a poached egg. And it felt like a wholesome meal. Then I went to rehearsal, and I had the energy to get through rehearsal of my show. Because our rehearsals are long. The show's 72 minutes, so I need something to hold me over.
Dinner was at Empanada Mama, a Beena favorite. We had a flurry of empanadas: a spicy chicken one and a spicy seafood one, which were great, and a mushroom one, which was fantastic. I topped them off with a banana shake.
Wednesday, October 14
That day, we had tech rehearsal, preparing for our opening on Thursday. We ran the show back to back so it was an hour and 40 minutes, essentially. Again, I tried to have something as wholesome as possible that could hold me for an hour performance, a quick little break, and then another hour performance. I went to Fresh & Co. and got the Bangkok bowl with chicken, Thai-spiced turkey, quinoa, daikon, cabbage, and some other stuff. It feels filling, and it can slowly burn.
And then at night — I'm not saying I did this — but honestly sometimes when I'm done with rehearsal, I'll straight-up go back to Gotham West Market and get a fried-chicken sandwich and some of that salted-crack-caramel ice cream.