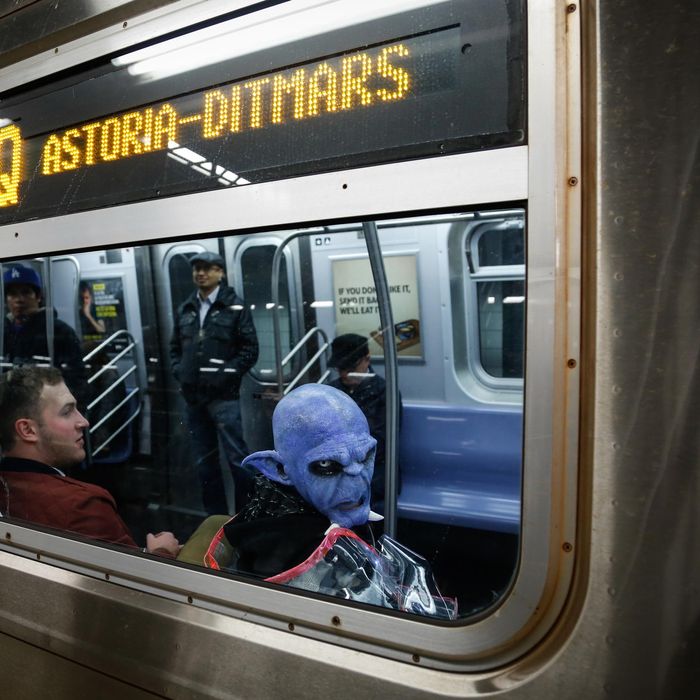 Party-hopping.
Photo: Cem Ozdel/Anadolu Agency/Getty Images
New Yorkers are finally getting the chance to celebrate Halloween on a Saturday, which makes this year's Halloweekend hype all the crazier. In the city where every holiday is taken far too seriously (looking at you, Santacon), making plans can often be maddening, but Grub has scoured the frightful festivities to find the restaurants and bars that are actually great places to celebrate. Here are a dozen ideas:
Lupulo
When: October 31
Price: $10
For its first Halloween, Lupulo's conjuring the ghosts of its Portuguese forefathers and hosting a masquerade ball, where guests are encouraged to come in costume. With Tito's and Sagres as sponsors, the bar will be offering a slew of drink specials throughout the night, and DJs Mike Furey and Lily Horreur will provide the music. Expect to see pig heads on silver platters and the entire staff dressed as historical Portuguese figures.
Maiden Lane
When: October 31, 8 p.m. to 2 a.m.
Price: Free entry, à la carte
This East Village seafood spot will crank up the Halloween-inspired disco, courtesy of DJ New Mike, for its "Saturday Night of the Living Dead Fever" event. Stop by to try specialty drink offerings like the Zombie Punch and Corpse Reviver, and don't forget to dress the part: Drink tickets and gift certificates will be awarded to those with the grooviest costumes.
Queens Comfort and the Queens Kickshaw
When: October 27, 7 to 9:30 p.m.
Price: $85, tickets here
In the spirit of Halloween mayhem, chef Kenji Hurlburt, of the Queens Kickshaw, and chef Donnie D'Alessio, of Queens Comfort, have decided to ditch the costumes this year. Instead, each chef will take over the identity and the kitchen of the other. The ticket price includes a four-course dinner with two drinks, plus a haunted shuttle ride between the two locations.
The Cannibal
When: October 29 to October 31
Price: Free entry, à la carte
If the prospect of watching a horror flick trumps that of any costume party, head over to this Murray Hill butcher shop and bar, where classic horror films will be screened for three nights in a row. Triple features of Dawn of the Dead and Friday the 13th will play on Thursday and Friday night, respectively, all leading up to a Nightmare on Elm Street screening on Halloween night. For the occasion, chef Francis Derby has whipped up a blood-sausage dish, and Day of the Dead beer bottles will be available for $5.
Dos Caminos
When: October 31, 11:30 a.m. to 2:30 p.m.
Price: $75, tickets here
What better way to honor the Day of the Dead than by partaking in a Mexican feeding frenzy? In celebration of Dia de los Muertos, chef Ivy Stark will offer cooking demonstrations at the Park Avenue South restaurant, with traditional holiday dishes and decadent desserts (including candied pumpkin sundaes and pan de muerto). The demo includes lunch, drinks, recipes, and a copy of the Dos Caminos Tacos cookbook.
Fonda
When: November 3 to November 4
Price: $75
For those looking to extend the celebration, the holiday festivities need not end on Sunday. This Mexican hot spot will offer a Yucatán dinner menu from guest chef Roberto Solis for Dia de los Muertos on Tuesday at the Park Slope location and on Wednesday at the East Village location. The menu includes turkey consommé with masa dumplings, sea urchin with white beans and cucumber, and for dessert, the Snow White Delight: coconut ice cream, mousse, and Jell-O with almond shortbread and rosemary ashes. Beverage pairings will be included with dinner.
Harlem Shake
When: October 31, 6 to 11 p.m.
Price: À la carte
Up in Harlem you'll find a soirée with a live DJ and a costume contest. The themed menu includes Zombie Fingers (hot-dog fingers "bandaged" in bacon wrapping), Bloody Eyeball Sangria (classic red sangria spiked with blood-orange juice and eyeball gummies), and Graveyard Dirt shakes (crushed Oreos and gummy worms).
Gran Electrica
When: October 31 to November 1
Price: À la carte
This Dumbo restaurant will roll out a special Dia de los Muertos punch for the Halloween weekend. While both evenings will include a DJ set, don't miss the Saturday night costume contest, where the winner will take home a dinner voucher for two.
Hotel Chantelle
When: October 31, 10 p.m. to 4 a.m.
Price: From $15, tickets here
The Lower East Side restaurant and lounge is hosting its annual three-floor Halloween party. This year's theme is Sideshow, which means costumes are a must, and cash prizes will be awarded to guests with the best costumes. The party will also feature live music, and general-admission tickets include a free cocktail.

The Third Man
When: October 31, 11 p.m.
Price: Free entry, à la carte
The cocktail bar will host a Spooky Soiree where bargoers can enjoy drinks like the Reese n' Rye, a Halloween-inspired drink concocted with peanut-butter-infused rye, walnut liqueur, and a hint of chocolate bitters.
The Wythe Hotel
When: October 31, 8 p.m. to 2 a.m.
Price: $25, tickets here
This year the duo behind the legendary No Ordinary Monkey parties will hold a Halloween bash at the popular hotel. An open bar, sponsored by Tullamore Dew, Milagro Tequila, Hendricks Gin, and Budweiser, will go from 8 to 9 p.m., and a lineup of DJs will spin until 2 a.m.
Minton's
When: October 31
Price: $10
Starting at midnight, this Harlem jazz club will throw a late-night costume party. Wear a costume and some dancing shoes, as a Creole jazz band will be jamming throughout the evening. A variety of cocktails and bites will also be available for the occasion.