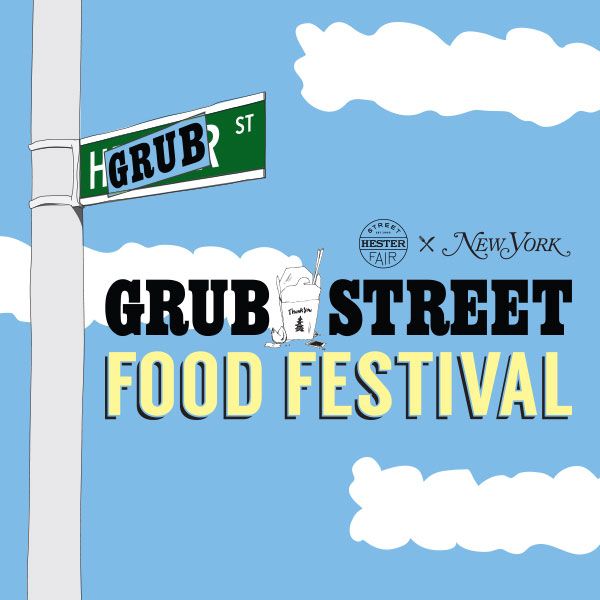 This year's festival features more than 80 vendors.
A reminder: This Sunday, October 18, Grub Street will take over the Hester Street Fair for our annual eating-and-drinking bonanza. This year's Grub Street Food Festival, sponsored by Citi, will feature more than 80 vendors offering things like top-rated barbecue, incredible tacos, lobster rolls, grilled cheese, a beer garden, plenty of tacos, cold-brew coffee, ice cream, and even beignets. As it is every year, admission is totally free (you just pay for what you eat), and the fest runs more or less all day: The gates open at 11 a.m. and things go until 5 p.m.
So take a look at the full, updated list of vendors below, plot your course of action, then head to the corner of Hester and Essex Streets this Sunday. We'll see you there.
2nd City Beef
Afishonado
An Artistic Taste
Arancini Bros
Aux Epices
Bibingka-esk
Booqoo Beignets
Bronx Cookspace
Brooklyn Floss
Bruce Cost Ginger Ale
Butcher Bar
Chickpea & Olive
Daly Pie
Davey's Ice Cream
Deviant Chef
Doughnut Plant
Eggettes NY
Excell's Kingston Eatery
Flinders Lane
Gaddy Lane
Goa Tacos
Good Stock
Gordos Cantina
Green Mountain Energy
Harry & Ida's
High Bridge Cold Brew
HKFT
Home Frite
House of Mac
Ice & Vice
Jam Jar Bakery
Khao Man Gai NY
Kopitiam
Kottu House
Little Treats
Lizbeth's
Luke's Lobster
Lumpia Merienda
Macaron Parlour
Malai Ice Cream
Manousheh
Mayhem and Stout
Meat Hook Sandwich
Melt Bakery
Mighty Quinn's Barbeque
Mimi and Coco NY
Mr. Guacamole
NY Chup
Oaxaca
Oconomi
Outer Borough
OXIDO Modern Mexican
Paranta Alley
Pasar Malam
Poffees
PokéOno
Red Star Sandwich Shop
Renegade Lemonade
Roberta's
Sam's Fried Ice Cream
Scone Alone
Seoul Pancake
Son Foods
Original Soupman
Squish Marshmallows
Sticky's Finger Joint
Strudel Z
The Bay
The Gumbo Bros
The Queens Kickshaw
Tiny Kitchen Treat
Tipsy Scoop
Tompkins Square Bagels
Uncle Gussy's
Underwest Donuts
When Pigz Fly
Wooly's
Woza
Zhà Pan Asian