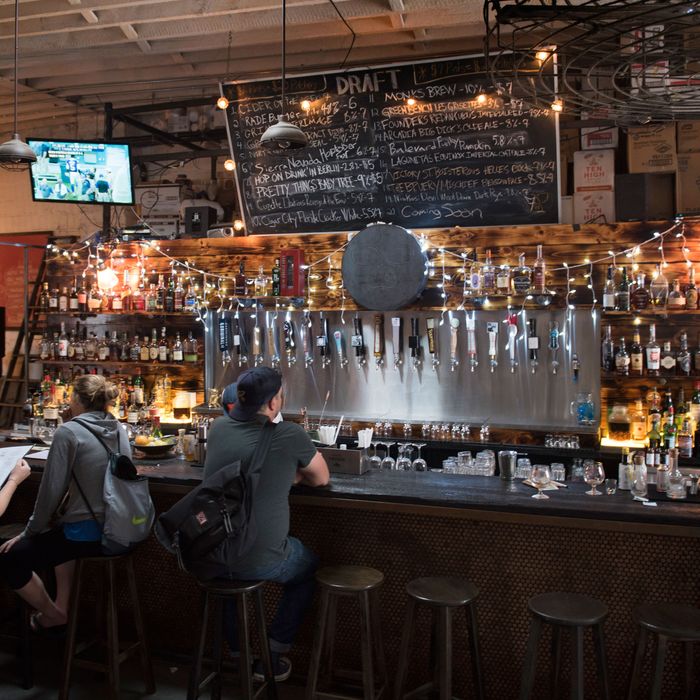 Watching football at Arrogant Swine.
Photo: Liz Clayman
The very term "sports bar" conjures up an image of endless-wing feasts, bros in jerseys, and pitchers full of mediocre beer. But this time of year — with the Mets facing the Cubs in the NLCS, football season in full swing, hockey back in action, and the NBA on its way back soon — even casual fans need a place to grab a drink and watch a game. With that in mind, here's a baker's dozen spots good for doing exactly that while avoiding many of the same, tired sports-bar clichés.
Legends (Jackson Heights)
No one really saw this gem of a Mets season coming, and given their success you're almost obligated to head to their home borough to watch them face the Cubs on Saturday. Consider this no-frills bar, where the beer is cheap, the welcoming crowd is mostly locals, and you can back Matt Harvey from the first pitch on.
Twist and Smash'd Sports (Astoria)
Speaking of Queens, you can see a television from any seat in the house at this sports-themed outpost of the Forest Hills burger restaurant. The food is nothing special, but the beer list is reliably solid, making it a good spot for when you want to focus on the game.
Arrogant Swine (East Williamsburg)
This spot is really a beer hall, whiskey den, and Carolina-style whole barbecue restaurant, but if there's a game being played, you can bet they'll have it on. Groups of fans will get special attention for their games no matter the day, but Sunday football is always a big deal, and the sprawling space means you won't be fighting for room.
Croxley's Abbey (Williamsburg)
At this location of the Long Island pub chain, there are 48 beers on tap, with an emphasis on Belgian brews, and 248 seats, so there will be plenty of people to watch with. They promise to play every football game all season long, and there are some good food specials to pull you in, but really it's the friendly vibe and consistent, enthusiastic crowds that make it great.
Brooklyn Tap House (Clinton Hill)
Many bars boast about their excessive beer lists. The Tap House should brag about the televisions it has on every wall and the giant projector screen out in the back patio. Plenty of space means you won't be jockeying for views, and you'll get to focus on the excellent suds they've got here.
Pacific Standard (Park Slope)
This bar's allegiance may lie with the West Coast, but the space is nice, the atmosphere more than pleasant, and they've got a solid beer list heavy on those hop-crazy breweries out West. California transplants do need a place to drink, after all, but its proximity to the Barclays Center is also a boon with basketball season approaching.
Pork Slope (Park Slope)
Dale Talde and his partners say this spot is "roadhouse-inspired," sure, but that doesn't mean it isn't a solid choice: There is some great booze to be had, lots of canned beer, and the loaded nachos, of course, that you need to focus on those touchdowns. (The one drawback for die-hard fans is that the TV-screen situation could be a little better.)
Daddy-O (West Village)
The well-liked bar may be better known as a late-night destination for off-duty cooks, but during the day and early evening they've got several televisions for watching games whenever you like.
King's Tavern (Williamsburg)
There are a ton of local spirits and lots of craft beers on the menu, which is always a plus. Add to that the high-quality screens and accommodating bartenders that make this oversize spot feel comfortable, and you've got a serious winner.
Standings (East Village)
The tiny 7th Street space can fill up quickly, so this probably isn't the best place to watch a big-deal game, but on most nights and weekends, the laid-back vibe and better-than-it-needs-to-be beer selection make this a great neighborhood place to grab a seat.
Bronx Ale House (Kingsbridge)
There's no other pub in the Bronx quite like the Ale House. There's creative, if not overly sophisticated, food and 17 always-excellent and rotating craft beers, but it's great because it's the most comfortable place in the borough to watch the Giants.
Old Town Bar and Grill (Flatiron)
Open since 1892, the New York classic is the go-to spot for hometown loyalists looking to catch a Rangers game this season in a more relaxed place.

Woodwork (Prospect Heights)
Okay, this is one for the soccer fans, but it's one of the best places in town to go watch Messi while drinking — they're known for carrying plenty of international beers — at the oak bar.