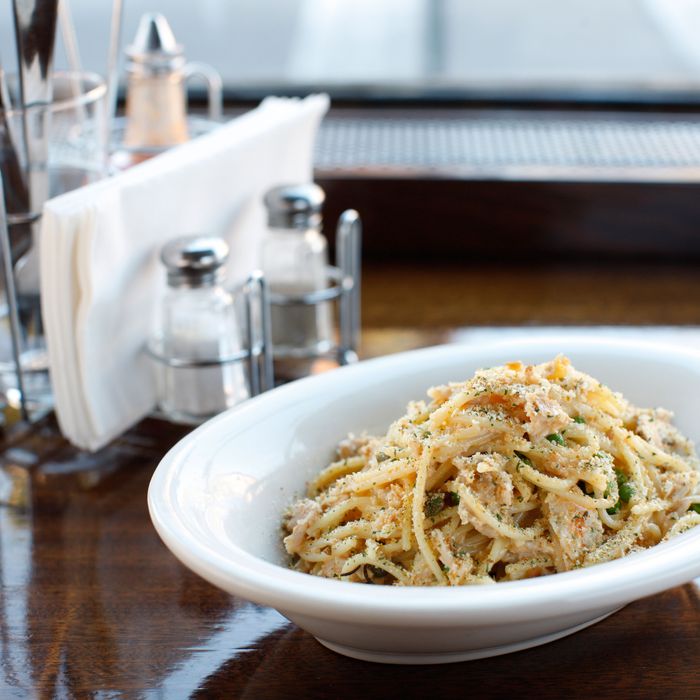 Long Island Bar's excellently named "tuna alla' casseroula."
Photo: Melissa Hom
New York knows no shortage of excellent pasta — what with red-sauce-drenched spaghetti and hearty lasagnas at classic Italian-American haunts, and the refined plates of the city's modern regional restaurants — but Grub is always happy to see more. And it's almost that time of year when the weather has seriously cooled off and there is just about nothing more satisfying. Luckily, here are 11 excellent new dishes you should check out sooner rather than later. Whether you want a classic Bolognese or an Austrian take on mac and cheese, New York's chefs have you covered.
Tuna alla' Casseroula
Where: Long Island Bar
Price: $19
You probably don't remember the last time you ate tuna casserole, but that'll change when you have the dish at this ideal neighborhood bar. The kitchen is gussying up the mid-century potluck classic by using spaghettini pasta and albacore tuna in a cream sauce with capers, peas, fruity Calabrian chile, and bottarga breadcrumbs for good measure.
Fusilli
Where: L'Amico
Price: $18
Laurent Tourondel's latest restaurant is all about the wood-fired oven and pizza, but there are a few compelling pastas on the menu, too. For this dish he's paired the screw-shaped pasta with spicy sausage, bitter greens, pine nuts, chiles, and Pecorino.
Rigatoni Bolognese
Where: Moore Food & Drink
Price: $26
Harold Moore's new Upper West Side restaurant isn't trying to reinvent the wheel, instead focusing on putting out a menu of crowd-pleasing classics. And so Moore pairs his rigatoni with a traditional Bolognese made from pork, beef, and veal, with chicken liver stirred in at the end.
Mafalde
Where: Vic's
Price: $13 for a half portion, $20 for a full portion
For this recent addition to the menu at this relaxed East Village restaurant, chef Hillary Sterling is cooking the curly-edged noodle with caramelized onions and prosciutto and finishing it with caraway and nutmeg.
Ricotta Cavatelli
Where: The Finch
Price: $18
At this surprise newcomer to this year's Michelin guide, chef Gabe McMackin serves fluffy ricotta cavatelli with a sauce made of applewood-smoked late-season Sungold and heirloom tomatoes. To that he adds shallots, lots of herbs, some arugula, and a smoked egg yolk.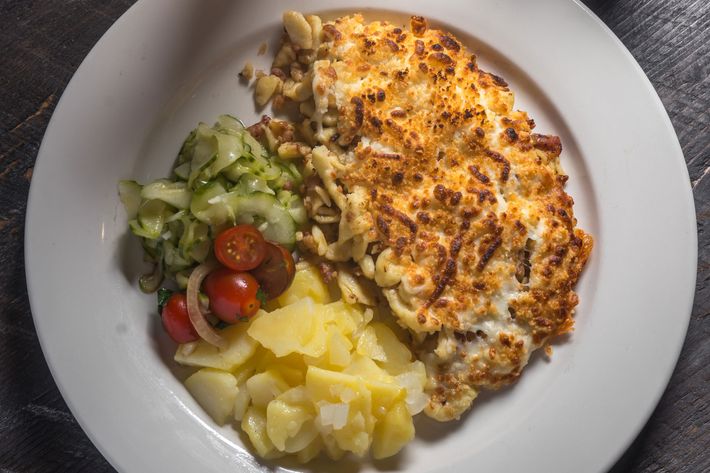 Käse Spaetzle
Where: Werkstatt
Price: $14
Legendary Austrian chef Thomas Ferlesch is back in action, making his own spaetzle — the delightful Hungarian egg noodle — and preparing it with meaty braised-beef goulash or paprika chicken. He also offers a käse spaetzle, a kind of Bavarian mac and cheese available with caramelized onions and optional bacon.
Sugo di Porchetta
Where: The Tuscan Gun
Price: $7.50
In their three-star review, the Underground Gourmet praised Gabriele Corcos's pasta e fagioli as "beyond reproach," but if you're not in the mood for something soupy, consider this dish made with pork renderings, Pecorino, sage, and rosemary.
Tagliatelle
Where: Vaucluse
Price: $21
Michael White is doing the classic French thing at his new opulent brasserie, so for this dish his kitchen serves the long ribbon pasta with duck confit and a mix of mushrooms, including porcini and maitake.

Black Pepper Pasta
Where: Gabriel Kreuther
Price: $19
When you don't have time for a prix fixe meal, drop by the bar at this elegant Alsatian-inspired restaurant, where they're offering an à la carte menu that includes this black pepper pasta with a poached egg and sorrel-infused foam.
Tajarin
Where: The Four Horsemen
Price: $18
These thin egg noodles, made with two different types of flour from Anson Mills, are served with ground rock shrimp and a sauce made from lemon peel, chile de arbol, fish stock, and vegetable stock, then finished with chervil and fish butter.
Rye Spacatelli
Where: Faro
Price: $19
One of a handful of restaurants milling its own flour, Faro's cooks use spicy rye to make this medium-length tube noodle (excellent for sopping up sauce) and serve it with braised beef, caramelized onion, and Parmesan.