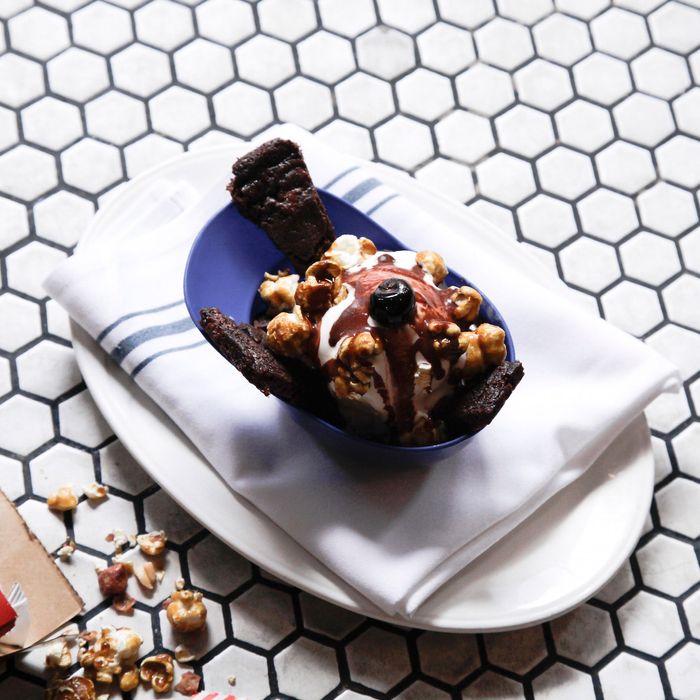 The Home Run Sundae from GG's takes a page from the Carvel playbook.
Photo: Courtesy of GG's
It's been nothing short of a great season thus far for the Mets, who weren't even expected to make the playoffs this year but are now appearing in the franchise's first World Series in 15 years. With the Series set to start tonight at 8 p.m. (provided rain doesn't delay things in Kansas City), restaurants are of course offering Mets-themed specials this week in honor of the team. Here are eight worthwhile things to eat and drink while rooting for the Amazins.
Home Run Sundae
Where: GG's
Price: $15
Fans of Nicholas Morgenstern's restaurants will not be surprised to hear that they really know how to make a mean sundae at GG's. Served in a commemorative miniature Mets helmet — just like at the stadium! — this one is made with Morgenstern's Madagascar vanilla ice cream, cookies and brownies, and the classic ballpark snack Cracker Jack, alongside fudge and whipped cream. They're also serving a pair of special pizzas: the 1986 ($17), with spicy soppressata and fennel agrodolce, and the Ron Darling ($18), with pickled pineapple and ham. So, if you'd like, your whole dinner can be Mets-themed.
Ballpark Special
Where: Hill Country Barbecue
Price: $13
The Texas-style barbecue spot is serving their Hill Country hot link on a bun with housemade kraut and Shiner mustard with a side of your choice, with options including baked beans. You'll want to wash it all down with the appropriately Amazins-themed TexMETS shots ($1), made with Tito's, Tang, and a blue curaçao float.
The Dan Murphy Disco Dawg
Where: Queens Comfort
Price: $12
In honor of the National League Series MVP, the Astoria restaurant is going all out and topping this hot dog from Ridgewood's Forest Pork Store with beer cheese, crispy tater tots, and — if that weren't enough — sweet-and-spicy andouille-sausage relish. It's served on Italian bread, with a choice of fries or salad.
Mets Macaron
Where: Macaron Parlour
Price: $2.50
Simon Tung is known for his creative spins on the traditional macaron, and the Mets fan is honoring his favorite team with a new creation. For this limited-edition confection, he's made a blue-and-orange shell and is filling it with caramel and — because this is baseball — Cracker Jack.
Blue-and-Orange Cookies
Where: William Greenberg Desserts
Price: Minis are $1.50 each and $27 for 18; larges are $3.50 each and $45 for a dozen
The classic Upper East Side bakery has been making black-and-white cookies since 1946, but in honor of the Mets' unexpectedly magical run they're switching things up and coating their spongey drop cake in orange and blue frosting.
Amazin' Burger
Where: Bill's Bar and Burger
Price: $12
For this double-patty burger with smoked bacon and sharp cheddar, the Bill's team is subbing out a regular old roll for a more indulgent glazed doughnut from Dough. But hey, it's been a while for you Mets fans, so you deserve it.
The M-E-T-S MAKI!
Where: Uma Temakeria
Price: $6
At this fast-casual hand-roll specialist, chef Chris Jaeckle is going all-orange with this special temaki roll, which he assembles with salmon, tobanjan mayo, carrots, and tobiko.
Mets Margaritas
Where: Calexico
Price: $10
It's always the right time for frozen margaritas, but you'll be able to be a little more festive drinking yours at this Cal-Mex-style mini-chain, where they're serving the drink in the home team's colors at all of their brick-and-mortar locations.