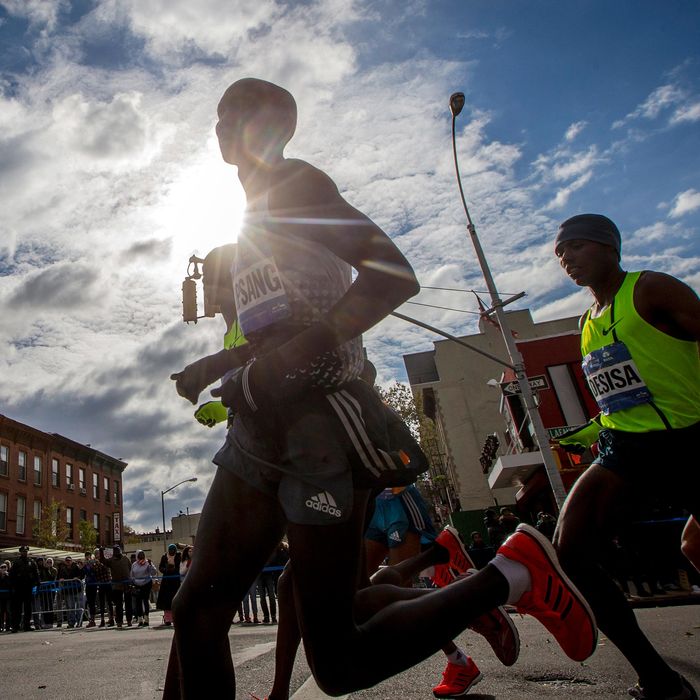 You look like you could use a roast-beef sandwich.
Photo: Brendan McDermid/Reuters/Corbis
This Sunday marks the annual New York City Marathon, which of course takes runners through all five of the city's boroughs and is — more important, as far as Grub is concerned — an occasion for dining deals. Plenty of restaurants around town are offering some pretty great deals on food and drink, from discounts to killer-sounding limited-edition sandwiches. Some require that you present proof of participation in the marathon, or at least be with someone who can, while others are available to anyone who walks in the door. (For those deals that do require a badge, all you've got to do is print one out.) Here, a dozen and a half for you to take advantage of this weekend:
DB Bistro Moderne
Starting Friday and running through Monday, the stylish midtown restaurant from Daniel Boulud will offer 15 percent off any check as long as one person in the party shows a bib or medal.
Lock Yard
This Bay Ridge pub is located very near the marathon's starting point, so it's the perfect place to start your day. To celebrate the run they're offering two-for-one hot dogs, like the Big Smoke ($4.95) with its smoked beef and cheddar sausage, and $5 drafts as long as the race is being run.

San Matteo Pizzeria e Cucina
At this newly opened Upper East Side restaurant (a cross between the owners' popular pizzeria San Matteo Pannuzzo and nearby wine bar Il Salumaio) from 1 p.m. to 5 p.m. they're offering a free Coors Light — don't turn your nose up — with any pizza.
Melvin's Juice Box
The Jamaican juice bar will give any marathoners who bring in their bib on Saturday or Sunday a free bottle of Melvin's Kick Organic Sports Drink, made with coconut water, lemon, lime, and orange. It sounds way better than Gatorade.
Aldo Sohm Wine Bar
Sommelier Aldo Sohm is running the marathon himself, so he's opening his wine bar for the first time on Sunday and offering select menu items from 2 p.m. to 9 p.m. Sohm himself is planning to hang out, and any runners who drop by with a medal will get a Champagne and beer toast.
Jimmy's No. 43
On Sunday, this East Village bar will offer a $3 discount on their Manila Mule (making it an $8 cocktail) — made with Tito's vodka, ginger beer, and calamansi citrus — along with a special post-race $10 flight of local beers from Black Hog, Other Half, Folksbier, and Catskills Brewery.
Court Street Grocers Hero Shop
All weekend at their Red Hook takeout spot, the Brooklyn sandwich specialists will serve the Bandit ($12), a special Brooklyn-style roast beef with a choice of American, cheddar, or blue cheese and caramelized onion on a Kaiser roll, all dipped or double-dipped (Grub's rule: Always go for the double) in oxtail broth.
Voila Chocolat
The Upper West Side shop from a Jacques Torres alum and former Hershey's chocolate scientist will be serving their hot chocolate outside their storefront. It's free for runners but $5 for spectators.
Grand Ferry Tavern
The marathon always snakes through North Brooklyn, so on Sunday this waterfront bar is expanding its oyster happy hour into an all-day affair, running from the opening at 2 p.m. all the way to the midnight closing. There will be half-priced oyster platters ($17.50) and a raw-bar platter of oysters, clams, and shrimp ($27.50), while runners who present their numbers will get a free draft beer and, if they want, a $6 discount on the Grand Ferry Tavern burger, which normally costs $16.
4th Avenue Pub
Located just off the marathon route, the neighborhood bar will be hosting a Bloody Mary happy hour until 4 p.m, so you can get a good buzz while the run is still going on. As always: There's free popcorn.
East 12th Osteria
At the East Village Italian restaurant, they're offering anyone and everyone double portions of pastas like meaty beef bolognese ($19) and tagliolini ($19). They're also offering their carbonara ($18) and saffron risotto with beef-cheek ragù ($21) all day on Saturday and Sunday for those looking to refuel with something hearty.
Harry & Ida's
It's not on the course, but Will Horowitz's deli is offering a Marathoner sandwich ($11) made with an egg-and-chili tortilla, potatoes Anna, and mushroom crème; three-foot-long party sandwiches for watching or recovery ($60 to $90, must be ordered 48 hours in advance); and a 26 percent discount to anyone sporting a medal.
All B.R. Guest Restaurants
Restaurant group B.R. Guest Hospitality will offer participants a complimentary glass of sparkling wine at all of their restaurants, with the exception of Bill's Bar & Burger, where you can get a cold beer instead.
Fornino
Anyone who presents a marathon number at the Neapolitan pizzeria's locations in Williamsburg or Greenpoint will receive a complimentary drink ticket for beer or wine.
Boqueria
At the Upper East Side location of the popular tapas bar, any runners who show their registration can get a complimentary potatoes bravas with their order, while anyone with a medal will be offered a complimentary glass of cava with their order.
Babbalucci
On Sunday, any runners who bring their marathon number will get 15 percent off on pasta and pizzas at this uptown Italian restaurant.
Fonda
On both Saturday and Sunday, all three locations of Roberto Santibanez's restaurant will be offering a carb-heavy dish ($18) of elbow pasta with chicken, shiitake mushrooms, and chipotle sauce.
Greenpoint Fish & Lobster
On Sunday, the combination fish market and casual seafood restaurant in north Brooklyn will offer Mystic, Connecticut's Noank oysters for just $1.