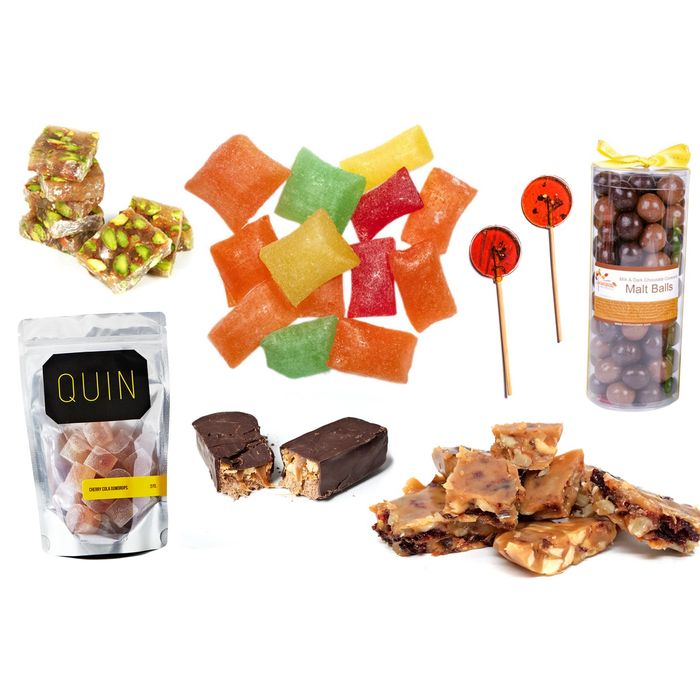 Nothing against fun-size candy bars, but these are better.
Halloween is about dressing up in costumes and telling spooky ghost stories, sure, but really, when you get right down to it, this time of year is all about the candy. Nothing against peanut-butter cups or Snickers bars, but it's a safe bet you and everyone else have those just about every Halloween. They're fine, but we can do better. With all sorts of new companies producing excellent sweets these days — not to mention cult classics that deserve more attention — the time has come to switch things up. Here are 17 candies that you should definitely be considering for your Halloween party this year or, if you're really feeling generous, maybe to share with a few trick-or-treaters.
Salty Road's Salt Water Taffy
Price: $6 for 12 pieces
This handmade saltwater taffy is nothing like the bland, boring stuff that's invaded countless New England seaside towns, and the salty caramel apple, inspired by the Four & Twenty Blackbirds pie and featuring a carefully calculated blend of spices, is just right for fall.

Jacobsen's Salty Black Licorice
Price: $20 for 24 pieces
Fans of black licorice tend to be a passionate group, and this version is the product of two of Portland, Oregon's top food producers each doing what they do best. Jacobsen contributes its high-end, much talked about salt, which is used in a bitter, herbaceous black licorice made by the candy fiends at Quin.

Papabubble's Acid Drops
Price: $6.50 for 60-gram bag
Get these for the sour freaks at your party, who will be too distracted by their deliciously sweet and mouth-puckering tart flavor to eat any of the other candy — all the better for you.

Jacques Torres's Malted Milk Balls
Price: $19 for a seven-ounce package
Like Whoppers, except they're made by one of the world's premiere chocolatiers, and with much better chocolate, of course. Delicately coated in Torres's dark and milk chocolate, the core has just the right amount of malty flavor.

Mansoura's Turkish Delight
Price: $28 for a pound
The family behind this Middle Eastern pastry shop has been making their sticky, fragrant Turkish delight for over 200 years, and this crunchy version with pistachios will bring something new and unexpected to your party.

Muth Candy's Modjeskas Louisville's Candy
Price: $10.50 for a half-pound
Go way back — to the Victorian era — with this classic soft sweet, invented by a French émigré confectioner and named for a Polish actress, made by dipping a marshmallow in a (top-secret) cream caramel mixture.

Roni-Sue Chocolates' Chili Lime Lollipops
Price: $5 for four
The color is just the right shade of red for the occasion, but the spicy, zesty flavor is really what you're getting them for.

Dandelion Chocolate's Roasted Cocoa Beans
Price: $12 for 12 ounces
The San Francisco company makes some of the best new chocolate bars in the country, but these nutty whole beans are much better for sharing and mixing into your gourmet candy bowl.
Liddabit Sweets' Snacker Bar
Price: $7 each
You might not be trick-or-treating anymore, but Halloween still calls for some of the classics, like an upgraded spin on one of the best, the Snickers bar of course, made with Ronnybrook cream and sea salt.

Torie and Howard's Lemon and Raspberry Hard Candy
Price: $7 for two ounces
For some real crunch, go for this hard candy flavored with real fruit, in this case a tantalizing duo of floral Meyer lemon and raspberry.

Big Picture Farms' Brown Butter Bourbon Caramels
Price: $13.50 for two ounces
These Vermont caramels are made with tangy goat's milk, which is surprisingly pleasant in candy form. They've got a nutty richness thanks to brown butter and a shot of booziness via bourbon.
Quin Candy's Cherry Cola Gumdrops
Price: $6.50 for ten pieces
Quin is all about modernizing classic sweets, and these bouncy, fruity gumdrops are very successful. The cherry flavor, for example, comes not from Cherry Coke, but from real-deal Oregon cherries.

Wondermade's Beer Marshmallows
Price: $8 for 16
Take a break from chocolate and fruit with these fluffy marshmallows flavored with vanilla extract and beer, and then rolled in crushed pretzels.

Shotwell Candy's Trail-Mix Tennessee Toffee
Price: $6 for 2.5 ounces
This excellent sweet is made by deeply caramelizing butter and cane sugar slowly over very high temperatures, then folding in a crunchy, flavorful mix of dried cherries, raisins, sunflower seeds, and roasted pecans, almonds, and peanuts.

Zingerman's Candy's Zzang Bar Original
Price: $6.50 per bar
Another throwback candy bar, this one brought to you by Ann Arbor's famous Zingerman's family of businesses, the original Zzang is made with a classic combination of nougat, roasted peanuts, and caramel coated in Colombian dark chocolate.
Sant'Eustachio's Chocolate Covered Espresso Beans
Price: $20 for nine ounces
These chocolate-covered espresso beans are from the world-famous Roman coffee shop, which roasts its coffee over a wood fire and coats these Guatemalan beans in 70 percent dark chocolate.
Coombs Family Farms' Maple Candy
Price: $67 for 16 pieces or 24 ounces
In the fall, few things are better than the concentrated flavor of creamy, whipped, super-sweet maple. Get to it.