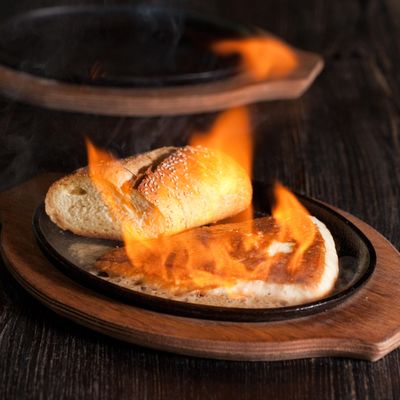 Ed and Bev's saganaki gets real crispy.
Photo: Melissa Hom
As it turns out, there may be some truth to your claim that you just couldn't stop eating all that cheese, no matter how hard you tried. A new study, published in the U.S. National Library of Medicine, examined why some foods are more addictive than others, and pizza, unsurprisingly, topped the list of dishes people can't stop eating. The reason behind this has a lot to do with cheese, which, like all dairy, contains a protein called casein that releases opiates during digestion. Cheese, in other words, makes you physically happy, which is just about the only excuse you need to go on a burrata bender this weekend. To get you started, here are 11 new cheesy dishes because — let's be honest — there will never be enough.
Pão de Queijo
Where: Cozinha Latina
Price: $7
The new Latin restaurant from Back Forty–trained chef Shauna Pacifico is serving the classic Brazilian roll, made by baking cheese — in this case, aged manchego — into cassava flour.
Saganaki
Where: Ed and Bev's
Price: $10
At this stand in the Berg'n food and beer hall, the Sussman brothers are serving dishes inspired by Michigan's Greek diners, like this sizzling plate of salty kefalograviera cheese, torched until crispy and gooey and then served with warm, sliced sesame bread.
Americain
Where: Raclette
Price: $9.50
A recent addition to the menu at this tiny cheese-obsessed East Village restaurant, this tricked-out sandwich is an allium lover's dream: sweet caramelized onions, fragrant roast garlic, and a rich, gooey leek fondue pressed between toasted sourdough bread.
Comté
Where: Rebelle
Price: $21
The Bowery neo-bistro keeps it simple with their cheese course, serving wide strands of raw Comté, unadorned and very much worth your attention.
Cheese Blintzes
Where: Sadelle's
Price: $14
The bagels and babka are getting all of the attention, but they're leaving no classics behind at this appetizing store, including cheese blintzes, served here with blueberry compote.
Cabot Cheddar Fondue
Where: Untitled
Price: $14
Michael Anthony is taking the dinner-party dish and upgrading it with Cabot cheddar from Vermont, shiitake mushrooms, and pickled pear to brighten things up.
Bacon, Egg, and Cheese Taco
Where: Empellón Taqueria
Price: $12 or $18
Alex Stupak is not beyond going low-brow with his tortillas — see Empellón Cocina's cheeseburger taco — or reimagining breakfast staples like lox and cream cheese as antojitos. At his West Village restaurant, you will find this brunch-only breakfast taco, fit for New York and made with American cheese.
Jalapeño Fritters
Where: Wassail
Price: $10
The Lower East Side cider bar's vegetarian menu is turning out some surprisingly impressive food, and these slightly spicy jalapeño fritters are no exception. Light and fluffy, they're made with aged gouda and are something like a cross between a bite-size tater tot and a jalapeño popper.
Roasted Maitake Mushrooms
Where: The Finch
Price: $10
Chef Gabe McMackin is roasting meaty maitake mushrooms and serving them with golden-brown smoked ricotta and saba, the thick Italian syrup made from grape must that's essentially unaged balsamic vinegar.
Charred Broccoli and Cheddar Fonduta
Where: All'onda
Price: $9
Blackened broccoli is just about the best, but, like almost everything, it's only made better by the addition of cheese. For this lunch-only sandwich they're pairing it with cheddar fonduta, a melted cheese preparation made with milk and egg yolks, along with peppers and onions.
Okra Cheese Fries
Where: Minton's
Price: $6
At this revival of the historic Harlem nightclub, chef Joseph "J J" Johnson is smothering crispy fried okra in a mix of smoked gouda, aged white cheddar, and some extra grated cheddar for good measure.