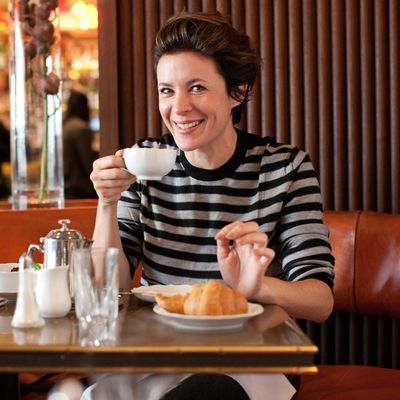 "We call that a carb feast."
Photo: Melissa Hom
Garance Doré doesn't subscribe to the whole juice-as-food philosophy. As a fashion blogger, she's written about how, when she first moved here from France, she was taken aback by how different the typical New York diet is, at least for women in her line of work. "People are really going to think I eat wherever!" she laughs, and this week, to celebrate the release of her first book, she enjoyed tiramisu, homemade meatballs, and fish tacos — which she calls her "discovery of the century." Read all about it in this week's Grub Street Diet.
Wednesday, October 22
Comparing my eating habits in France and in America, my breakfast is the most different thing. It used to be toast and butter and jam. It's very typical of French people. But now I'm boring. First, black coffee, drip, and a glass of water while it's brewing. Then I make a bowl of fruit (right now, banana and pear), Greek yogurt (right now, Fage 2 percent), cereals (Kashi), and a little bit of peanut butter (the Peanut Butter & Co.'s Smooth Operator, my favorite). I eat it as I read the news, in the living room. I like to take my time. I will wake up earlier just for that.
I'm working from home today, and I have stuff in my fridge. I make a salad with quinoa, hard-boiled eggs, heirloom tomatoes, avocado, olive oil, and a bit of cheese. So good. My dad is a chef, so I come from a restaurant family.
I've been invited to a gala, Night of the Stars by Marcelle Parrish, so dinner is happening at Cipriani Wall Street. I have a salad for my starter and some lamb as a main. It's pretty good for food that's served to so many people at the same time, but Justin Timberlake doesn't seem to think so, as he comments in his (hilarious) speech. I try to pretend that I'm a person that has control over herself and not eat the dessert, like everyone else at the table. But who can resist a tiramisu? Well, it turns out everybody but me. I also can't resist a chocolate-covered strawberry, apparently.
Thursday, October 23
Because I don't want my breakfast to be so boring, I try to eat toast like I used to. With butter and jelly. It used to be my breakfast for years — I would swear by it even when my health-obsessed friends would tell me it's not healthy. The toast now feels weird, and after eating it, I feel a mix of full and still hungry at the same time. Tomorrow I'm going back to my fruits.
My boyfriend, Chris Norton, is a musician, so his days are pretty open. Whenever we can, we have lunch together because he's performing at night all the time. Today we went to Ravagh, a Persian grill and one of our favorites. We order everything to share, and this time we order way too much: one stuffed pepper, a small lentil soup, some hummus, and a chicken kebab with rice and grilled veggies. So good!
I'm having dinner with Delphine Del Val, my friend and my agent. We want to eat "light," because we're girls, so we decide to go to a Thai place called Somtum Der. Chris has 30 minutes, so he joins us for a fast bite. We order some salads (I order a salad with sardines; I love them) and some grilled meat, but everything is so crazy spicy that we're crying like babies. We can't even talk. And we asked for mild! Not the best experience.
To make up for that, we stop in a French place and we order an apple pie, and it's the most awful thing I've ever eaten. The apple tastes fake, and it's a cinnamon explosion. I'm so disappointed. Being from the south of France, I don't know what people identify as French food here in America. Most of my favorite restaurants are Italian. I don't really search for French food.
Friday, October 24
My fruit bowl and coffee.
For lunch my friend Emily and I go to Morandi, one of my New York favorites. I have salmon with some fava beans. It's delicious, as usual, and would have been so healthy if I hadn't destroyed the bread basket. Plus oil.
On Fridays, at the office, we also get cookies from the Smile To Go and other amazing treats and scones. We do this every week. The afternoons can be a drag, so it's great that we can feel like we're back together.
I was supposed to go to dinner with a friend for sushi, but she cancels at the last minute, so I am alone like a wandering soul. My friend Marcela Gutiérrez tells me to come over, but I don't want to have dinner with her because she cooks for me all the time, and I feel bad because I don't cook for her — and I have promised. So I'm like, "I'll come have a glass of wine with you, and then I'm out.
… Three hours later, I'm still there, and there is wine, artichoke purée, and a beautiful piece of meat. It's a little bit like her and her husband have adopted me. I love them, and they cook amazing food in such an easy way you don't realize they're doing it. I used to be like that, and one of my life goals is to be that way again.
With my cooking, I like to get back to the bare ingredients. My favorite thing to cook is ratatouille. I also like to cook pasta, but with fresh tomatoes and a little ricotta or mozzarella, with really good olive oil. I can also do a good lasagna. But when I came to America, a lot of my instinctual cooking was killed because the ingredients are very different. If you buy a tomato sauce, it will be much sweeter than what you buy in France. It will be stronger in taste, but so counterbalanced by sugar. But there are many things I've learned to love here, like barbecue sauce!
Saturday, October 25
A bowl for breakfast, you guys!
I'm on an Ikea mission today, and my plan is to be back by 4 p.m. and cook for my friends, and I'm like, "I'll get a snack at some point somewhere," but then no snack comes my way.
By 4 p.m., I'm still at Ikea and I'm starving, like about to pass out, but I give myself a pep talk and I come back to life just by the power of visualizing the amazing food I'm going to cook tonight. By 6 p.m., I'm still at Ikea (having a blast, for some reason, buying so much stuff because I just moved), and I really need to eat something. I find an Ikea chocolate bar randomly, buy it, and eat half of it. Oh hi, sugar rush, how are you? I had so much fun, but it's like I spent 16 hours there.
I'm still unpacking from Ikea at 7:30, and I have to admit it to myself: Cooking dinner will not happen today. My friends show up and we have some of the amazing Japanese vodka I brought back from Tokyo, and then I'm like, "I'm so sorry, guys. I'm a loser. Can I take you to my favorite Mexican restaurant?"
I take them to La Palapa, a Mexican restaurant I love, and they speak Spanish with the American waiter who doesn't understand anything. We order so much stuff: guacamole, meat, some funny vegetable I didn't know about and that is delicious, and also fish tacos, one of the passions of my life. And black-bean purée. So good! I adore Mexican food. That's something that I totally discovered in America. My favorite drink is a good margarita, and the fish taco is my discovery of the century.
Sunday, October 26
Chris is back from out of town, and he wants to go to Chipotle, so we do that. I really don't want to do brunch: It stresses me out, and there are way too many people. I hate fighting for a table. I hate the noise. So Chipotle it is. I got a burrito bowl with rice and tofu and some tomatoes and guacamole. I love Chipotle! As far as fast food goes, it's cool. I love the way that they're trying to be conscious. You can get a pretty healthy meal.
For dinner, Chris makes his amazing meatballs and tops them with mozzarella, and we watch a movie.
Monday, October 27
Le bowl for breakfast. Lunch is a Tuscan kale soup from Gourmet Garage. It was a simple day. I remember thinking, Did I eat today? I try not to eat in front of my computer.
For dinner I was alone at home. I make a wonderful feast of leftover meatballs. Still just as good!
Tuesday, October 28
It's the day that my book comes out! I wake up super early, have my fruit bowl and coffee, and then we go to Toby's Estate at Club Monaco, and I have a sort of second breakfast because I cannot resist the scone. I order a latte because I just like the sound of that.
Lunch at Sant Ambroeus: I share a tomato pasta (the simpler, the better) and a roast-beef sandwich with my friend Jessica Joffe. Alireza offers us a few Italian cookies, which are amazing with the coffee. We call that a carb feast.
For dinner we start by having a celebratory drink at Mimi's, and I try the bread and butter that are amazing, and then Chris takes me to "our restaurant," Strip House. That's where we celebrate things together. I'm a bit (extremely) drunk after three margaritas, but hey, it's the day my book comes out! I can't resist the pretzel bread, and then I have a piece of meat and some salad. It's delicious and I'm a happy girl. Probably because of the carbs.