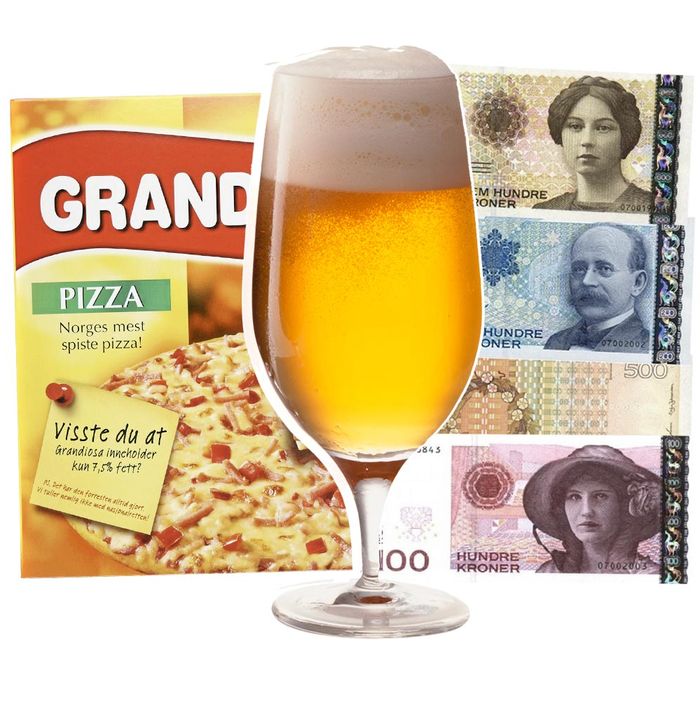 Pizza and beer, together at last.
Wanting nothing more than to make "something really stupid," Evil Twin and Tørst's Jeppe Jarnit-Bjergsø and brewer Mike Murphy, of Norway's Lervig Aktiebryggeri, have collaborated on the stunt beer to end all stunt beers. The result, called the Big Ass Money Stout, is brewed with a frozen ham-and-peppers pizza from hugely popular Norwegian brand Grandiosa, and money that's added after fermentation, the idea being that it honors Norwegians who are flush with cash. The pairing isn't totally random: The two ingredients were chosen by Murphy after Jarnit-Bjergsø asked him to give the beer some local flavor.
However, because a pizza beer was just never enough for this madman, he also wanted to brew the strongest beer ever for Norway. So they aimed for a 20 percent brew, though it's still fermenting and they don't know if they'll hit the mark — though they're hoping that the high ABV level will sanitize the beer from the dirty money. Either way, Jarnit-Bjergsø promises the stout is going to be super big with lots of chocolate and coffee flavors, though the beer will be so strongly flavored that the thinking is any lingering pizza flavor will get lost. But who knows? Good news for Americans is that they're going to export to the United States, and they advise any willing drinker would be well served to let the beer age a year or two.
[Munchies]