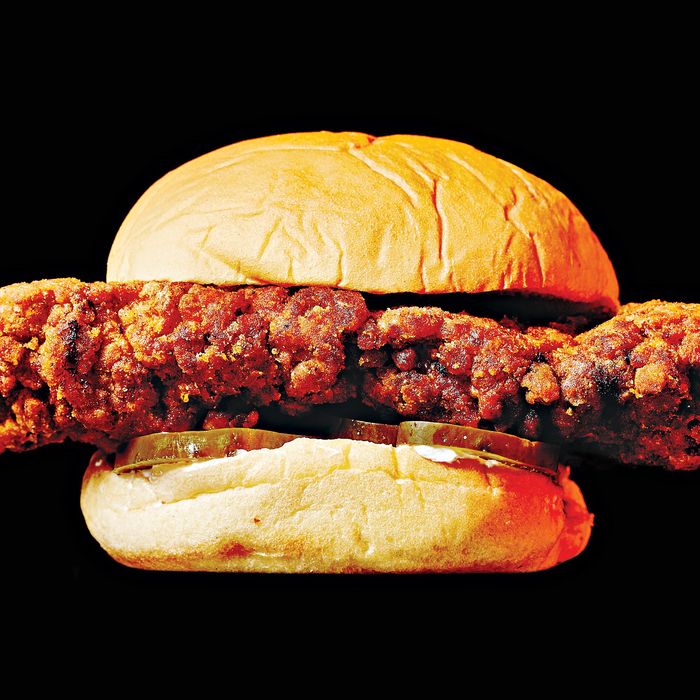 The almighty Fuku sandwich.
Photo: Bobby Doherty
As you've probably heard, New York City is in the middle of a fried-chicken-sandwich boom. Almost every day brings another contender into the ring, vying for the public's attention. In fact, it's gotten to the point where, just a few short months after chicken mania took hold, fried-chicken also-rans like sausage-makers and movie theaters are jumping onto the trend, threatening to saturate the city and blow the whole thing up. Here's how it happened.
Sometime in 1980: McDonald's first introduces the McChicken, a breaded-chicken-breast sandwich that would end up appearing on and off the menu for years. (After being removed twice in the 1980s and then once more in 1996, the sandwich was permanently reinstated in 1998.)
February 12, 2007: The Underground Gourmet breaches security at NYU's John Weinstein Center food court and slips into New York's then-only Chick-fil-A, causing a small frenzy.
2008: McDonald's introduces the Southern-style fried-chicken sandwich — clearly a Chick-fil-A clone — to New York. The menu item is discontinued four years later.
May, 2010: Stephen Tanner, formerly of Pies 'n' Thighs, resurfaces at the Commodore, where he unleashes the Hot Breast sandwich. As the aughts wear on, many solid places open with excellent fried-chicken sandwiches: Wilma Jean, Blue Ribbon Fried Chicken, and Bobwhite Lunch and Supper Counter among them.
June 10, 2015: David Chang unleashes Fuku, the fast-casual prototype he'd been teasing, drawing massive lines and, at the time, seeming like an awesome idea that someone should've already thought of. (Around the same time, the Commodore team opens El Cortez with a Mexican-ish menu and, yes, two fried-chicken sandwiches of their own.)
July 7, 2015: Not to be outdone by Fuku, Danny Meyer unveils his own chicken sandwich: the Shake Shack Chicken Shack. Cooked slowly in buttermilk and fried with a very crisp crust, Meyer's sandwich reportedly took two years to develop. Topped with pickles, lettuce, and mayo, it's like a mash-up of all the best parts of various fast-food chains' chicken sandwiches.
July 12, 2015: The Underground Gourmet declares the fried-chicken-sandwich obsession to be in full swing, highlighting the seven best versions being served in the city.
Summer, 2015: The chicken hawks start descending, with barbecue chainlet Mighty Quinn's and Upper East Side sausage-makers Schaller & Weber introducing a chicken sandwich at their bar, Schaller's Stube.
August, 2015: Perhaps seeing an opportunity, McD's introduces its own "Premium Buttermilk Crispy Chicken Deluxe," a makeover of its crispy-chicken sandwich that is almost certainly designed to compete with Shake Shack's offering.
September 10, 2015: Dave Chang pulls a Beyoncé and surprise-opens the second location of his now-growing chicken chain, Fuku+. Arriving just two months after the original Fuku, it doesn't draw nearly the same fanfare, although it does offer a smaller version of the Fuku chicken sandwich, which is hailed by some as the superior version.
September 18, 2015: Brisket man Daniel Delaney opens Delaney Chicken inside UrbanSpace Vanderbilt. He serves wet-battered drumsticks that are, in their gargantuan size, reflective of the entire city's fried-chicken bubble.
October 3, 2015: Fast-food chain Chick-fil-A opens its first stand-alone store in New York City, convincing everyone that the NYU location doesn't really count, and drawing a crowd that, despite the possibility of inclement weather due to Hurricane Joaquin, is willing to wait 12 hours for the possibility of scoring free chicken sandwiches. The opening is huge.
October 3, 2015: Meanwhile uptown, food-geek king Kenji López-Alt is heating his oil to 425 degrees for a fried-chicken pop-up at Harlem Shake. López-Alt says his own chicken R&D required 100 variations before the final recipe was nailed. It will be permanently added to the retro diner's menu.
October 6, 2015: Hipster movie theater Nitehawk Cinema debuts its crispy-chicken sandwich, of course. Because the theater is in Williamsburg, it seems almost inevitable that the breast meat is brined in pickle juice prior to frying. As a result, it becomes clear that New Yorkers can now get a crispy-chicken sandwich literally anywhere, threatening to upend the entire trend as in-the-know diners move on to other things, like tacos or veggie burgers.