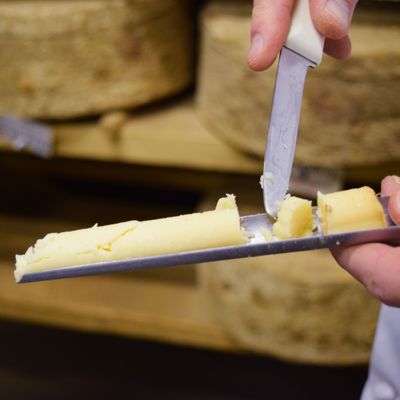 Aaron Foster samples his own batch of Cabot Clothbound.
Photo: Courtesy of Foster Sundry
Aaron Foster is about to open a gourmet grocery in Brooklyn, and he sounds almost apologetic about it. Kings County, after all, is to newfangled general stores as Tokyo is to ramen-yas and Naples is to pizza joints. In other words, there is no shortage. But Foster Sundry is the fulfillment of a decadelong dream for the veteran of Murray's Cheese and Brooklyn Kitchen, and he believes he's found the perfect corner of the borough in which to set up shop: Bushwick. "It's a neighborhood where there are a ton of fellow food lovers, all of whom have to travel to another neighborhood if they want to buy sustainably sourced meat and specialty grocery items," says Foster. "There's a great energy there. And there's so much residential! People live there, which means people cook there." Once the shop is up and running (Foster is shooting for early November), he intends to supply these weary groceries schleppers with all the necessities of 21st-century culinary life: grass-fed meat from Slope Farms in the Catskills, American hams from La Quercia and Edwards Virginia Smokehouse, local beer by the growler, bean-to-bar chocolates, BjornQorn's sun-popped vegan popcorn, Martin's potato rolls, and She Wolf Bakery bread.
Cheese is a particular strength. "Our philosophy here is stuff I like from people I love," says Foster. That includes everything from Gruyère d'alpage and Iowa cheddar to cheeses Foster made himself on a summer product-scouting trip, and others crafted specifically for the shop. "Margot from Sugar House Creamery is making these Bernie Buttons right now in support of Bernie Sanders," says Foster. "We'll definitely carry those, and their Pound Cake and Dutch Knuckle. Of course we'll be supporting Jasper Hill — we have a batch of Cabot Clothbound set aside that's just perfect."
Foster also wants the shop to be a neighborhood hangout, and to that end he's installed limited seating at a counter up front and a communal table in back. He'll serve Parlor Coffee as well as pastries, sandwiches, and, eventually, pop-up dinners by rotating chefs. A grass-fed-meatball sub is in the works, as well as a Southern-inflected bánh mì. "Country ham belongs in that sandwich," says Foster.
215 Knickerbocker Ave., at Troutman St., Bushwick; 718-569-8426