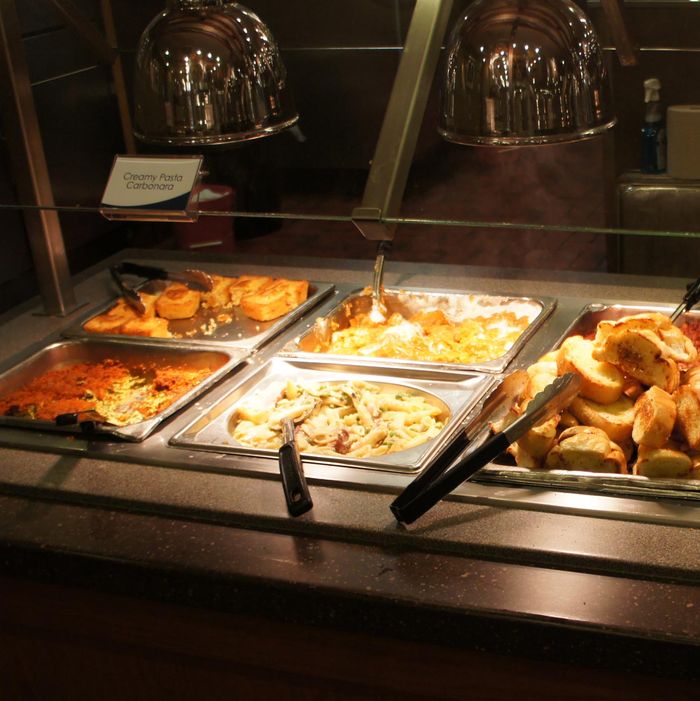 Excuse me, where's your smoked salmonella?
Photo: tales of a wandering youkai/CC/flickr
For anyone who's ever eyed a gloppy, hours-old buffet and thought, Could that kill me? the answer is … almost! Christopher Gage and his wife ate at an Old Country Buffet in Cheyenne, Nebraska, back in October 2010, and unluckily for them, the timing was especially rotten. The restaurant had just been cited the day before for health-code violations but wasn't barred from serving food, and Gage got salmonella. Most people suffer digestive issues for the better part of a week, then fully recover. Gage's salmonellosis, however, had a couple of severe complications. Over the next days, his stomach trouble morphed into kidney failure, sepsis, and heart problems. He ended up requiring "numerous surgeries and procedures." Along the way, he sued Old Country Buffet, and a U.S. District judge has now awarded him a whopping $11.4 million in damages.
From the judge's ruling:
He is in daily pain. He cannot eat or drink water without vomiting. In fact, the testimony is that Mr. Gage vomits eighty-five to ninety percent of the time when he eats or drinks. His mobility has been taken from him. He falls on an almost daily basis, which has caused him to break bones. He requires a cane, walker, or wheelchair for mobility, depending on how debilitating his condition is on any given day. His cognitive functioning has been significantly impacted. His relationship with his wife and son have been adversely affected.
The weirdest part of it all is that not only did Ovation Brands, the company that owns Old Country Buffet, never show up in court to defend itself, but it also didn't even bother responding to the Gages' lawsuit. This legal strategy doesn't seem to have worked out well.
[KGAB]