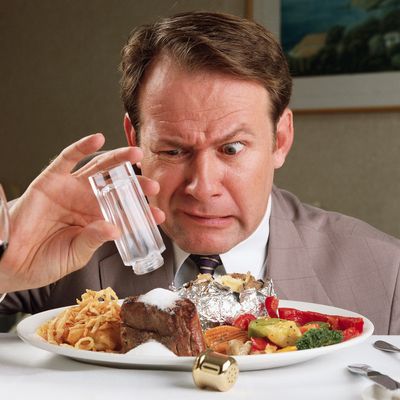 Ooh, aah, just a little bit.
Photo: Stanley Fellerman/Corbis
Soon New York will be America's first city to label foods with excess salt, but one large food-safety watchdog group insists the federal government should've been doing this decades ago. The Center for Science in the Public Interest, an organization that occasionally has a sense of humor about unhealthy food, has sued the FDA because the agency has unlawfully "refused to do anything to protect Americans from excess sodium in the food supply" for more than 35 years, despite CSPI's constant reminders.
The suit's main complaint concerns the FDA's delay on a petition CSPI first filed ten years ago, asking for salt to be stripped of its "generally recognized as safe" status (or GRAS, for short) — something it informally started pestering the agency about in 1978. It's a move that would have pretty serious consequences: As a non-GRAS ingredient, salt would become a food additive in the same class as trans fats, and CSPI argues food manufacturers would have to start reducing the sodium content in their products. (As a bonus, the group would also like to see warnings placed on packs of table salt, sort of à la cigarette cartons.)
The group argues the only action taken so far was in 2007, when the FDA essentially paid lip service by convening one meeting and opening up CSPI's online petition for comments. It argues this delay violates a law requiring federal agencies to approve or deny petitions in a "timely" manner, and as a result has condemned "hundreds of thousands of Americans to early deaths due to preventable strokes and heart attacks."
It's doubtful federal agents have any interest in regulating salt so severely, but as the lawsuit notes, many products today have more of it than ever before. Summing up CSPI's frustrations, the group's president says: "The Food and Drug Administration has been promising results on sodium reduction since the Reagan Administration, and our petition has been pending since the George W. Bush Administration. It is our hope that the court will tell the Obama Administration that it is breaking the law and causing needless deaths and medical expenses by stalling on salt."
[CSPI]