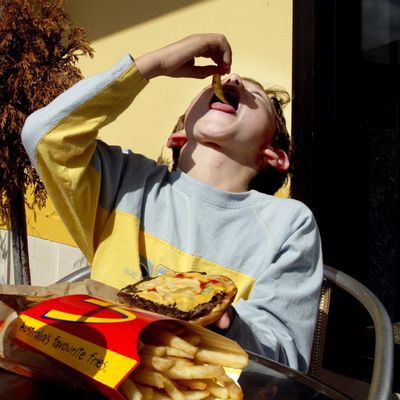 Bad, bad, bad.
Photo: The Sydney Morning Herald/Fairfax Media via Getty Images
Besides making children obese, malnourished, dumber, and possibly depressed, here's another reason to lay off fast food: In an Osteoporosis International study, some British scientists found that diets of McDonald's, etc., are even bad for kids' bones. Bone density and mineral content in infants nosedive as the number of fast-food options in a neighborhood grows, they found. Conversely, the greater the access to good grocery stores with healthy food, the higher the bone mass is in kids by ages 4 to 6.
In other words, fast food is so nutrient-poor that it may be bad for every part of a child's insides, from the brain down to the bones, which is bad news for youngsters and more ammo for critics who use the term "food oppression" to describe the shortage of healthier options in minority communities. After all, in America, a third of kids eat fast food every single day.
[Springer]