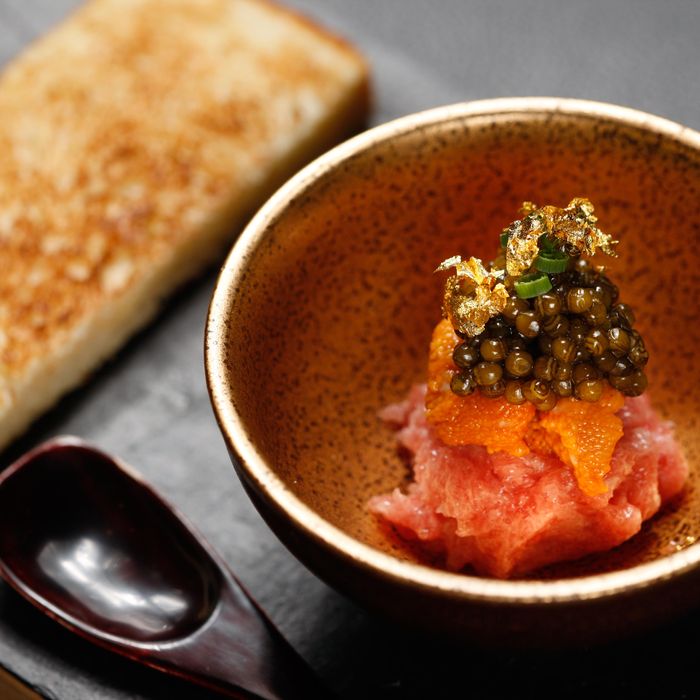 New York's Shuko made the cut.
Photo: Melissa Hom
Esquire has unveiled its story package dedicated to the country's best new restaurants, and the 15 places that get the nod this year — Townsman in Boston, the Grey in Savannah, New York's Santina and Little Park among them — are all worthy of national acclaim.
It probably goes without saying that Josh Ozersky features prominently in this list. Before his untimely death last May, he served as Esquire's food correspondent and, as Ted Allen writes in the introduction to this year's list, "Josh chose most of the restaurants herein and devoured as many of their delights as he could, just in time to exhaust the Best New Restaurants travel budget, but not in time, sadly, to write the stories." And so the list itself also features writing from contributors such as John Birdsall, Jennifer V. Cole, Dave Holmes, and Tom Junod, who traveled to Shaya, in New Orleans, to eat at the place that Ozersky had selected as the very best new restaurant in the country.
As for the full list, here it is:
Shaya, New Orleans
Townsman, Boston
The Progress, San Francisco
Muscadine, Portland, Oregon
The Grey, Savannah
Jockey Hollow Bar & Kitchen, Morristown, New Jersey
B.S. Taqueria and Broken Spanish, Los Angeles
Momotaro, Chicago
Dolo Restaurant and Bar, Chicago
The Duck Inn, Chicago
Little Park, New York City
Shuko, New York City
Santina, New York City
Mountain Bird, New York City
[Esquire]