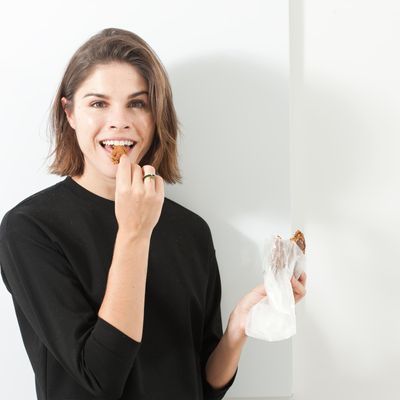 "You can tell I veer wildly between two extremes."
Photo: Melissa Hom
As the founder and CEO of the beauty brands Glossier and Into the Gloss, Emily Weiss is never really not working. "There's so much going on," she says. "I love food so much — and I have a huge sweet tooth — so it's hard for me to eat responsibly." In other words, Weiss isn't dropping her chocolate-croissant breakfast habit any time soon. This week, between flying across the country to speak to investors and launching a new product, Weiss found time for Japanese food at Juban and Shuko, lobster bisque and French fries at Ed's Lobster Bar, a Baz bagel with lox and the works, and birthday cake truffles from Milk Bar. Read it all in this week's Grub Street Diet:
Wednesday, October 14
I was traveling to San Francisco for some meetings. I wish I was the kind of person who carefully planned my travel-day meals ahead of time. But I'm always late, so I don't do that. I woke up earlier than usual and made some Intelligentsia coffee with this crazy coffeemaker that's basically one step past the French Press — it's called Eva Solo. I rarely ever use it because it takes so long, but I made the coffee that way this morning and rushed out the door.
After airport security, I treated myself to an egg-and-cheese sandwich on a roll from Dunkin' Donuts. I also had Fiji water. I've heard that Smartwater, or any of the waters that have electrolytes, actually make you retain weight and keep you bloated. I don't know if there's any truth to that, but I steer away from any water that has electrolytes. I'm not an athlete. I'm like the opposite of an athlete.
When I landed, I drove straight to meet one of my lead investors, Kirsten Green, because she was having me speak at her annual partners meeting. I was a little bit early, so I looked on Google Maps and found Seed + Salt, which is an all-organic and vegan restaurant. I had a flourless nut bread with smashed avocado, and one with homemade Nutella, because every meal should end with dessert.
I went to this dinner at Presidio Social Club, and, frankly, I kind of forget what I ate, because I had just presented, and I get nervous when I speak publicly. I do remember that I had an Aperol spritz and passed finger foods, like risotto balls.
Thursday, October 15
I love having really good, big breakfasts when I travel. I was staying at Hotel Vitale, and I went down to the restaurant there, Americano, and I had scrambled eggs with sourdough toast and butter and strawberry jam. I love a strawberry jelly! This is a weird quirk: I really like eating sausage with maple syrup on it. So I also had chicken sausage and two Americanos and answered some emails.
I went and had lunch with Kirsten, and we went to a place called Alta. I had a gooey pasta dish, because when I'm traveling I just like comfort food. Then we walked into the lobby of the Twitter building, where there's a market with different food vendors. I got a black coffee and an "OMG candy bar" from a chocolate shop called Nuubia. It was what you'd imagine it would be: caramel-y and delicious.
I went back to my room, did some more work, and then for dinner I went to the house of a guy who's the head of marketing for Apple. He had a little dinner party. I'm actually a terrible cook, and I went with him to Whole Foods to get ingredients, and I wasn't very helpful. But I did eat what he cooked: pasta with homemade tomato sauce and some nice, fresh salads.
Friday, October 16
Breakfast was the same as the day before: I ordered exactly the same thing because I liked it. And then I went to the airport — and it was the opposite of my trip there, when I ate Dunkin' Donuts. The airport has places like Napa Farms Market, and I got a "superfood salad" with quinoa and cashew dressing. You can tell I veer wildly between two extremes: one being Dunkin' Donuts, and the other being vegan, organic, healthy cuisine. I'm the kind of person who has a chocolate croissant for breakfast and then a green juice for lunch, and I'll think I'm all good.
I got home and dropped my stuff off. I live in Chelsea, and there's a solid Japanese place called Juban. I got four pieces of salmon sushi, two pieces of yellowtail sushi, edamame, a house salad with wasabi dressing, and sake. I ate by myself, which I do fairly often. I'll find that I've forgotten to make plans or something has changed in my schedule and I'm suddenly free. I usually have back-to-back work meetings, and there are some times where I can't check my email or Instagram until 7 p.m., so I'll use that time to catch up.
Saturday, October 17
On the weekends I like to go sit down, have breakfast, and read the paper. One of the places I love is this French patisserie called La Bergamote. They have an amazing chocolate croissant, and I had that and a large black coffee. I skipped lunch because Glossier had an installation at BeautyCon, and we debuted Boy Brow. I was there from 1 to 4 p.m., constantly talking to girls and selling the product.
I got a haircut at Spoke & Weal, which is a really cool place that does dry haircuts, and then I was so hungry that I couldn't wait for my dinner. I went straight to Ed's Lobster Bar and ordered French fries, lobster bisque, and a gin martini, alone.
I ate that, and then I went to dinner immediately after that with Leandra Medine, her husband, and my fiancé. We were going to go to Sant Ambroeus, but they were closed for a private party, so we went to Chef's Club by Food & Wine instead. I opted to just order dessert, while everyone was eating dinner. I had a chocolate bar and this other puff-pastry dessert, and a kaffir lime margarita, which was fucking amazing. And then we all went to our friend's engagement party in Brooklyn, where I had some wine.
Sunday, October 18
That day I went to Chalait, which I think I discovered on Instagram. I like to say it's the West Village equivalent of Dimes. It's got a cool atmosphere — high ceilings, industrial — it reminds me of Venice Beach. I had avocado toast with hard-boiled eggs on top, and I opted to have a coffee latte instead of a matcha latte. The matcha lattes are delicious, but I'm skeptical that they pack much of a punch in the caffeine department. I took my New York Post and the New York Times and sat at the bar and read.
I always end up buying additional stuff there: I got green-tea muesli to take home, which I had for lunch.
For dinner, my fiancé and I went to his 2-year-old niece's birthday party at a place called Apple Seeds on the Upper West Side. We were basically the only childless couple in a room full of kids at an Elmo-themed party. It was very funny, and I'd never been to a child's birthday party before, so it was very eye-opening. I ate a slice of pizza and string cheese.
Then we went downtown to our date night, to Cherche Midi and had a glass of Pinot Noir to calm down, and ordered steak-frites.
Monday, October 19
Back to the office in New York. My go-to breakfast is from Joe's on 23rd Street; I get a chocolate croissant and a large Americano.
For lunch, I walked over to Baz Bagels, which is the coolest place. I got a bagel with lox and cream cheese and capers and onions and ate it at my desk. It was launch day for the new product, so it was exciting.
I ran from work to my friend's housewarming/birthday party, where she had these things called pupusas from Cabalito. I had a chicken pupusa and some Champagne, and I was excited that I stuck around — because I'm such an early bird — and birthday cake balls from Momofuku Milk Bar came out.
Tuesday, October 20
I got breakfast from the Smile to Go: They always have good pastries, and I got a polenta-pear cake and a latte.
For lunch, I had a meeting at Barney's uptown, and we went to Freds. I had a healthy-ish meal: I copied my lunch date and had grilled salmon with spinach and potatoes, and sparkling water.
We constantly get snacks sent to us from beauty PR companies. So many cookies and cakes! I had a little of peppermint bark and gingerbread cookies.
I knew that for dinner I was going to Shuko, which is my favorite restaurant in all of New York. I can't even begin to describe the meal. There was Wagyu beef, toro, this amazing Dungeness crab salad … I appreciate that it's extremely luxurious, but it's not at all pretentious. It's actually kind of chill. They play '90s hip-hop, and I'm always Shazam-ing songs. I don't love the theater — I always feel bad saying that — but going to a restaurant like Shuko is a very theatrical experience. I prefer that because I also get to eat.