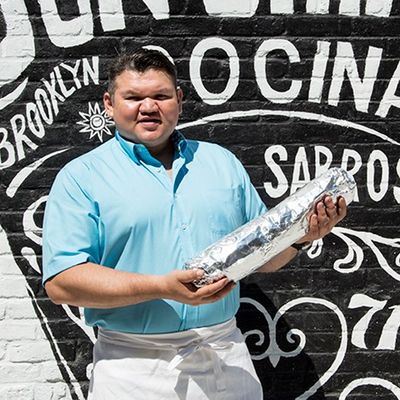 That's got to hurt.
Photo: Courtesy of Don Chingon
The contest is as timeless as it is gut-busting — "Eat our entire [insert ridiculously named, comically oversize dish] in an hour, and your name goes on the wall." But at Don Chingon, a new taqueria in Brooklyn, there's a bigger prize in store for gluttony champs: "We'll just give you the wall." Anybody who thinks they can finish off the 30-pound Gran Chingon burrito, and is willing to shell out $150 for the privilege even if they don't, will instantly become a 10 percent owner of the restaurant.
The Gran Chingon's tortilla apparently measures three and a half feet in diameter, and it looks to be stuffed with enough chicken, steak, carnitas, chorizo, cheese, rice, beans, and salsa to feed an entire Chipotle line, probably with leftovers. Subsequently, the fine print warns that Don Chingon accepts no responsibility for "death or illness" that might occur. On the other hand, though, the establishment does seem to be rooting for the burrito-cramming underdog: In announcing their contest, the owners say, "If you are going to eat a massive amount of food and gain 25-30lbs in a single sitting you deserve real compensation."
According to the rules provided to Food & Wine, entrants must:
• Pay $150 to enter.
• Eat a 30-pound burrito.
• Drink a ghost-pepper margarita.
• Finish both of these in one hour or less (touching the burrito starts the clock).
• Not take any bathroom breaks or discharge any "bodily fluids."
If this sounds like the break you've been waiting for to finally make it as a New York City restaurateur, it's probably advisable to start fasting now.
[FWx]