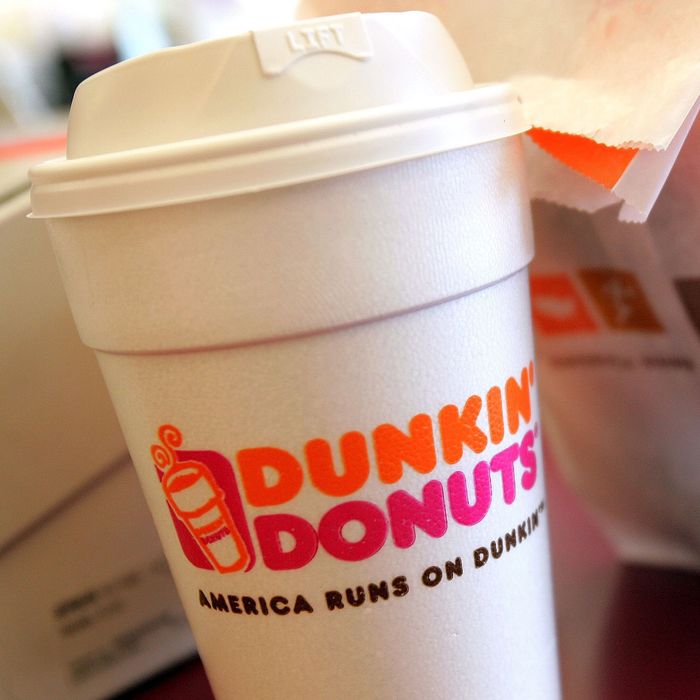 Supporters are apparently bringing the police department pastries.
Photo: Tim Boyle/Getty Images
Add a Hartford, Connecticut–area Dunkin' Donuts employee to the list of protesters and/or jokesters in fast food who somehow think refusing to serve police is going to end well. The Hartford Courant reports the officer, who works for the West Hartford PD, got in line Saturday morning and quickly heard an employee say, "He didn't get the message, we don't serve cops here." Not a fan of this good-morning greeting, he turned around and headed for his patrol car, but the employee and a manager rushed after him, saying it was in jest and that if he came back in, he'd get a free coffee. He said he'd go someplace else.
Naturally, there have been calls for a boycott, on top of demands that this worker be fired. A well-meaning group of supporters also brought boxes of Dunkin' Donuts pastries to the police station. In an apology yesterday, the Dunkin' Donuts corporate office called the employee's judgment "poor" but didn't mention any action against the worker, who, it added, "apologized immediately to the police officer." Thankfully, it looks like Connecticut State Police are ready to forget this whole ordeal.
[Courant]