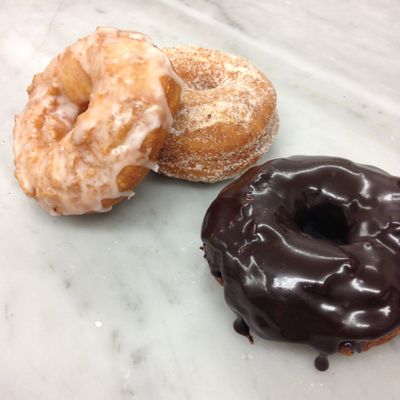 There are three flavors: lemon-buttermilk, sour cream rolled in cinnamon sugar, and banana-chocolate-chunk.
Photo: Courtesy of Dough
With a crunchy exterior and a perfectly pillowy inside, the yeast doughnuts at Dough are as close to perfection as you can find in New York. But as of late, owner Fany Gerson has been getting experimental, first with "doughka" — babka made with doughnut dough — and now with cake doughnuts, which she has never sold before.
Gerson tried a lot of recipes using a traditional depositor, but she wasn't getting the results she wanted, so she decided to make a version that she rolls and cuts. "This way, I could also play around with things I could put inside," she says. "I wanted to do a cake doughnut that has a lot of flavor and is dense but not too greasy. Cake doughnuts are much heavier in general, and as a good friend put it, they were probably created to be dunked in coffee."
To start, she's making three flavors: sour cream rolled in cinnamon sugar, lemon-buttermilk (Gerson's personal favorite), and banana-chocolate-chunk. (An apple-pear-cider cake doughnut is on the way, too!) Each flavor costs $2.50, and all day today she's going to give out a free one with purchase. Then, starting on Friday, the cake doughnuts will be available from noon onward.