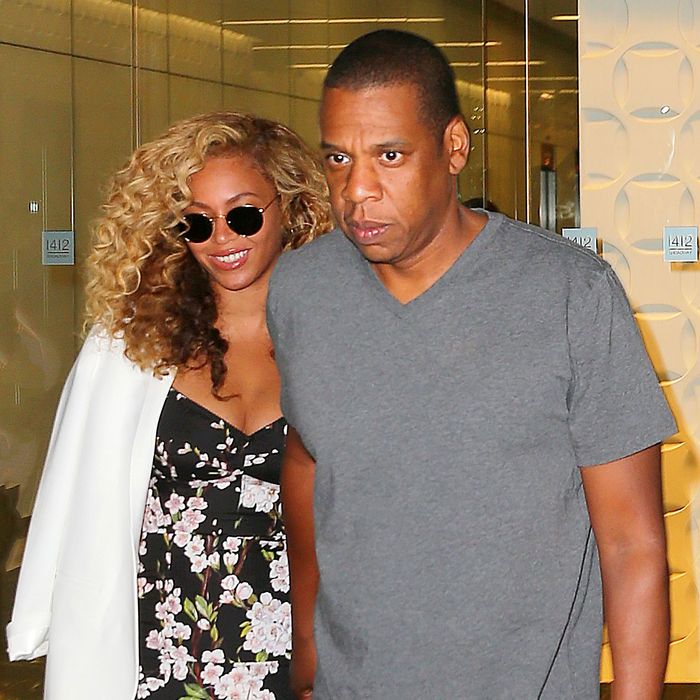 Think they got the lasagna?
Photo: Jackson Lee/XactpiX/Splash News/Corbis
This week in New York, as some celebrities embraced the new — Lady Gaga celebrated the opening of the Pomeroy; Jerry and Jessica Seinfeld tried the new Sugar Factory location; and Geno Smith, alongside some fellow Jets, tasted the porterhouse at the newly opened Rocco Steakhouse — others opted for old favorites: Beyoncé and Jay Z spent an evening at Del Posto, Woody Allen hosted brunch at Swifty's, and Karlie Kloss was spotted at Fresco by Scotto. Read it all here:
by CHLOE.: Miley Cyrus went out for vegan food. [Page Six/NYP]
Del Posto: Beyoncé and Jay Z enjoyed a Saturday-evening dinner date. [Just Jared]
Fresco by Scotto: Karlie Kloss dined with a group that included talent manager Scooter Braun and Princess Beatrice. [Page Six/NYP].
Lincoln Ristorante: Jason Segel attended the New Member Reception for the Academy of Motion Picture Arts and Sciences. [Just Jared]
Nello: Elizabeth Hurley indulged in white truffles and wine on the Upper East Side. [Us Weekly]
The Pomeroy: Lady Gaga enjoyed some comfort food while attending the opening of her former chef and childhood friend Bo O'Connor's new Astoria restaurant. [Grub Street]
Provocateur: Sting celebrated his 64th birthday with friends and family in Meatpacking. [Page Six/NYP]
Rocco Steakhouse: Jets players Geno Smith, Calvin Pryor, Dee Milliner, and Jaiquawn Jarrett split a porterhouse while watching Monday Night Football. [Page Six/NYP]
Scarpetta: Iman stopped by the restaurant with a group of supermodels. [Page Six/NYP]
Sugar Factory American Brasserie: Jerry and Jessica Seinfeld tried the new Meatpacking location. [Us Weekly]
Swifty's: Woody Allen and Soon Yi Previn held a brunch event on the Upper East Side. [Page Six/NYP]
'21': Paul Rudd organized a lunch to celebrate his good friend Jason Segel's film The End of the Tour. [Page Six/NYP]