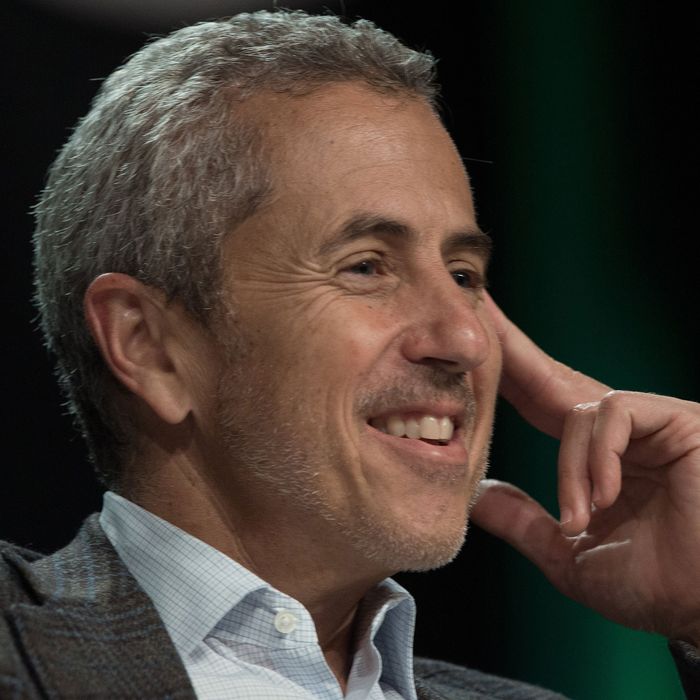 This is historic.
Photo: Nicholas Kamm/AFP/Getty Images
If anyone can successfully abolish the hospitality industry's long tradition of tipping and transform the financial future of restaurants, it's Danny Meyer. In an interview with Eater's Ryan Sutton, Meyer outlines his plan to eliminate tipping at every single one of his Union Square Hospitality concepts, over the course of one year, and raise his menu prices as part of a system that he's calling "hospitality included."
The first restaurant to implement the change will be the Modern: The cost of each dish will go up 30 to 35 percent (to account for what Meyer calls a "labor of wrong"), there will be a note on the menu about the new policy, and, unlike Per Se, there will be no space for guests to write in additional tips. And since adding a "service charge" has tripped up restaurateurs — Keller got slapped with a $500,000 fine — "hospitality included" will benefit every single staffer employed by his company. It will allow Meyer to properly pay low-earning cooks, who won't benefit much at all by New York's increase of the minimum wage.
The new starting salaries for Meyer's employees are as follows: At least $11 per hour for back-of-the-house staffers, $14 per hour for cooks, $9 per hour for dining-room staff — and, writes Sutton, "all staffers who are currently tipped will see their base income fortified by a revenue share program." Eventually, salaried employees will receive more money, too, and overall, payment will better reflect merit and seniority.
Meyer realizes that, psychologically, diners might feel stripped of their sense of autonomy. He muses that, down the road, there will be some kind of online-feedback system that will allow customers to praise, or bemoan, an experience more effectively. (Nick Kokonas should take note.)
"Fundamentally, the cost of going out to a fine-dining restaurant is false," Meyer says. "I feel that the prices on menus, for a restaurant that's really trying to offer good value, don't accurately express the true picture of what it costs for the people to make that happen."
Update: Danny Meyer has shared the news directly, via email:
Dear Friends,

I am writing to share some important news about Union Square Hospitality Group that we want you to understand before your next visit to one of our restaurants.

Recently, our entire company has been engaged in a robust conversation about how we can provide even more meaningful career opportunities and advancement for our 1,800 employees. It has become increasingly clear to us that a major obstacle in this endeavor is the practice of tipping.

There are countless laws and regulations that determine which positions in a restaurant may, and may not share in gratuities. We believe hospitality is a team sport, and that it takes an entire team to provide you with the experiences you have come to expect from us.

Unfortunately, many of our colleagues—our cooks, reservationists, and dishwashers to name a few—aren't able to share in our guests' generosity, even though their contributions are just as vital to the outcome of your experience at one of our restaurants.

After a thoughtful, company-wide dialogue, I'm proud to let you know that Union Square Hospitality Group will eliminate tipping throughout our family of restaurants. Starting at The Modern in late November, you will no longer find a tip line on your check, and there will be no need to leave additional cash at the table, the coat check, or the bar. Our other New York restaurants will make this change over the course of the next year.

Once these changes are implemented, the total cost you pay to dine with us won't differ much from what you pay now. But for our teams, the change will be significant. We will now have the ability to compensate all of our employees equitably, competitively, and professionally. And by eliminating tipping, our employees who want to grow financially and professionally will be able to earn those opportunities based on the merit of their work.

We are making a bold decision for our team and our guests, and we don't take this lightly. We encourage you to share your thoughts and feedback at a Town Hall Meeting we're hosting for guests on November 2nd at 7:30pm in the Martha Washington Hotel. Space is limited, so please RSVP here. You can also email us your questions at HospitalityIncluded@ushgnyc.com.

We remain more committed than ever to our promise of delivering excellent dining experiences with warm hospitality—and we hope that you will both support our team and join us on this journey.
With gratitude,

Danny Meyer
CEO, Union Square Hospitality Group
[Eater]