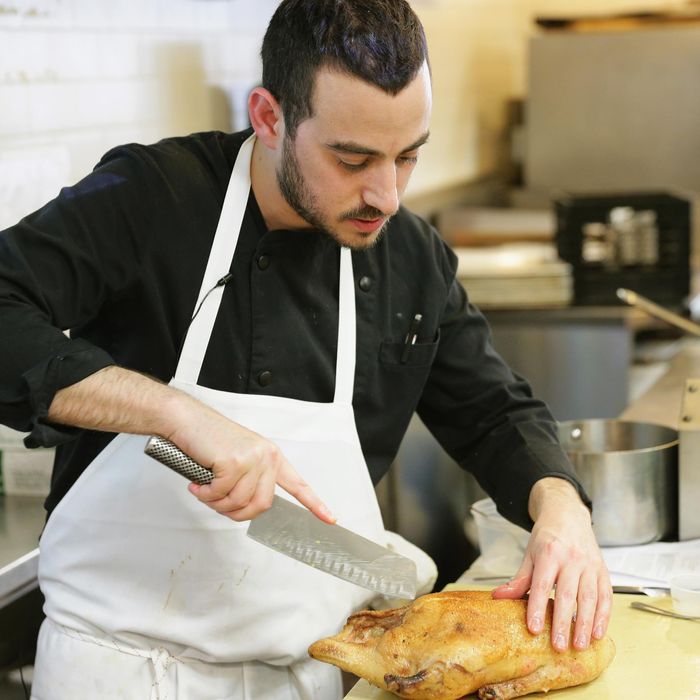 Daniel Rose, cooking in New York at last year's New York Culinary Experience.
Photo: Neilson Barnard/Getty Images
Daniel Rose is not a typical French chef. For starters, he isn't French. He was born in Chicago, yet he's never cooked professionally in the States. Instead, he runs the beloved Spring in Paris, often cited as a leader in reinvigorating the city's restaurant scene, and the brand-new La Bourse et La Vie, where he and his team cook classic bistro dishes like pot au feu and steak-frites with a modern sensibility. (As he recently told T Magazine, "We're doing a lot of the fundamental dishes that we learned about in cooking school but didn't think were very interesting at the time.")
Rose's style is largely defined by intimacy, which is why it was surprising to learn this week that he will partner with Stephen Starr — the owner of restaurants like Buddakan, El Vez, and the Clocktower — to take over the famed Chez La Vieille Adrienne in Paris and open his first two restaurants in the United States, a version of Chez La Vieille as well as a yet-to-be-named French restaurant, both of which will be in a new hotel at the corner of Lafayette and Howard Streets.
It's a big move for Rose, clearly, and he's doing a lot more than simply attaching his name to restaurants he doesn't plan to visit all that often. In fact, he's moving to New York along with his wife and two young children to oversee the entire project. Grub got on the phone with Rose — who is still in Paris at the moment — to talk about the new restaurant, which he calls a "Lutèce reboot"; why he partnered with Starr; and how that Manhattan apartment hunt is going.
So it's very exciting news that you're opening in New York, but also a little surprising. How did this project start? If you would have asked me a year ago if I was thinking about going back to the States, I wouldn't have had any idea. I would have said, "Maybe, who knows?" I quite like it in France. But then I met Stephen Starr and his group of lieutenants and collaborators. I didn't know if I wanted to open a restaurant in New York City, but I definitely wanted to open a restaurant with Stephen Starr.
It doesn't seem like the most obvious partnership. It's funny. Stephen and I are known for very different things — almost opposites. I've spent time with his guys in the kitchen, and spent time with the guys creating his restaurants. And it turns out we have a lot in common. I don't think that either one of us knows what's going to come from this collaboration. He's very good at turning out restaurants, and they're all very successful. I think we'll make a great restaurant, but there's a real desire to do something new, and it's a bit of an unknown. And I thought, That sounds like a great idea. It's somebody that I trust, that I like.
By my last count, Stephen Starr owns approximately 1 million restaurants, and … … And I own approximately two restaurants — one that's 26 days old and one that still has a million bucks of debt to pay off.
What's interesting is that many of his new restaurants serve as showcases for specific chefs: Justin Smillie at Upland, or Peter Serpico's restaurant in Philadelphia. Is that focus something you talked about? We never talked about it openly, but I think that he has had his finger on the pulse in some ways, and in a very interesting way for a long time. If you look at Buddakan, it was a big deal when it opened, and the reality is that it's still a big deal because there are still 1,000 people that go there on a Saturday night, and it's crazy. There are people in the kitchen making dim sum by hand every morning. You'd think by now he'd have figured out how to buy that frozen. But it's actually a real restaurant that serves 1,000 people.
I'd never worked in the States, and every place I worked had less than 50 seats, and all anyone cared about was the art and Michelin stars and all that kind of stuff. Anyone who opened a restaurant like Buddakan was in it for money, ambition — whatever. And that doesn't exist in France. But it turns out that they're great professionals. And that was a surprise to me.I was like, Wait a minute, I need to think about this again. I got into this whole world because I was curious about how restaurants worked, and so I started by opening this thing that I thought would work, so Spring only had 16 seats, and then it got a little bigger. And now it's slightly bigger than that, and I always said Spring couldn't do more than 36 covers a night because we didn't have room, but we've grown and it's surprising that the food can also get better as you grow.
What kind of restaurant can we expect in New York? Is this Spring 2.0? I could open a version of my new restaurant, La Bourse et La Vie, by finding a space and putting 250 seats in, then go over to New York once every five weeks, rev up the machine, make sure the recipes are communicated, and we can make sure everything is weighed out properly and costed and all that kind of shit. But I thought, No, I want to open up the kind of restaurant that I can't open in France for a lot of reasons. So we thought about What is that like? And we want a restaurant that's like a Lutèce reboot, with classic French food.
How classic? Braised veal cheeks and pike quenelles? You said it. When I went to New York to cook for Stephen Starr I made poulet en vessie and pike quenelles with crayfish sauce. And he said, "Well, I don't know if it's enough to open a restaurant, but when can you get started?" I don't know if we'll be able to serve those exact dishes in New York for a lot of different reasons, but it comes down to this: A lot of the work we've been doing at Spring is rediscovering what's pertinent about classic French cooking, and so people say it's so inventive. And there was a period that I spent reinventing everything, inspired by the classics. But now in the last few years, it's about just making really classic things that still seem modern, which means going to the essence of what the classics are.
You'll have to to get André Soltner's blessing since the International Culinary Center, where he's a dean, is around the corner from your new space. That's where I met him, actually. We've thought about this on a lot of levels. New York needs another restaurant like it needs another fucking pothole, so we have to do something that isn't just interesting for interesting's sake. Restaurants can at once be very superficial and very profound, and we want to do something that's… pertinent.
Something that makes sense for New York Yeah, and the talk was like, Are we going to take Spring to New York? And that doesn't seem right to me because Spring is in Paris and it was a reaction to the dining scene here in 2006, and the fact that it's lasted 10 years is crazy to me. It just keeps going. So this has to be that kind of project, where you take the pulse of what's going on and what's happened in the past. You don't want to re-create Lutèce exactly, because that's a restaurant that died out. And you can't look too far in the future because you have to be very present and have some kind of coherence with the past and an eye on the future without making it too concept-y. Great restaurants are sort of classic beasts, I think. The great restaurants of New York are not reinventions. Union Square Cafe is a really nicely run, friendly, tasty thing, and look how long it's lasted.
You mentioned opening the kind of restaurant that you can't open in Paris, but you're taking over a restaurant in Paris with Stephen, too, and opening a version of that here as well. Yeah, the first thing that happened was we decided we wanted to open this Lutèce reboot. I've never been to Lutèce, so keep that in mind, but when I talk to Alain Sailhac or André Soltner, there's this kind of nostalgia for very delicious, very carefully prepared, generous French food that hasn't gone gimmick. And it's not like Disneyland, it's not the movie version. It's the French food that made French cooking so famous all over the world, which it was for a long a time.
For the last couple of years, it seems like New York has become more receptive to out-of-town chefs, whereas historically our diners are seen as being not particularly amenable to newcomers. Do you worry about that dynamic? Well, I think what New Yorkers are most sensitive to is authenticity, and if you say you're coming to New York, then you better come to New York. Just bringing a restaurant to New York is not "coming to New York." Moving to New York, and opening a restaurant, is coming to New York. So I'm bringing my family and my wife, and we're going to move to not far away from where this restaurant is, and we're going to open it the same way we know how to open restaurants in Paris: I walk to work, I get there early, I stay late. I watch over the dining room, and the kitchen, and the orders. We'll have a larger team and better tools, but it's the only way I would go about it.
I do worry about it, though, because Alain Ducasse failed however many times in New York. Joël Robuchon closed down his thing. French chefs in New York, the ones that have made it, worked in New York for a long time before. Daniel Boulud had a long, strong history, so he knew what he was getting into. So I do worry about that, but there's nothing I can do about it, so you just have to do it. If the reason why the restaurant flops is because I'm from out of town, that sucks. If the reason is because I'm from out of town and the food sucks and the service is nasty and it doesn't make sense, I guess I'll understand.
What's your timeline like? I think they're going through the permitting process, but you probably know better than I do what that timing is like.
What about moving here? How does that work with the restaurants in Paris? I didn't actually know that I'd be moving away, and I don't know if it will be permanent, but I'll certainly be going back and forth. I didn't know I'd be doing this, but I set up a system so I could. So we've got a great team in place here. The chef de cuisine at Spring is a 20-something-year veteran of Guy Savoy. I've got a director of operations and a front of the house that comes from Ducasse. I have the best sommelier in France, or at least he won the award in November of last year. I thought he was that before he won the award, but now it's confirmed. We've figured out a way of keeping the turnover down, and we have a very loyal customer base.
So you're deep in the apartment hunt — every New Yorker's favorite activity. Yeah. I have a 3-and-a-half-year-old daughter and a 1-and-a-half-year-old son. Everyone's like, "Yeah, it's going to cost you ten grand a month to live in the city." But, yeah, I literally just got StreetEasy installed on my iPhone and I'm looking at apartments like everyone else does.