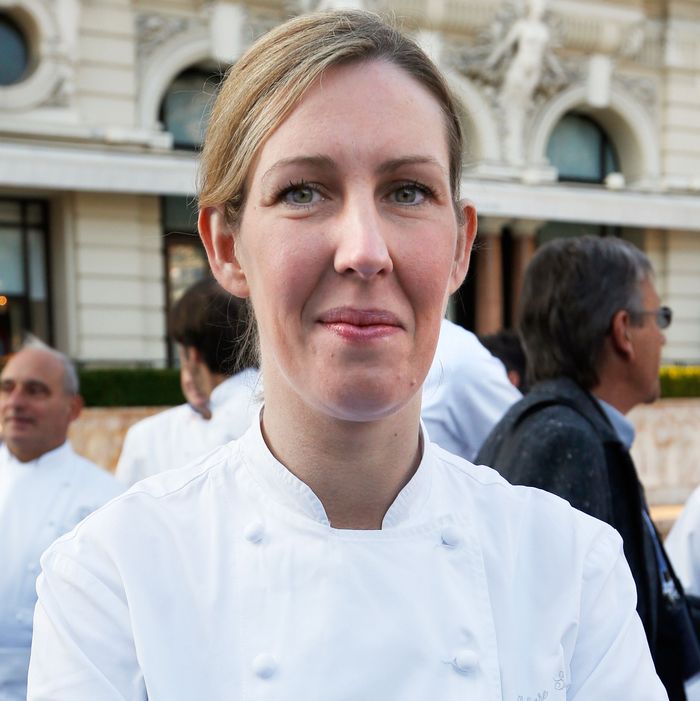 Clare Smyth was the first female chef in England to hold and retain three Michelin stars.
Photo: Valery Hache/AFP/Getty Images
Clare Smyth has left her post as head chef at London's three-Michelin-starred Restaurant Gordon Ramsay with plans to open her first independent restaurant next fall. Far from being someone who simply oversees a celebrity chef's restaurant, Smyth is a superstar in her own right: An 11-year veteran of the restaurant — she first worked there in 2002 but spent a couple of years working in America and Morocco — she took over the kitchen in 2007. After assuming those duties, Smyth became the first female chef in England to hold, and retain, three Michelin stars.
Perhaps uncharacteristically, Ramsay has nothing but praise for Smyth, saying, "She is undoubtedly one of the greatest chefs to have graced my kitchen." Smyth is the latest Ramsay mentee to leave the shout-y chef's empire, a list that includes the Clocktower's Jason Atherton and Marcus Wareing. It's a big move for Smyth, of course, and the opening will no doubt make waves in London's dining scene. Meanwhile, Matt Abé — who has worked alongside Smyth for six years — will take control of Restaurant Gordon Ramsay's kitchen, and Smyth will work as a consultant in Ramsay's sprawling restaurant empire until her spot opens.