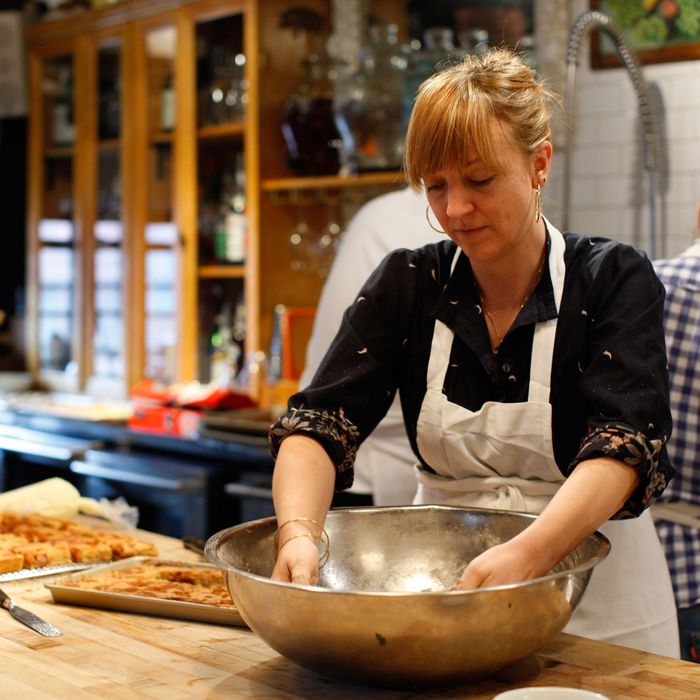 Ptak, prepping afternoon tea at the Spotted Pig.
Photo: Melissa Hom
Claire Ptak is poised to become a household name here in the States: As the proprietor of East London's five-year-old Violet Cakes, she's wildly popular in England — yet she's a California girl at heart. Ptak, who grew up in Point Reyes, started her career at Chez Panisse before moving to London to join her then-boyfriend (now husband). There, she started selling her baked goods at a stall at Broadway Market that eventually evolved into Violet. She quickly won over locals — including some notable ones, like Jamie Oliver, who has called Ptak his "favorite cake maker in the whole world," and Nigella Lawson, who hired Ptak as a food stylist.
With the release of her new cookbook — which includes recipes for pastries like chocolate-croissant bread pudding, olive-oil sweet-wine cake, and fig-leaf ice cream — Ptak is now on the cusp of international success. She's been on a whirlwind New York tour, cooking brunch at Estela, collaborating with Andrew Tarlow's bar at Achilles Heel, and even hosting an afternoon-tea party with April Bloomfield at the Spotted Pig. It's there that Grub caught up with Ptak and spoke with her about how Americans and Brits approach dessert differently, why fine dining doesn't appeal to her, and if she's considering bringing her business back to her home country.
When did you first meet April Bloomfield?
April and I worked together at Chez Panisse, just before she came to New York to open the Spotted Pig. Very lucky for me, we just became friends immediately. I knew about the River Cafe — I'd visited London a few times at that point. Actually, that first cookbook was one of the main reasons why I went into cooking professionally. It's such a beautiful book and was so ahead of its time, design-wise. So I was like, "Oh, she's from the River Cafe. I can't wait." We worked together for a few months, and then she moved to New York and I moved to London.
You've both gone on to have such incredible careers. Let's go back in time a bit: You had planned to move to London to join the man who's now your husband, and then Alice [Waters] offered you a job at Chez Panisse. How did you make the decision to stay in Berkeley?
It's a tricky thing to decide, and it's the kind of decision you don't really ever think you're going to have to make. When you love what you do, and you have the opportunity to excel at that, and you're in a place where you're really happy and you want to work there — but you've got this really strong personal and emotional pull in another direction — it's a really hard decision to make. I don't know if it's how I was raised or how I am, but I really care about my work. I thought, Of course I would choose my work over a partner, but then it was like, I actually really love this guy. What I'm really glad about is that I chose to do the job, and he was busy going back to university as well, so we were both doing something really important to us. I'm just so glad that I didn't just throw it all away, because it worked out. For three years we did long-distance, with an eight-hour time difference.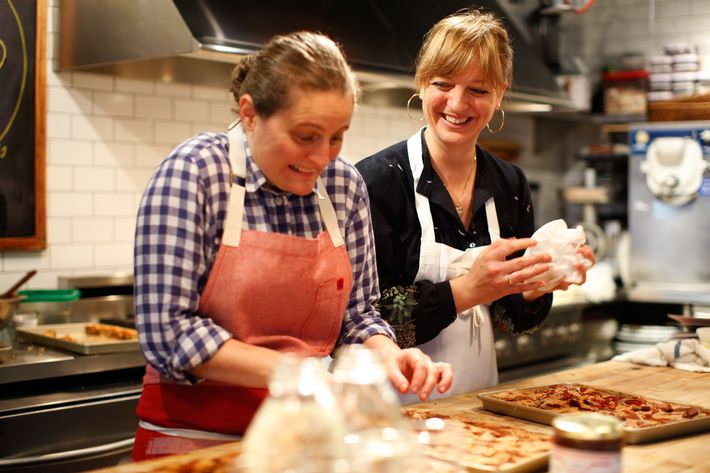 When you moved to London, and started Violet, I imagine it must have been challenging to adapt to the culture and bake for foreigners.
I was really excited about that, because it was kind of a challenge to learn new recipes and really adapt to what people were eating there. I've always been self-taught, anyway. Obviously, I learned so much at Chez Panisse, but I always was reading cookbooks and practicing on my own, so when I got to England I kept doing that. I bought all the British cookbooks that my new English friends told me about, and just started figuring out what people wanted to eat there. It is really different.
How so when it comes to desserts?
They really do love them. I was thinking about this recently, if it has to do with the weather and the gray skies that you are met with most days of the year, whether it's warm or cold. It's just often really gray. I think there's something in a fanciful cake and a little sweet treat that is really appreciated. The Brits also have this tradition of enjoying afternoon tea and cake. Obviously, it's a very formal tradition to sit down with tea and sandwiches and cakes and scones and clotted cream and everything, but then there's also something everyone does a lot is have an afternoon slice of cake. In our bakery, we're actually busiest between three and five o'clock.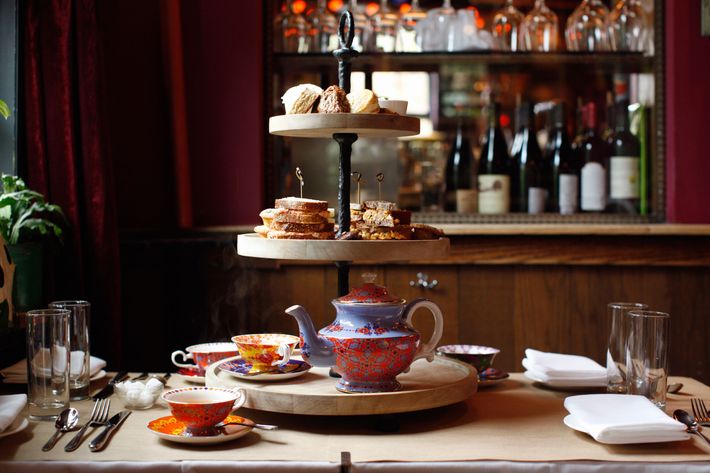 Something I'm seeing in New York is that pastry chefs have so many fewer plateaus to reach in their careers as compared to savory cooks. Did you feel like you reached a point where, to challenge yourself further, it was necessary to open your own place?
Yes and no, because I think for me, I was doing Chez Panisse, but still it's not so fine-dining-y. It's not that kind of French mastery thing. So I think there would've been somewhere that I could go with that. There was room to continue on in that field if I wanted to get more into restaurant desserts.
Why was that not as appealing to you?
That's just never been what I'm interested in. I suppose why Chez Panisse was such a great fit for me was because it was really about the ingredients, and what's interesting to me is making the flavor significant. I believe you can really work with flavor in baking, not just with savory food. So I felt like, when I was there, we would spend so much time tasting everything that we made and discussing the nuance of flavor. That's what was really interesting to me — not the nuance of building something really visually impressive. I went to a few restaurants in London and did some stages. But there weren't that many roles for pastry chefs. They kind of just had chefs rotating in and out to make the dessert on any given day. I didn't want to do that, so I thought, I'll just start my own place.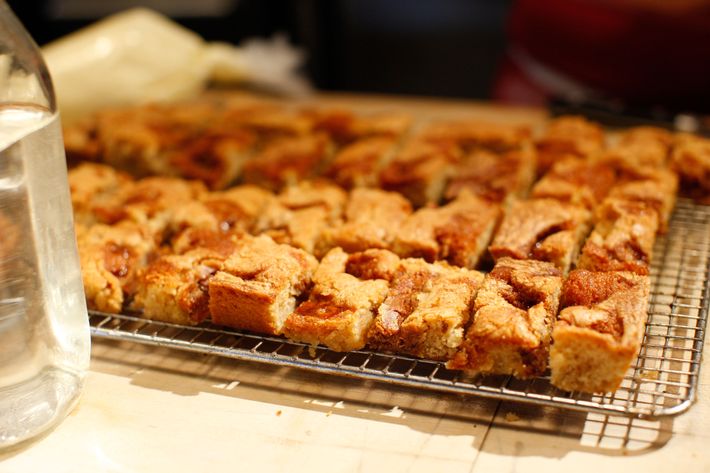 You're still close with many chefs in both California and New York. Do you want to return and open a concept here?
Yeah, sure. I feel like I have plenty going on, but it's definitely something that I've thought about, especially now that I'm going to have a child — to be close to family and do what I do over here. Hopefully, it would work. I mean, I'm sure it would work. But you have to kind of do the right business for where you are, and Violet was exactly what East London needed at that moment, and it's worked really well. So I wouldn't do the same thing again. It would have to be the right thing, but I would love the challenge.
Jamie Oliver is a huge fan of yours. In this day and age, when a chef's profile rises, the common next step is to do TV. Have you considered that?
I didn't want to do it too early — that was my conscious decision. I wanted to really create something with substance before doing that. The same with the books: I have written a few other books, and they were great projects; I was mostly sort of hired for my food styling. I would love to do a really cool TV show, in my lifestyle, in my way that was interesting to me.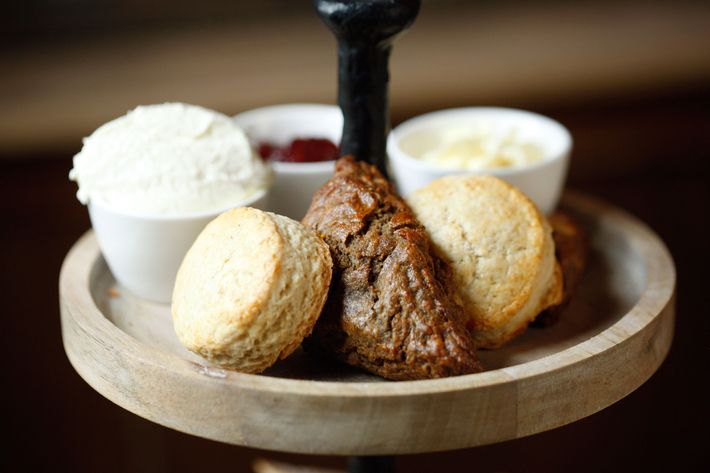 Where are you anxious to eat once you return to the States?
When I get to California, I usually go from the airport to Zuni Café and have lunch. That's my routine. Obviously Chez Panisse!
How would you describe your relationship with Alice today?
Today, she's really worried about me traveling while pregnant because she was cooking for a friend's wedding when she was pregnant with Fanny, and she was born prematurely. So the second she found out I was pregnant she was like, "Don't travel. Don't go anywhere." I was like, "Yeah, the thing is I've got my book tour," and she said, "Oh, you can't do that. Don't do that." She's very nurturing to me, and it's lovely, but I'm like, "I'll be fine." I have her voice. She helps me, and she really inspires me to follow my dreams and hold myself to a really high standard. She also inspires me now to take a step back and think of myself and my child, so that's nice. She's a lovely influence in my life.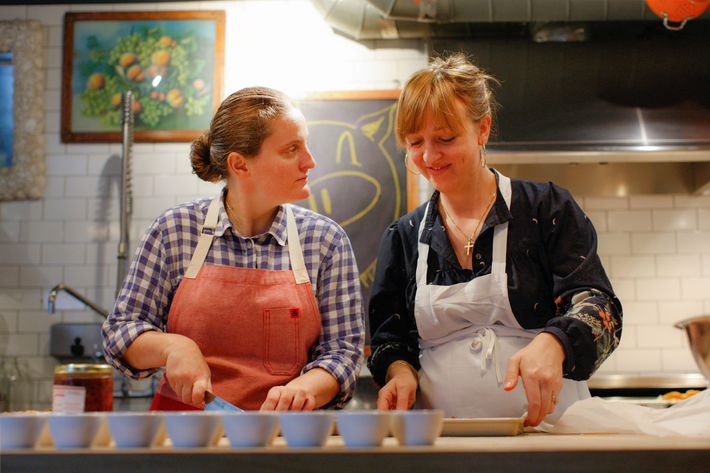 The stigma — perhaps one that's dated — is that London's food scene is dismal. How are you seeing it change?
That stigma was real. Obviously my business is closely linked to the coffee business. I think Blue Bottle had just begun when I moved to London. I was living in Oakland and they had this little shack where he started his business, and I would go back there and he'd pour me a shot of espresso. I was totally getting excited about coffee. And then I moved to England, and there's nothing.
There was really no good coffee at all in our neighborhood, except for at the hospital, which had this café inside. It was basically the equivalent of a Starbucks, but I was so starved for coffee. I used to ask my husband, "Will you go to the hospital and get me a coffee?" It was so funny that the coolest place to get our coffee was at the hospital. In the last few years, I would say, it has felt like a different city. Before, there was River Cafe, St. John's, Moro, and that was kind of it. It's nice to see young chefs doing cool stuff. One of the reasons why I ended up in East London was because the rent was affordable, so I could do it on my own without the big, scary debt.
I think we're seeing sort of a parallel movement in downtown Los Angeles. In some ways, I actually wish people took more risks in New York, but it's so hard because of the cost.
It's getting harder in London, too. It's really hard. I could never do now what I did ten years ago.
Recipe: The Violet Butterscotch Blondie
The butterscotch blondie made its first appearance in my whoopie-pie book, but I have since tweaked the recipe and I'm including the new version here. It's sweet, salty, gooey, and very moreish. This blondie is extremely popular at Violet and guys really love it, which is another plus. Make it for someone you want to do something nice for. You won't regret it.
Makes 12 blondies:
250g (1 cup plus 1 tablespoon) unsalted butter, plus more for greasing the pan
2 eggs
300g (1¾ cups) light brown sugar
1½ teaspoons vanilla extract
240g (1¾ cups) all-purpose flour
1¼ teaspoons baking powder
1¼ teaspoons kosher salt
125g (4½ ounces) milk chocolate, broken into small pieces
75g (2½ ounces) caramel shards (see below)
1. Preheat the oven to 160°C/320°F (140°C/285°F convection). Butter a 30-by-20-cm (12-by-8-inch) baking pan and line with parchment paper.
2. Gently melt the butter in a small, heavy-bottomed pan and set aside to cool slightly.
3. In a large bowl, whisk together the eggs, sugar, and vanilla until frothy, then whisk in the melted butter.
4. In a separate bowl, whisk together the flour, baking powder, and salt, and add to the egg and butter mixture along with the milk-chocolate pieces. Mix until just combined.
5. Pour the mixture into your prepared baking pan and smooth the top with an icing spatula or rubber spatula. Sprinkle the caramel shards over the top and bake for 30 minutes. The center should be puffed and set but still a little gooey.
6. Leave to cool completely in the pan, then cut into 12 thick but smallish pieces. These keep well for up to three days in an airtight container.
Caramel Shards
We use these shards in our butterscotch blondies, but you could add them to almost any cake, cookie, or bar, and, of course, they would be awesome in brownies. Any leftovers can be kept in a plastic container in the freezer for up to three months.
Makes enough for 24 blondies:
2 tablespoons water
150g (¾ cup) sugar
1. Have a sheet of parchment paper ready on a heatproof surface. Measure the 2 tablespoons of water into a heavy-bottomed pan. Cover with the sugar and place over medium-low heat until the sugar starts to dissolve. Resist the temptation to stir the pan, as this can cause crystallization. Once the sugar starts to dissolve, turn up the heat to medium-high until the sugar is a dark golden brown.
2. Pour the caramel onto the parchment paper in a thin and even layer. Leave to cool, then use a sharp knife to chop into smallish shards. Be careful, as the caramel can be quite hard.
3. Use right away or store in a plastic bag or sealed container in the freezer. Do not store it in the fridge or it will soften, melt together, and become tacky.