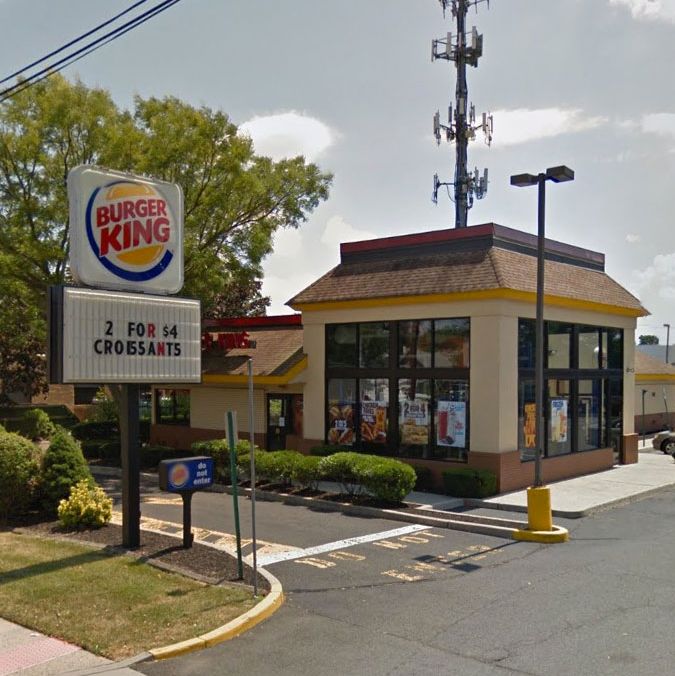 The BK breakfast revolution starts with one.
Photo: Google
McDonald's franchisees aren't what you'd call thrilled with all-day breakfast (they're throwing around phrases like "final days"), but the move's at least drumming up brisk business for the struggling chain. Meanwhile, Burger King's basically just making news lately for a black burger that turns poop green. Management has become keenly aware of this predicament at one New Jersey BK location, probably because there's a McDonald's directly across the street, and they've gone rogue, erecting a marque sign that reads "Now serving all day breakfast."
A manager tells ABC News their breakfast includes croissants, English muffins, French toast, hash browns, and the Ultimate Breakfast Platter, which is most of these other things all rolled into one. BK's corporate office could capitalize on this by advertising not incorrectly that hash browns are being served at 100 percent of all-day-breakfast locations, versus its competitor's paltry 90 percent. Instead, they've decided to "not respond" to ABC's request for comment. A smarter play for the store's managers, though, would be to offer both biscuit and English muffin sandwiches, since the major beef with McDonald's menu is more that it arbitrarily divides the U.S. into "McMuffin" and "biscuit" zones.
No word yet on whether their ploy is working, but just to be jerks about it, the McDonald's across the street tells ABC customers' reaction is "excellent" and they're very "busy."
[ABC]