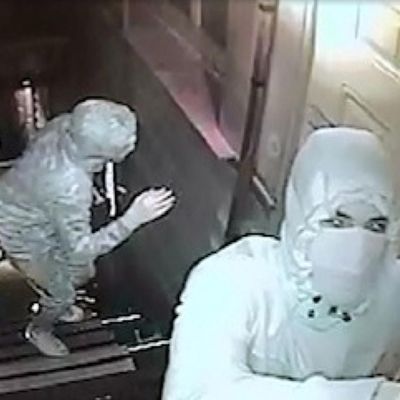 Move along, nothing to see here.
Photo: NYPD
A pair of masked Brooklyn bandits have resumed their life of restaurant crime after a two-month hiatus. Police say they just burglarized their fourth spot in the borough (Red Hook's Brooklyn Crab) last Sunday, making off with $2,600 in electronics and a safe that contained $36,000.
This brings their haul to at least $63,000 so far — in mid August, the burglars broke into Cafe Dada in matching all-white uniforms (the ones pictured here) and took $1,500 cash, plus another safe with an unspecified amount. They then struck again three days later at Park Slope's Bar Toto, where they pried the front door open and emptied $1,500 from the register, before cleaning the big cemetery-adjacent beer garden Greenwood Park out of a cool $24,450.
It's unclear why they went on hiatus, but clearly they didn't spend their time focusing on wardrobing. The spiffy Walter White–and–Jesse Pinkman–esque getups look like the duo's high point, because this time it was just mismatched black hoodies and amateurish rubber-tipped work gloves.