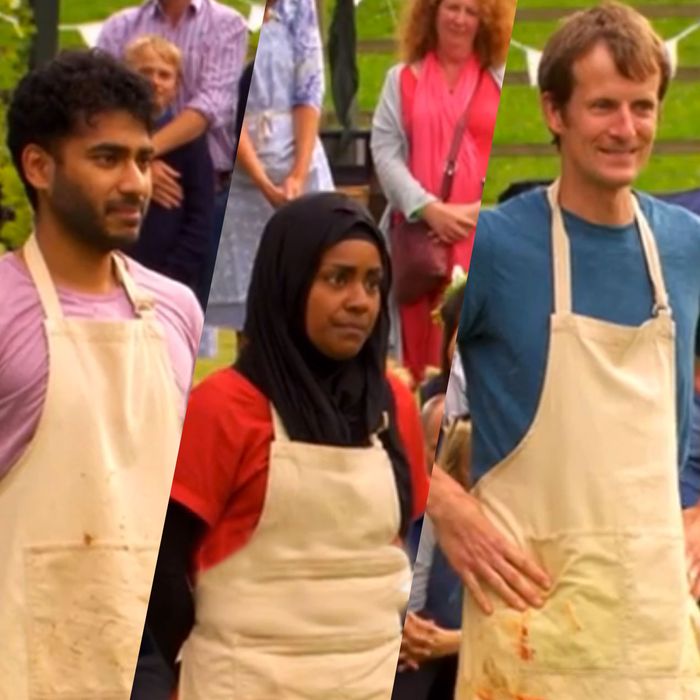 Finalists Ian Cumming, Nadiya Hussain, and Tamal Ray.
Photo: BBC
The books are cooked: The finale of the hugely popular, completely charming Great British Bake Off was being talked about as England's biggest television event of 2015, but now the show is the subject of a probe by British bookmakers Ladbrokes. The bookies say they first noticed something was off before the first episode aired, when 42 accounts with clear connections to Bake Off television station BBC and production company Love Productions were opened hours before the season's debut. The people behind those accounts have since made 529 different bets, totaling some $15,171, almost all of which had been placed on one baker — presumably the winner.
However devious, these individuals don't seem all that cunning, as they opened the accounts with their real names. All Ladbrokes had to do to find them out, they say, was perform a quick Google search, which allowed them to easily discover that some of the account holders work in television or have close links — through family or friendship — to the companies behind the show. Ladbrokes, for one, isn't happy, but Love Productions promises that they're taking the entire situation "extremely seriously" and will not tolerate any threat to the integrity of the show — or their contestants' pies.