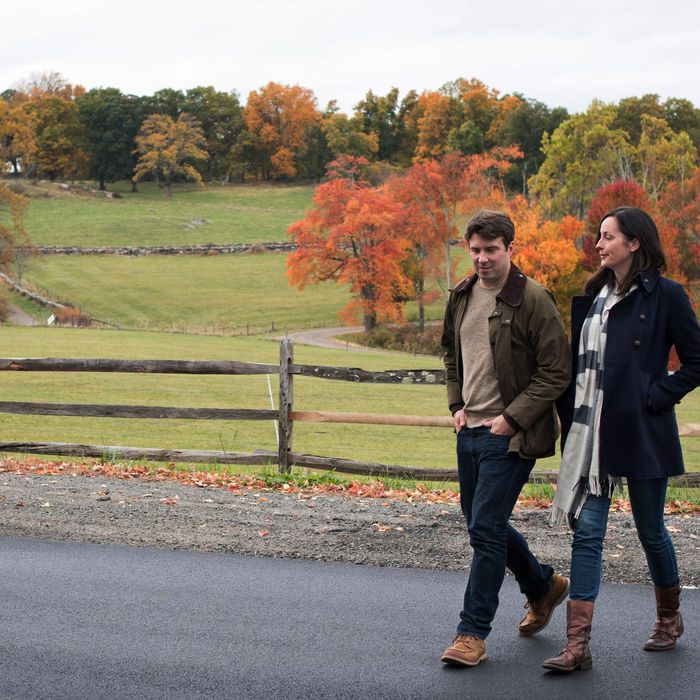 The grass is always greener.
Photo: Liz Clayman
Blue Hill at Stone Barns is easily one of the most highly regarded restaurants in the country, if not the world. As a result, staffers at the restaurant tend to have a lot of opportunities when they're looking to make their next career move. So it was interesting to learn recently that chef de cuisine Michael Gallina and his wife, Tara, who works in the restaurant's front of house, would be leaving Dan Barber's famed Tarrytown restaurant to return to Michael's hometown of St. Louis, where the couple plans to open Rooster and the Hen. Before that, however, the Gallinas will host a series of pop-up dinners around the country. Grub spoke to them about their decision to leave and why they're the latest New York–restaurant-world vets taking their talents elsewhere.
How much longer will you be at Stone Barns?
Tara Gallina: This is pretty much our last day.
Michael Gallina: I'm still around for the next couple of weeks. But officially we're pretty much done.
How does that feel?
TG: It's a little sad because we've been here for a good amount of time, but I think we're really eager to get going and excited to start this new adventure.
Can you tell me about how you came to this decision?
TG: Well, we got married a couple of months ago. For the last year or so we've been talking about what we would do when the time was right to do something else. Michael is from St. Louis, and we've both had some really great experiences going back and spending time with family and exploring the city. We both really felt like there is a great opportunity to get involved with that community. We felt like it was time to leave here. It just seemed like a natural choice to go to a city where we already have a support system built in with family and friends, and try to use that to help us get started.
MG: I think there's an incredible group of chefs that are there right now. The city is really taking off.
Was opening a restaurant in New York even on the table?
MG: For sure. Both the city and upstate. New York definitely has a big piece of our heart. I think we'll miss New York, and we'll definitely be back a lot to do dinners and business. I think it came down to family and the support system.
TG: I think for youngish people who are trying to open their own food businesses, there are definitely a lot of realities to think about, in regards to the cost of living and cost of doing business. Doing that here in New York is certainly a challenge, though it's obviously something that people have been very successful at. But I think, for us, having this new city to do this, where the cost of living is a little bit more realistic and the pace of life is a little more relaxed than what we've experienced living in New York for so long, that's also part of the motivation.
MG: I go back to that article of with Gavin Kaysen, and it was very inspiring that our generation of chefs is going to cities like New York and San Francisco and kind of having not an obligation, but a desire to go back home and share what they've learned from working for some of these incredible chefs. Like I said earlier, St. Louis has this food scene that gets better and better every day. It's got an incredible community of chefs that I think all get along and all have the same mission to take dining to the next level.
And also, talented people can now really make a name for themselves in smaller markets.
TG: I agree. I don't think we would be unsuccessful if we stayed in New York, but to kind of echo what Michael said, there's an awful lot of people that just don't get the opportunity to go work in a place like Blue Hill. And the things that we've learned are tremendous. It would almost be a shame to waste that on people who already know.
So what kind of food will you be cooking?
MG: I see it as a very similar style to Dan's. Our first goal is to get back to St. Louis and reach out to the community and meet all the chefs and the farmers. I think we want a vegetable-serving restaurant, not vegetarian, but in a way that meat isn't the focus of the plate. It's more about the vegetables, and the meat being a secondary component to it, through preservation and offcuts and whole animals. We want to let market and the farmers drive the food more than ourselves. It's going to be kind of open-ended, the style. It'll be more of a casual experience [than Blue Hill], though.
I remember Gavin [Kaysen] was wondering how expensive his food could be. What are people willing to pay? Everything is sort of distorted in New York.
TG: Absolutely. I think, for us, that's why we're pushing to, at least as we get started, do these pop-up dinners as a way to test the market. What can we do? What are people willing to pay for? What gets people excited there? We don't want to come in and say, "This is what we're doing. Take it or leave it." So I think if we can engage them early on with dinners, and use their feedback for real, that will set us up to be much more successful.
What is the timeline like? October 30 is the first pop-up in Toronto, right?
MG: Yeah. We did a dinner in Maine a couple weeks ago. Toronto is kind of the first one, and then we have a lot of options out there. Our hearts have still been 100 percent into Blue Hill. So everything is still falling into place on dates.
TG: I have to say, it's been tremendous, within just a week of having this sort of buzz on social media or whatever it is, we've heard from people in St. Louis who are like, "Hey, we have a space that you are more than welcome to use." I can't even tell you. I didn't know what to expect, but I wasn't expecting this outpouring of support from people who don't know us at all. So I think once we get there, we certainly have a long list of places to check out right off the bat. We're also getting into the holiday time, so we're hopefully going to have a few things booked up by the end of the year. But we'll really get started full force after the New Year.
MG: We also want to branch out and do dinners all over — in New York, and even on the West Coast as well.
TG: For us it's just really the start of a new chapter, and I think we're in a good place to do it.