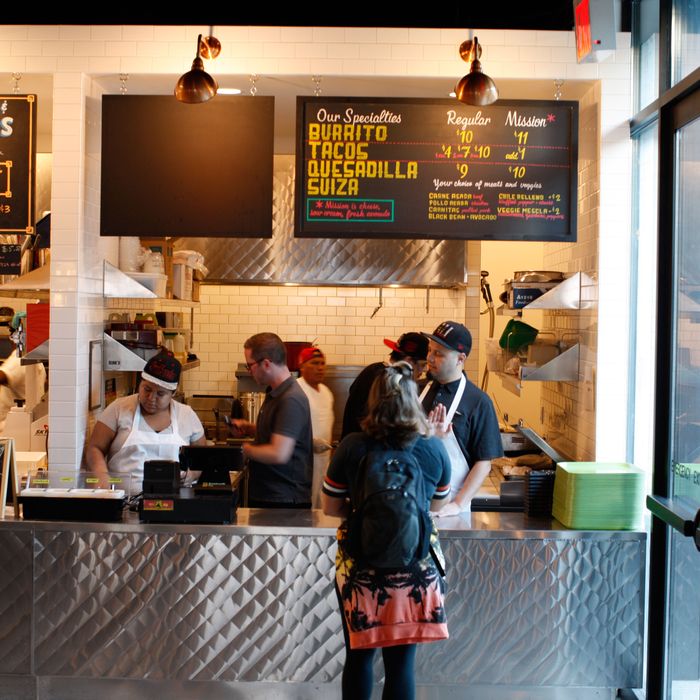 Working the booth.
Photo: Melissa Hom
North Brooklyn barflies might recognize the name B'klyn Burro, the Mission burrito specialists who for the last two and a half years used Manhattan Avenue dive Don Pedro as a home base. Burro would also — in the style of roving vendors from cities like Los Angeles, Chicago, and San Francisco — drop by other bars with a supply of late-night burritos in tow. And now, after saying goodbye to Don Pedro on September 30, B'klyn Burro has moved into what was Bun-ker's booth at Berg'n, the beer hall from the Smorgasburg and Brooklyn Flea team, where they'll be through November 7* as the first in a series of rotating vendors.
Burro was launched almost three years ago by San Francisco expats Darren "Parrot" de Leon and Pepe Urquijo, a filmmaker originally from the San Fernando Valley. Urquijo, who takes pleasure in talking about the minutiae of his burritos, is so committed to authenticity that he flew out veteran cook Feliz and kept him here for a year to "show us the way of the San Francisco taqueria." (Urquijo also hopes to bring him back once he finds a permanent home for B'klyn Burro.)
"I want people to feel that they have somehow arrived at the corner of 24th and Mission," Urquijo says. "It would break my heart when people would tell me they had given up on finding burritos and that they'd just make it at home now. That or they forget about it until they go home."
Along with the burritos, the short menu includes tacos, a cheese-only quesadilla, and a quesadilla suiza, made with a flour tortilla. The fillings at Berg'n will be more limited than at Don Pedro, but will include carne asada, pollo asado, carnitas, chili relleno, and veggie mescla (mushrooms, zucchini, and peppers).
Then, after B'klyn Burro's run is over, Lumpia Shack, the West Village restaurant that got its start and still runs a booth at Smorgasburg, will occupy the booth from November 10 through January 11. Though Berg'n co-founder Eric Demby hasn't settled deals with other businesses yet, he hopes to host a mix of pop-up restaurants they like and a kind of "best of" of Smorgasburg vendors.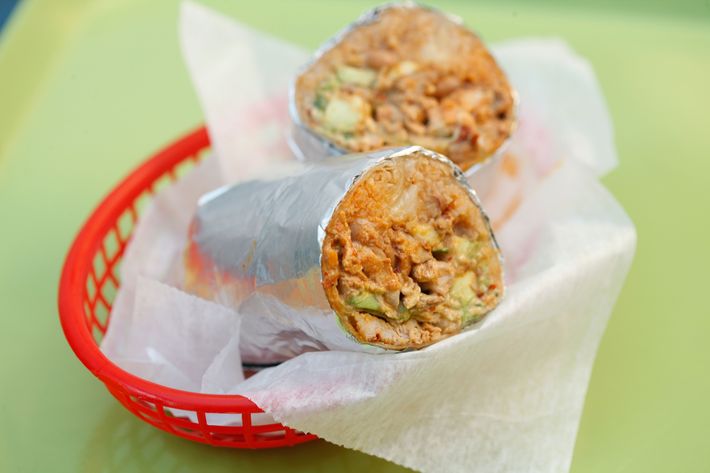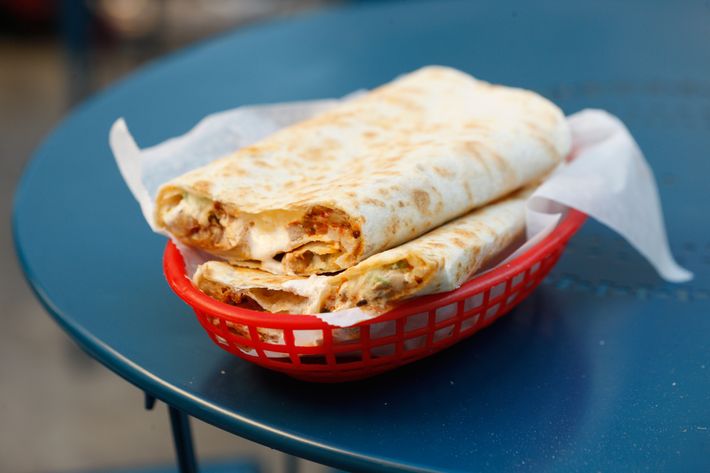 Menu [PDF]
Berg'n, 899 Bergen St., 718-857-2337
*A rep for Berg'n tells us the end date for B'klyn Burro's run is actually November 7, not November 2, as they'd originally stated.