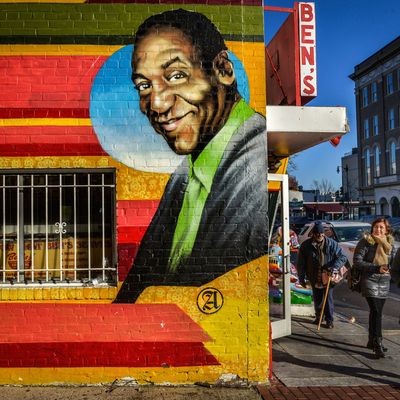 Photo: Bill O'Leary/The Washington Post via Getty Images
It was only a matter of time before something eventually happened to the infamous giant painting of Bill Cosby at D.C.'s iconic original Ben's Chili Bowl, where the comedian has eaten free for decades. Well, it took a few months and almost double the number of accusers stepping forward, but the inevitable's finally happened: An artist who goes by "Smear Leader" put a sticker of Kim Jong-un's clownish face over Cosby's:
The defacing comes a day after an op-ed in the Washington Post called, again, for Ben's to remove the mural, although Devin Boyle, the woman who wrote it, specifically hoped it wouldn't be defaced:
What example are we setting if we allow a piece of "public art" of his smiling face to remain for the world to see?

I admit I spent a weekend grappling with doing something illegal: publicly defacing the mural as bars started closing across the city. I talked to media contacts, friends and family. I filled my Amazon cart with all the materials it would take. But, in the end, I realized what many before me have landed upon: Sometimes peaceful protests are better than direct action — particularly in the age of viral videos and public stunts acting as entertainment.
Of course, it's just street graffiti, not a work of art at the Met, and some other artist has apparently already taken matters into his own hands and peeled off the sticker. DCist reports that Kevin Irvin, who paints as Jazirock, didn't like how it disrespected his friend, the mural's original artist.
[WaPo]