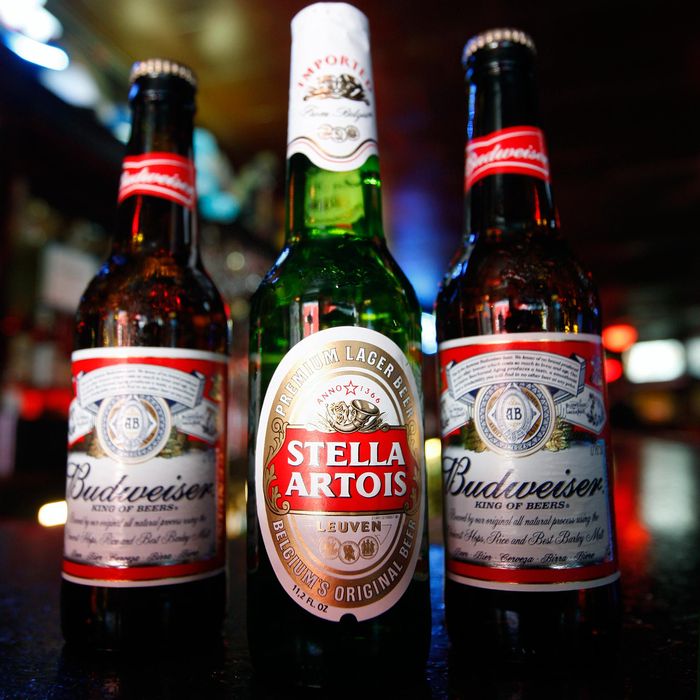 Don't mess with the King of Beers.
Photo: Andrew Harrer/Bloomberg News via Getty Images
Brewing behemoth Anheuser-Busch InBev is up to something more troubling than trying to own one in three of all of the world's beers (honestly, antitrust issues would probably force it to spin SABMiller's U.S. portfolio into a separate company anyhow). Reuters reports that the Justice Department is "probing allegations" that the company has found a way to stifle craft competition by gobbling up distributors, then not allowing them to sell microbrews.
The claims stem from A-B InBev's exploitation of a loophole in the three-tier distribution system that lets beer makers own distributors, as long as they run them independently. In the past couple of months, Bud's owner has snatched up five distributors in three different states. For better or worse, this isn't illegal, but once the sales go through, craft breweries claim that they suddenly develop problems distributing their beer. Additionally, the feds are looking into whether A-B InBev is also forcing distributors to only carry A-B InBev beers, which include Bud Light, Stella, Michelob Ultra, and their ilk.
Keeping the micros off shelves would be a wily move for the No. 1 brewer at a time when its sales are flagging, and the company has resorted (unsuccessfully, this would seemingly indicate) to buying up the much tinier competition. The SABMiller merger may have regulators right now examining a hypothetical beer monopoly, and if true, these charges would constitute actual antitrust violations.
[Reuters]