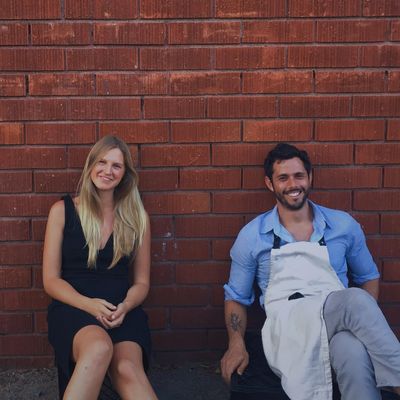 Alma co-owners Ashleigh Parsons and Ari Taymor.
Photo: Courtesy photo
When chef Ari Taymor and co-owner Ashleigh Parsons came forward in July to launch a $40,000 crowdfunding campaign to save their restaurant, it came as a shock to many that Alma was hurting at all: Since it opened three years ago, the restaurant has won almost every major award in the industry. "When you receive press like we've received, the perception is that we're not hurting for business," Taymor told Grub at the time. But, as he further explained, operating a small, ambitious restaurant without investors is immensely challenging, and to make things more difficult, a former adviser had slapped Alma with a lawsuit. "If we don't meet this goal, we're done," he said. "There's just no way around it."
Taymor and Parsons ended up exceeding their goal and raising a total of $48,240, but after using the money to pay off their legal fees, they've decided their financial burden is still too big to bear: October 24 will be Alma's last night of service.
Despite that news, they say they're working on upcoming projects in L.A., which might not share Alma's name but will continue its mission to support local farmers and purveyors and create a sense of community. Grub spoke to the owners about how they reached this conclusion, the ways in which they'll do things differently next time around, and why they believe they're still "coming out of this so far ahead."
You've been transparent about the obstacles you've faced, but what has led you to ultimately decide to close?
Ari Taymor: Through the Indiegogo campaign we were able to raise a substantial amount of money that we used for legal fees, which we used to try to get back on our feet. But a lot of our ability to maintain the restaurant was contingent upon us being able to wrap up the lawsuit in an expedient manner. To have that kind of cost, on top of running a small business, wasn't working out.
Where does the lawsuit stand now?
AT: We're still working with the other party to wrap up the lawsuit. But to maintain the restaurant at this point it would just continue to put us in a substantial amount of debt. At the same time, we've had to make a lot of decisions, operationally, to maintain the restaurant — like we had to cut down a little bit on staff. Ashleigh and I are really mindful of sustainability when it comes to the way we treat our employees and the way we interact with the community. We were asking our employees to push at a level that wasn't sustainable for them. They were going to break. We felt like to preserve our own financial security with a human cost behind it just wasn't fair. It wasn't right, and it wasn't worth it. That's not what we're about as business owners. It seemed like a selfish decision to ask people to help you dig yourself out of a hole.
Ashleigh Parsons: I think the other realization here was that, as small business owners, we won't be able to afford a trial, and we really can't even afford to go through the proceedings leading up to a trail. The realization was that the only way to bring this all to a close is to dissolve the business and move on and start something that's clean and fresh, using the same value system and mission statement, and drawing on that same vision in a second project that's free of this weight. It's become such a weight that's no longer sustainable.
Do you know how closing Alma will impact the lawsuit directly?
AT: Ultimately, we're not sure if that's going to allow us to find a common ground and for both sides to move on. We're not sure if it's going to free the lawsuit up. What we are sure of is that, business-wise and personnel-wise, nothing good is going to come of continuing to drive this business forward. We want it to be a place where we're offering economic growth for our employees, creative opportunities, and the ability for them to build better lives. When we did Indiegogo, we were approached by investors, and people have offered their support and help. It's been really overwhelming, but at the same time it's not fair to ask our employees to push us out of this with their sweat. We'd rather take that responsibility and have it be our burden — not the burden of our staff or our community members or even any potential investors.
How much have you had to cut down your staff by?
AT: We're still delivering the same level and type of service — doing the tasting menu and a full à la carte menu — but with 50 percent less staff. We had to let talented people go. We were able to help find them jobs in other restaurants, thankfully, but on our end, we kept our core staff — the people who had been with us the longest.
What do you want to do next?
AP: We have a few projects in mind right now, but we can't say too much about any one of them. We see the brand of Alma, at this moment, thriving more than ever. We see the potential with these projects as an expansion of our value system and our dedication to sustainability, in terms of our employees, the planet, supporting farmers, and service.
AT: After we asked for help, the community response to the restaurant was the most moving and humbling thing that's really ever happened to me in my career. We started the restaurant to build a community. I get in trouble a lot for things I say in interviews that the restaurant isn't purely profit-minded. For us, the community response, that's what we care about. That's enough of a success beyond any of the awards that the restaurant received, beyond any of the money that we did or didn't make. It has got us motivated to make something else and to not give up and to not allow bigger forces, or any of the negativity that swirls around, to impact us. We believe in the values of our community, and we're just stoked to have the potential to continue to grow that community one way or another.
AP: Yeah, the expectation would be that after this, Ari and I give up or feel defeated. The support from the community has allowed us to push through this huge challenge, and encouraged us to do something else and to pursue this vision.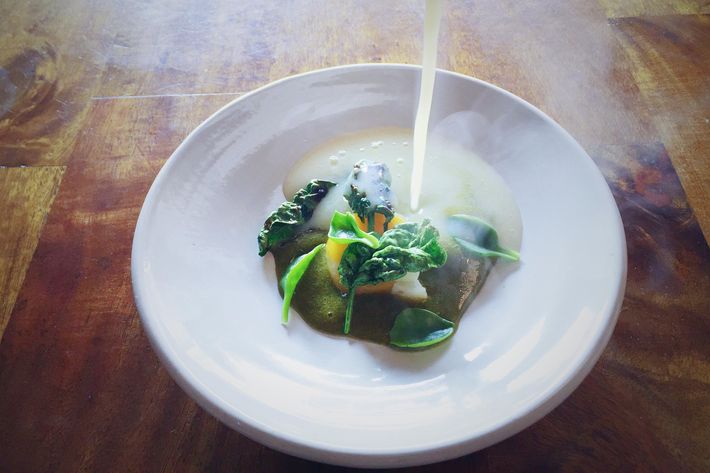 Ashleigh, will your community-outreach program be impacted at all?
AP: The community-outreach program is a separate nonprofit. It's its own entity, so it's safe from everything.
AT: That's a commitment that Ashleigh has made. Come hell or high water, that outreach program gets preserved, no matter what. It's a big part of what we do.
You raised close to $50,000 through your crowdsourcing campaign. Legal expenses are certainly immense, but how would you respond to someone who's skeptical about where the money went?
AT: We said all along, through the process, that we didn't know if we were going to be able to save the restaurant — that we weren't sure. The odds were stacked against us, no matter how much help we got. We wanted to fight, and we feel like, very often, small business owners and people are getting snuffed out, whether it's from increased rents or whatever red tape. It could be a fire. It could be whatever. We felt like it was our responsibility to try to fight as long and as hard as we could, and to try to push and to try to stand up. If people try to say that we never should have asked for help in the first place, that's understandable and that's their prerogative, but we owed it to ourselves and to our community to try to fight for our values. We'll continue to do that. It's just going to have to happen in another location.
Will you be able to honor the Indiegogo rewards?
AT: In the last two months, since we've got the money, we've had a lot of the free dinner guests come through — pretty much all of them. The rest of the perks we intend to honor one way or the other. When we do open another restaurant, if someone says that they supported the Indiegogo campaign before and that they never got to redeem their reward, we'll honor that. We're going to make sure that we honor each one of those people who gave their precious time and money to help us.
AP: The party that we're planning will be a thank-you party rather than a celebration-themed Alma party. We're probably going to do that at the end of October.
Back to the next location: Do you plan on continuing to use the Alma name?
AT: We don't know yet. We're weighing all of the options. We love Alma. The thing about Alma, all along, is that it's been something that moves from place to place and changes in scope and size. This has been the location that it was able to make roots the longest. We see it as a philosophy, basically. We might open another restaurant named Alma, but if we don't, that is the backbone. It's everything for us. No matter what the actual name of what we do is, it is Alma.
Part of what got the restaurant so much attention — but also posed a huge logistical challenge — was its location in downtown Los Angeles. You played a big role in transforming the neighborhood, but it's still a schlep for most people. Do you think that being downtown was prohibitive to your success? Would you open another restaurant there?
AT: We would definitely open another restaurant in downtown L.A. We received a ton of support from the community, and those are the people — the first year, before any of the press had started — that kept the restaurant alive. Those are the people who've been the most vocal about the restaurant staying here … I think that this could've happened in any other city, in any other place. It's not necessarily a location-based issue, but it's just an economics issue. When you are under-resourced as a business, you're exposed on every single angle. You're exposed by a slow week. You're exposed by a plumbing issue. You're exposed by a health inspector who doesn't like the placement of your urinal and threatens to take your license away, which happened to us. You're there and you're kind of blowing in the wind, and there isn't a ton of institutional support for you. If you're a small business owner — and I think this is what resonated with people all over the country — these are real challenges, and we need to figure out a way to help small business maintain and grow and hire. These are the incubators of future corporate leaders. It's kind of a societal issue and not necessarily a location issue.
Do you think a tasting-menu model is sustainable in Los Angeles?
AT: Yes and no. I think that if you have a lot of things going on in your favor — a strong name, some kind of public notoriety — it helps, but mostly you just need a lot of financial backing to do a tasting menu, especially in L.A. It's a very hot-and-cold city, so restaurants blow up for a couple months, go quiet, and then they come back. To maintain the level of quality in a tasting-menu restaurant is very difficult. It's extremely difficult to move your staff and move your costs. It's almost like every cost in a tasting-menu restaurant is fixed. It's a really difficult kind of model to run, unless you're a restaurant that has investors. I think that the city has been pretty progressive in its response to tasting menus; there just are geographical limits to what people are willing to do in L.A. and where they're willing to go.
For the next project, will you partner with investors?
AT: Yes. We need to. We need to find the right backers: people who understand the approach to the philosophy and our values about how restaurants need to be run. When we opened Alma, nobody knew who any of us were, and nobody knew what we were capable of. I wouldn't have given my money to myself at 25 years old, asking to open a restaurant, either.
Playing devil's advocate: Why not bring on investors to repair what's already there?
AT: From a purely economic standpoint, paying off debt with debt is just a really bad idea. We found that the space has a lot of limitations. We'd be spending the next three years digging ourselves out of a hole. At that point, our lease would be up for renewal. Short of continuing to roll the boulder up the hill, we were going to destroy our staff and ourselves. So we'd rather take that support and that enthusiasm and put it into a project that has a greater impact, both for the potential investors, for us, for our staff. We really want a place where we can put down roots for ten years.
AP: We were moving in that direction, especially after the community support from the Indiegogo campaign. We were approached by a few wonderful individuals who were wanting to do that, but once we sketched it out, it was very high-risk for someone to invest in an entity that's undergoing a lawsuit, especially knowing that this is not going to go away. A settlement may happen, but we just don't know. Alma ran its course for three beautiful years. It's time to put it to rest and find a space that has kind of the bones needed to execute it. The kitchen here — you've seen it. It's tiny. It's time to grow up. It's time for us to fly out of the nest a little bit.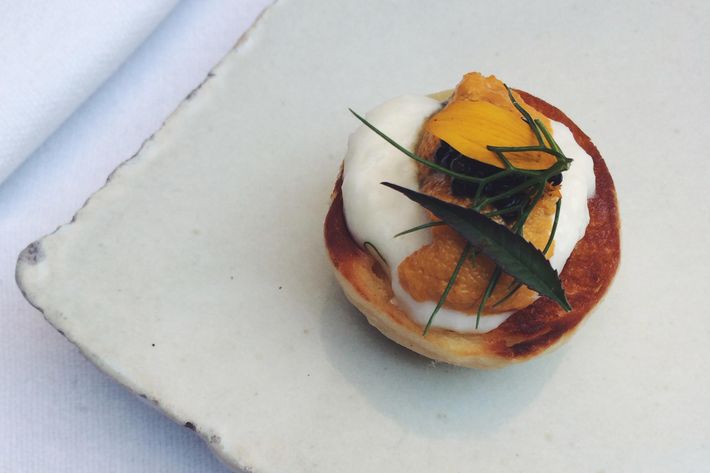 The tiny, scrappy attitude is part of what first attracted the media. You've spoken about how all the press — winning Bon Appétit's "Best New Restaurant" award, for one — has been a double-edged sword, perhaps causing more harm than not.
AT: Going forward, we want to open a restaurant that's supported by the people who live there. Whether we do or don't get press again is not really important to us. It's cool! For a long time, especially throughout my initial part of my career, I was driven by those awards. The business was dictated by my desire to almost compete with my peers. I found through the whole process, and especially through the last two months, that it's not important, and it's not anything I want to continue having a focus on. I want to have a restaurant where the staff has as much creative contribution to the restaurant as possible, where people are growing into management roles and taking ownership and having a cultural impact on their place of work. When I was being driven by the awards and the accolades and the prestige and the desire to prove myself against my peers, the only fingerprint on the restaurant was really mine. It became a really hollow existence.
You've been quite vocal about the industry driving you mad.
AT: Yeah, I just realized that it's about the connection, and it's about going to the market three times a week. It's about the staff sitting down at the end of the week and feeling like they did a great job. Those are the victories. Those can't be taken away. It's just motivation to start again and develop those connections and make them deeper and stronger and better-lasting. Everything is really impermanent. If you're enjoying the day-to-day, feeling creative stimulation, and working with people who inspire you, which I've been lucky enough to do, then there's nothing else that matters. I feed off of that environment now, so I want to build it again, and I want to build it better.
It sounds like you're at peace with the decision, and that it's more of a clinical, business-minded one, but it still must make you sad?
AT: What we have now is so much more than what we started with. Money-wise, that's certainly not the case, but in terms of how enriched our lives are by the people we interact with on a daily basis here, we're coming out of this so far ahead. It is and it isn't sad. It's sad in a way, but more it's just that we're very hopeful and we're very excited about continuing to grow with our community.
You said the last day of service is October 24. Will it be business as usual this month, or will you do anything special?
AP: We have some events that we're excited about and some dinners that were planned ahead of time. We're really excited to focus on those. And for service, we encourage people who have come to the restaurant before to come back, or those who haven't visited to come in and eat before we close.
AT: We feel like this is the best food that we've ever put out, that we have the best staff that we've ever had, and the food is the most connected to Southern California than it's ever been. We're excited to have a month where we get to feed people again — that we don't have to give it up right away.
If there's a lesson to be learned from this, what do you think it is?
AT: If there's anything we would like people to take from this, it's take the risk. Even if it looks from the outside like you failed, even if it doesn't work out, even if you have to pick yourself up from the bottom and start all over again, do it anyway because the world needs it. It needs to happen. We need more small businesses. We need more creative endeavors. We hope people don't see this as a cautionary tale, but they see this as two people who pushed as hard as they could and got inspired to build a community. If more people do that, then the world will be a better place.