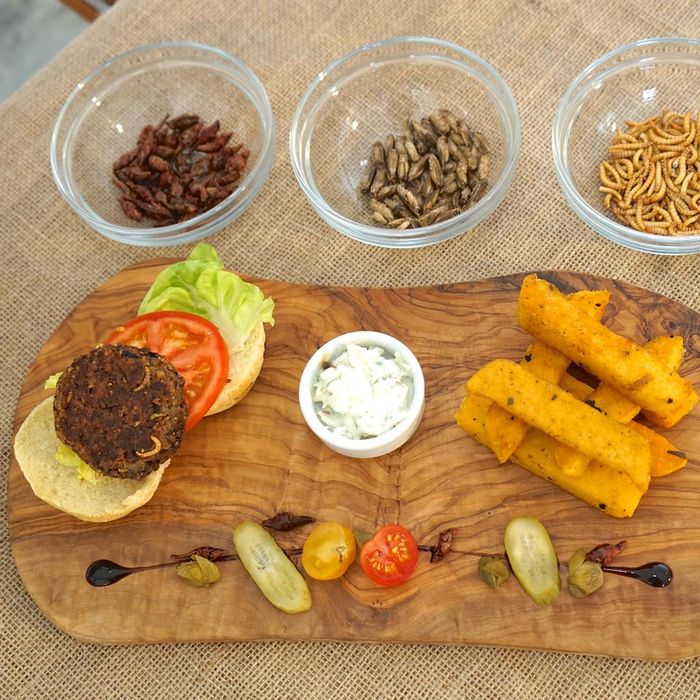 The mealworm-cricket-grasshopper burger.
Photo: Grub Kitchen
A couple of hard-core bug eaters say that before 2015 is over, they'll open up the U.K.'s first all-bug restaurant in London. The spot, called Grub Kitchen, will be what you might call field-to-table: "Ingredients" will come from Oxford researcher Sarah Beynon's bug farm, and chef Andy Holcroft will create dishes like mealworm-cricket-grasshopper burgers. Holcroft believes our current food system isn't sustainable and has said the aim is to "normalize the eating of bugs on a day-to-day basis" by classing them up a bit.
Writing on the Conversation, a site for academia-centered news, Beynon gives would-be diners an idea of what they should expect:
Diners will be able to eat insects in all forms, from an insect taster plate to our signature bug burgers or cricket cookies. There will be whole insects on the menu, but many people will be put off by the various legs, antennae and eyes so we will offer options where insects are incorporated into dishes: ground up and used as flour or burger mince.
The duo has apparently been working on Grub Kitchen "for years," partly because lots of red tape is involved when the goal is serving worm burgers. Britain's laws classify bugs as farm animals, meaning "we can't slaughter them where they are reared," Beynon writes. Also, insect "parts" like legs and wings are considered "novel foods," so they have to undergo pretty stringent safety tests. Luckily, Beynon notes, "we can use whole insects in food so long as we carry out 'due diligence'."
Novelty is high, but like it or not, bugs are going mainstream. There's already Wayback, the national burger chain over here in America with cricket shakes on the menu, and at the complete other end of the spectrum, René Redzepi is obsessed with ants right now. There's nowhere to run, in other words, from creepy crawlers.